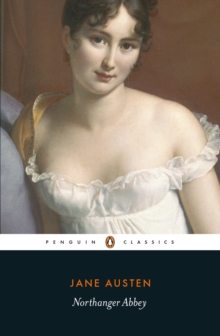 Northanger Abbey
Paperback
Description
A witty exploration of the perils of mistaking fiction for reality, Jane Austen's "Northanger Abbey" is edited with an introduction and notes by Marylin Butler in "Penguin Classics".
During an eventful season at Bath, young, naive Catherine Morland experiences the joys of fashionable society for the first time.
She is delighted with her new acquaintances: rude, boorish John Thorpe, his flirtatious sister Isabella, who shares Catherine's love of sensational novels and intrigue, and sophisticated Eleanor and Henry Tilney, who invite her to their father's mysterious house, Northanger Abbey.
There, her imagination, influenced by Gothic romances, such as Ann Radcliffe's "The Mysteries of Udolpho", Catherine imagines terrible crimes committed by General Tilney.
With its broad comedy and irrepressible, impressionable heroine, this is the most youthful and optimistic of Jane Austen's works.
The "Penguin Classics" edition of "Northanger Abbey" is based on the first edition of 1818, and includes a chronology and additional suggestions for further reading.
Jane Austen (1775-1817) was extremely modest about her own genius but has become one of English literature's most famous women writers. Austen began writing at a young age, embarking on what is possibly her best-known work, "Pride and Prejudice", at the age of 22.
She was the author of "Sense and Sensibility", "Pride and Prejudice", "Emma", "Persuasion", "Mansfield Park" and "Northanger Abbey".
If you enjoyed "Northanger Abbey", you may like Ann Radcliffe's "The Mysteries of Udolpho", also available in "Penguin Classics". "The most perfect artist among women, the writer whose books are immortal". (Virginia Woolf). "These modern editions are to be strongly recommended for their scrupulous texts, informative notes and helpful introductions". (Brian Southam, The Jane Austen Society).
Information
Format: Paperback
Pages: 320 pages
Publisher: Penguin Books Ltd
Publication Date: 27/03/2003
ISBN: 9780141439792
Other Formats
Paperback from £2.50
Hardback from £6.55
Mixed media product from £10.26
Paperback / softback from £5.99
EPUB from £1.04
Free Home Delivery
on all orders
Pick up orders
from local bookshops
Reviews
Showing 1 - 5 of 10 reviews.
Previous | Next
Review by jontseng
16/06/2015
Drippy provincial meets gent, gets scared, lives happily ever after.
Review by millyh
16/06/2015
'Northanger Abbey' is very different to the other two Jane Austen books I've read. Not only is the subject of the book different – it is has a darker, more controversial and shocking side that 'Emma' and 'Pride and Prejudice' do not have, whilst at the same time being about a younger girl with a much lighter, naïve perspective on things than the other books had- but the style of writing is also quite different. Austen uses a lighter, more 'fun' technique of writing, referring to herself as the author of the story throughout the book and often introducing characters as if she was introducing them to a friend. This style of writing – as if you were talking and telling the story to someone instead of just writing it on paper – is often quite a common style these days, but compared to other very formal works of the time, which her other two books are more in tune with, 'Northanger Abbey' is very different.As I mentioned earlier, the book does have a slightly darker, more controversial side to it. Influenced by gothic novels, Catherine conjures up all kinds of awful crimes that General Tilney may have committed, including tales of murder and imprisonment. There is the same themes of young ladies misbehaving that was evident in 'Pride and Prejudice' when Lydia runs away with Mr. Whickam – here it is Catherine's so-called friend Isabella who is shocking everyone with her misjudgement of situations and inability to behave respectfully.Catherine is a younger and more imperfect character than Austen's other creations. Elizabeth Bennet and Emma both had flaws, but were both seen to be very intelligent and beautiful. The first chapter covers of 'Northanger Abbey' covers Catherine's childhood as an unsightly young girl, and although she does develop, it always seems that she never really becomes 'beautiful', and for this we feel more compassion for her. She is also quite a slow girl – not very able in picking up signs in other's behaviour and simply lacking in general intelligence and wit.'Pride and Prejudice' still remains my favourite Jane Austen book, but 'Northanger Abbey' probably comes in second so far. It is a lovely book that is very easy to enjoy, especially for someone more my age. I still, however, have Jane Austen's other three published works to read before I can really make a fair comparison.
Review by pinkmouse
16/06/2015
Thoroughly enjoyed, and one of my favourites. Well written and i could realli identify with the over imaginative heroine. I liked the themes of horror stories and her recurring theme of social hierarchy. The ending was good as always and i liked the male hero as he was mysterious and not as definitive as the heroes in her other books, so it left it more to the imagination.
Review by jintster
16/06/2015
I've not read any Austen since I was a teenager and thought it was about time I got reacquinted with her. I gather that Northanger Abbey is the least popular of her books amongst her admirers and I'm not too surprised. There's a lot of wit here and quite a bit of wisdom as well. The first part of the book, set in Bath, is good fun. I really liked the way Isabella's true character is gradually revealed to the reader. Other characters are less well though out though -John Thorpe is a bit of a cliche and not very credible while Austen barely takes any trouble to give any real personality to others such as Mrs Allen and Eleanor Tilney.Even the main character, Catherine, is rather hard to get to grips with. When she arrives at the Abbey she develops a plainly ridiculous theory that General Tilney murdered his wife. This part of the book made little sense to me. It seemed out of character for Catherine, who fault is really to believe the best of people. Nor did it move the plot forward in any meaningful way. Northanger Abbey is, of course, a parody of the gothic novel genre. If, like me, you haven't read the novels being parodied your missing much of the point and its hard to form a reasoned judgement of the qualities. However, the test of a true classic is whether it speaks to all the ages by telling us something about the human condition. I doubt Austen would be remembered much if her reputation depended on this novel. Nevertheless, I liked it enough to want to read a few more.
Review by sally86
16/06/2015
By far my favourite Jane Austen book. Lighthearted and funny, with her usual cutting social observations that still hold true. I adore the way she parodies her favourite Gothic novels, and Our Heroine and her True Love are two of her most loveable protagonists, with all their deliciously human flaws and dramatics. We all know how an Austen book will end, but the story is so witty, and Our Heroine so tragically naive that you can't help but delight in the way the story gets there. Anyone who thinks Austen writes "romance" should read Northanger Abbey, it's the best example of just how much more than that there is to her work.