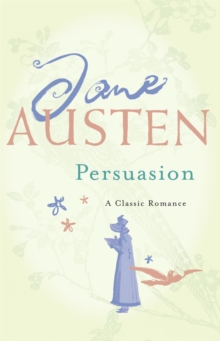 Description
Eight years ago, Anne Elliot and Frederick Wentworth fell head over heels in love.
But Anne's snobbish family put a stop to their engagement, believing the young naval captain wasn't good enough for her.
Pretty, intelligent Anne soon realises it was a terrible mistake, and spends her twenties in the shadow of her father and her selfish sisters.
But she never forgets.Then Captain Wentworth - by now a successful, wealthy man, looking for a wife - walks back into her life.
Can he forgive her? Does he still love her? And could they ever be happy, after all this time?
Information
Format: Paperback
Pages: 304 pages
Publisher: Headline Publishing Group
Publication Date: 15/05/2006
Category: Classic fiction (pre c 1945)
ISBN: 9780755331499
Other Formats
Paperback from £2.50
Hardback from £6.55
CD-Audio from £10.19
Leather / fine binding from £13.65
EPUB from £3.49
Mixed media product from £11.86
Free Home Delivery
on all orders
Pick up orders
from local bookshops
Reviews
Showing 1 - 5 of 6 reviews.
Previous | Next
Review by princessponti
16/06/2015
Initially, I found this book incredibly difficult to get into. I had been trying to read it on busy commutes and hadn't really dedicated a lot of 'concentrating' time let myself get absorbed by it. I find it difficult to click my brain into the 'classics'; the language and the feeling of these types of books I find somewhat difficult to submerge myself in at the outset. I generally need to dedicate some significant time to them in order switch over and fully appreciate what's going on, which I didn't manage to do with Persuasion. For this reason, I feel I have probably missed some of the important plot points!Saying that though, once I crossed the mid point and started cruising towards the end I truly loved this book. It definitely appealed to my hopeless romantic side! It's very strange (I think it's probably just me), but even though I had read the back cover (which unfortunately gives away the ending), I still was kept guessing as to what was going to happen! Austen managed to write in a couple of twists and turns into the love story which had me thinking 'Noooo!, that can't happen! It's not supposed to go this way!!'. Amazing that she could do that, even when I knew how it would turn out! I found Anne Elliot a great heroine; from the outset I was fully supportive of her plight. I could really feel the unhappiness in her soul of the lost love (having been there myself!). The way that she had shut herself down from the enjoyments of the world and lost her mojo (!), which slowly returned after the re-appearance of Mr (Captain) Wentworth into her life. I loved the re-awakening of the character. The way she realised that the world that she lived in wasn't the world that she wanted, and that she wanted to be around the people of Uppercross (albeit reluctant of the change initially), rather than her regular circle. Wanted to be with the people that actually cared more for life and friendships rather than social standing. The way that her 'sparkle' returned. But, purely the best thing about this book is the letter! It is the pinnacle of romance for me, everything about that scene was magical as I read it, I could have cried! It made all of my romantic hairs stand on end! Oh to have a Captain Wentworth! I picked this book up because of the movie 'The LakeHouse' (starring Sandra Bullock and Keanu 'swoon' Reeves), it was Sandra's character's favourite book in the movie and so I wanted to see if there were any parallels. Has anyone else read the book and seen the film? Obviously the main theme is 'waiting', for that person who is 'the one'. I also think that the connection between the two people awakens something in the other, making their life more complete, opening their eyes to a different way of living. The movie also expands on the letter writing (quite significantly!). Both tales are told in very different ways, but I think that the same feeling captured in both. All in all this is a magically romantic book, sure to appeal to all those with a big heart. I loved it!
Review by dhelicious
16/06/2015
This story follows the romance between Anne Elliot and Frederick Wentworth. Happily engaged to be married but she was then later on influenced by a friend saying that Frederick was not a worthy candidate due to his social status. Now, eight years later, he returns as a naval captain. Although still in love with each other, the past mistakes threaten to keep them apart. Both characters were vividly described having compassion, humour, intelligence and understanding. I cannot believe this book actually made me cry, a romance story with undying love.
Review by betti_b
16/06/2015
At the beginning I thought it was quite boring. Forced myself to go on and after about the first quarter I couldnt stop reading anymore. Finished the whole book nearly in 1 day. Jane Austen is a fascinationg author, because she makes you excited and thrilled about totally normal and trivial things.
Review by elliepotten
16/06/2015
WARNING: CONTAINS VERY SLIGHT SPOILERSOh, how I loved this book. I have just <i>officially</i> found my new favourite Austen novel. And the ridiculous thing? Once again, I was guilty of repeatedly skipping over this one on my shelves because it might be, well, a bit boring... Since I started getting stuck into Mount TBR I'm learning that some of my favourite books of the year/ever turn out to be ones I had repeatedly rejected, underestimated and shoved to the back of the queue.Anyway. Anne Elliott. What a girl. Although the style of this novel was a little archaic, and sometimes I had to go back and reread a particularly convoluted sentence or two, Anne Elliott captured my heart completely. She has all the virtue of Fanny Price and none of the weakness. She's loyal and loving and perceptive - but she has a much deeper inner strength, and <i>doesn't</i> have to sit down in a rose garden every time she ventures out of doors for two minutes. Yet again Austen's world has translated into a story this modern girl adored and understood completely. Within a chapter or two I was swept up in the heartache of Anne's separation from her beloved Captain Wentworth seven years ago, and her horror at having to meet him again, knowing that she was still in love with him. Her humiliation was heartbreaking, her dignity enviable. I watched their slow reconciliation with bated breath, tried to figure out the good guys from the bad guys... and I must admit, the Captain's heartfelt, desperate letter to Anne as he clutched at his chance to marry the woman he loved made me cry. I have <i>never</i> cried reading Austen before - only watching it!I also recommend the Sally Hawkins/Rupert Penry-Jones adaptation, which against my better judgement I watched immediately after finishing the novel. I wasn't disappointed at all - although a few details had been switched around or made a little more concise, much of it was quite faithful, particularly the dialogue. Anne's misery is perhaps even more heartbreaking as a visual representation than it is in Austen's polished prose, and I cried all over again...
Review by January_F
16/06/2015
Best. Letter. Ever! Who needs Mr. Darcy when there is Captain Wentworth!