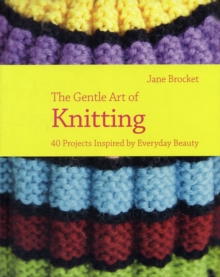 The Gentle Art of Knitting : 40 Projects Inspired by Everyday Beauty
Hardback
Description
A real return to the timeless, unchanging qualities of knitting - knitting to clothe, protect, wrap, comfort, enhance and insulate for all seasons.
The aim here is show off the beauty of the stitch, the real joy and intimacy of knitting, and to emphasise that the slow, meditative, unhurried creative process counts just as much as the end product. Jane offers 40 patterns for knitting simple, honest, projects that are practical, easy to knit, easy to wear and use, and made with beautiful fibres in gorgeous colours inspired by nature's own comforts. Notes and photographs illustrate the author's diverse sources of inspiration for each project, whether it is a beautiful flower in her garden, a favourite wine or a treasured book.
From a Plaited Bread Cabled Blanket and Faberge Egg Cosies to a String of Purls Cushion and a Chanel-style bag, Jane's designs are knits that you will want to stay around.
This inspirational and instructive book - with knits for you, your home, your life - will be a true pleasure to explore.
Information
Format: Hardback
Pages: 160 pages, Over 200 colour photographs
Publisher: Pavilion Books
Publication Date: 03/03/2011
Category: Knitting & crochet
ISBN: 9781843405320
Free Home Delivery
on all orders
Pick up orders
from local bookshops
Reviews
Showing 1 - 1 of 1 reviews.
Review by Abbess
16/06/2015
Despite my low rating, this is actually a rather nice book - well-produced, beautiful pictures, interesting write-ups. But there are several major difficulties. <br/><br/>Firstly, all the measurements and sizings, both human and needles, are British/metric, with absolutely no conversion charts that I could find anywhere in the book for USA needle sizings or metric-to-inches for the pattern sizes. That's simply thoughtless - many knitters in the USA admire and concur with the ethos expressed in this book (i.e., the beauty and joy in everyday things), as I do. Surely the inclusion of charts at the back of the book for at least the needle sizes would be appropriate? Certainly that would have been considerate. <br/><br/>Secondly, and this is a major concern, many, if not most of the pattern pages are of strange pastel shades that make it almost impossible to read - the print seems to just blend into the color! Extremely annoying. and off-putting, as if the metrics-only thing wasn't clue enough that this author didn't much care about potential difficulties for others not gifted with very, very good vision. My own is quite good, but the lack of contrast was extremely difficult to read after a moment or two. It made for pretty pages, but, really, a bow to functionality by the editors would have been kind - and useful - using a border of color might have worked much better. <br/><br/>The patterns? weeelll, (sigggh) - I wanted so very much to love this book, I went to a lot of trouble to get my local library to order a copy for me as people whose judgement I respect had recommended it highly, and their assessment of the patterns was , generally speaking, "wow!". I've really got to get them onto ravelry.com, though, for if these patterns are sensational for them, then they've lived a very limited (crafting) life so far. <br/><br/>The designs are very nice, many are quite beautiful, but all are fairly basic, albeit with nice touches (i.e., construction methods, touches of color here and there, cablings, etc.) that do make them special. The patterns are wonderful, actually, but in a fairly basic way, with only the color choices being rather spectacular. <br/><br/>The author's color sense is superb, gloriously bright and sunny, and she has a sensibility that allows all the combinations she uses to mix and mingle in very pleasing ways. In that respect I can see how some folks might consider this a stupendous grouping of patterns. But, again, I'd refer you all to Ravelry, especially to one of my favorite crafting people, Lucy at attic24. Her rainbow variations are head and shoulders above even these, although she does only work in crochet, so if you're "only" a knitter, then this book will have to do.<br/><br/>And it, overall, does very well. I had rated it as two stars but, upon reflection, will give it three. Decent for me, possibly extremely useful and interesting for others. And except for the colored pages (only the pattern instructions are on them) fairly easy to read.