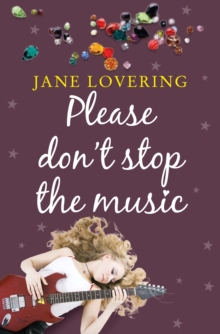 Please Don't Stop The Music
Paperback
Description
How much can you hide? Jemima Hutton is determined to build a successful new life and keep her past a dark secret.
Trouble is, her jewellery business looks set to fail - until enigmatic Ben Davies offers to stock her handmade belt buckles in his guitar shop and things start looking up, on all fronts.
But Ben has secrets too. When Jemima finds out he used to be the front man of hugely successful Indie rock band Willow Down, she wants to know more.
Why did he desert the band on their US tour? Why is he now a semi-recluse? And the curiosity is mutual - which means that her own secret is no longer safe ...
Information
Format: Paperback
Pages: 304 pages
Publisher: Choc Lit
Publication Date: 01/02/2011
ISBN: 9781906931278
Free Home Delivery
on all orders
Pick up orders
from local bookshops
Reviews
Showing 1 - 3 of 3 reviews.
Review by blodeuedd
16/06/2015
What can I say, it was real. I like this kind of romance. You know where a couple meet, are friends, and then something slowly builds up. It is real, it's life, there are doubts, and there is love.Jemima is young woman trying to build a life. She is nice, but she is also broken. Why we do not know. But there are hints, something has happened in her past. That alone could have kept me reading, I do like secrets. Then there is Ben, a former celebrity from a band bigger than Coldplay. Why he suddenly left no one knows. He has issues too, and I though that I knew why while reading, but the truth is never that simple. His secret made me want to read on too. These two needed each other. Their way to romance was slow, but truthful, and it made me the happier when they took small steps.There are also two side characters, Jason who shares a studio with Jemima. He was fun, and Rosie with her newborn son Harry. She was sweet and now I kind of want her story. And of course we need someone not to like and in comes Saskia, the resident bad guy. She does not want to sell Jemima's belt buckles anymore, she seems to have a stick up her ass, and she demands too much from Rosie (who makes handmade cards and sells them in Saskia's store). Something fishy is going on there, so there is a third mystery that makes the plot go forward.This book had a mix of everything, and there was warmth, true friendship and feelings about loss and trying to hide who one really is. I could not put it down, I had to read on. It was a fast read, and wonderful read too. Final thoughts and recommendation:I would recommend this one, it is not contemporary romance with whirlwind romances in a day, and big jealousy dramas. It's a more truthful look at a couple finding each other and opening up. While dealing with life. It was a wonderful book that I did not want to stop reading, and I do want to read more by this author.
Review by juniperjungle
16/06/2015


3.5 stars.

Generally enjoyable though at times predictable and not always well thought out.
Review by skirret
16/06/2015
Without a doubt, the best impulse buy of the past twelve months. <br/><br/>A positive review and an intriguing blurb led me to hope for a slightly unusual romantic mystery. A few pages into the book I realised that it was far, far more. Behind the smooth, captivating development of the plot and characters lies a firm, confident and very skilled hand. <br/><br/>Ms Lovering pulls off some extraordinary technical feats with such ease and panache that they almost slip by unnoticed. Holding back the revelation of the first-person narrator's dark secret for so long without irritating or annoying the reader was masterly, as was adding a second POV in the form of brief diary entries -- just short enough to provide a foil to the main narrative without distracting from it. And to juggle with so many traumatised personalities while keeping the dialogue completely natural -- the humour is spot-on and totally unforced, not the canned-laughter quips that infest so many recent novels.<br/><br/>In attempting to describe my reaction to this book, the word 'real' keeps intruding. Most books in this genre require some suspension of disbelief, some acceptance of stereotyped characters and situations. This book was different. The people and the places were utterly convincing. <br/> <br/>I was tempted to award this book 4 stars, if for no other reason than there must have been something lacking, somewhere. But after a few minutes' reflection, I realised that the book stands complete, all loose ends tied off, all beautifully balanced. Five stars it is.