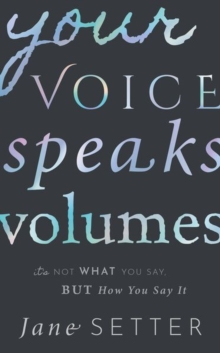 Your Voice Speaks Volumes : It's Not What You Say, But How You Say It
Hardback
Description
Why do we speak the way we do, and what do our voices tell others about us?
What is the truth behind the myths that surround how we speak?
Jane Setter explores these and other fascinating questions in this engaging introduction to the power and the science of the voice.
The book first takes us on a tour of the sounds in our language and how we produce them, as well as how and why those sounds vary in different varieties of English.
The origins of our vast range of accents are explained, along with the prejudices associated with them: why do we feel such loyalty to our own accent, and what's behind our attitudes to others?
We learn that much of what we believe about how we speak may not be true: is it really the case, for instance, that only young people use'uptalk', or that only women use vocal fry?
Our voices can also be used as criminal evidence, and to help us wear different social and professional hats.
Throughout the book, Professor Setter draws on examples from the media and from her own professional and personal experience, from her work on theprovenance of the terrorist 'Jihadi John' to why the Rolling Stones sounded American.
Information
Format: Hardback
Pages: 240 pages
Publisher: Oxford University Press
Publication Date: 07/11/2019
Category: Sociolinguistics
ISBN: 9780198813842
Free Home Delivery
on all orders
Pick up orders
from local bookshops