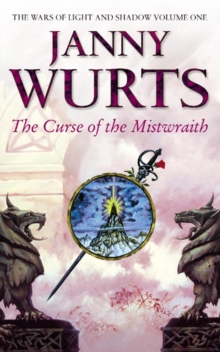 Curse of the Mistwraith
Paperback
Description
The stunning first volume in Janny Wurts's epic tale of two half-brothers cursed to life-long enmity, now re-released with a striking new cover.The world of Athera lives in eternal fog, its skies obscured by the malevolent Mistwraith.
Only the combined powers of two half-brothers can challenge the Mistwraith's stranglehold: Arithon, Master of Shadow and Lysaer, Lord of Light.Arithon and Lysaer will find that they are inescapably bound inside a pattern of events dictated by their own deepest convictions.
Yet there is more at stake than one battle with the Mistwraith - as the sorcerers of the Fellowship of Seven know well.
For between them the half-brothers hold the balance of the world, its harmony and its future, in their hands.
Information
Format: Paperback
Pages: 848 pages
Publisher: HarperCollins Publishers
Publication Date: 15/12/1993
Category: Fantasy
ISBN: 9780586210697
Free Home Delivery
on all orders
Pick up orders
from local bookshops
Reviews
Showing 1 - 5 of 9 reviews.
Previous | Next
Review by Caden
16/06/2015
Arithon and Lysaer are half brothers cursed to destroy one another plunging a world where they do not belong in to chaos. Arithon is a trained mage and Lysaer is a prince of Amroth. This is a fantastic book. The writing is stunning and the author takes you on a wonderful detailed journey . Might need a dictionary for this book but def does not spoil it for me I just love it.
Review by reading_fox
16/06/2015
How to review a book this vast in scope and detail? It is truly one of the most engaging epic fantasies you are likely to read.In ages past, high kings ruled Atherea with magically enhanced Justice and Compassion, guided where necessary by the united Fellowship of Seven sorcerers. Unicorns pranced in sunlit glades and all was well in the world. 500 years ago the sorcerer Devine broke fellowship and led a revolution throwing down the high kings and blocking the sun in the coils of a Mistwraith, only at utmost cost could the remaining sorcerers save the heirs to the throne who grew up in an exiled world ignorant of their past. The unicorns fled the mist shrouded land.Two princes bastard half brothers grow up as heirs to different rulers antagonized through generations of mistrust. A pirate community tries it's best to survive, the mage trained prince allows a final raid only to be captured and brought to face justice from his brother's father. The result is both are exiled out of their world and they land in Althera to be greeted by a sorcerer as the prophecied united savior to the land. But can they act together? Have the generations of strife ruined any hope for Athera? Can the dying kingdom's consent to rule by outlander princes? What is the fate of kingdom of compassion without justice, or justice without compassion? Will the mistwraith be defeated? It is is not without it's minor niggles. Plotwise the Princes adapt to a completely foreign world in remarkable short order, without any dis-orientation. And of course we have The Journey, common to so many fantasy novels our heros make their way on some epic trek across the countryside as a contrivance for them to meet people. And fo course this requires a map, and a glossary of names. More standard fantasy tropes that I dislike, particularly when I have to break the reading flow to go and check who so and so is and where abouts this town could be, however this is much better than not having them as without you will be truly lost. Fotunately most of the other major fantasy cliches are avoided!The writing style is mostly superb, with very vivid imagery, particularly when you've been imersed in the world for a while, however just occasionaly long dscriptive sentaces break the flow, requiring a backtrack to grasp the narrative. This is a multiple POV story, a style that I generally don't like. The two main princes carry most of the burden but we switch for odd chapters to other characters, the importance of whom we wait to see, the witch in particular seems to break the flow, but may be vital to later books. The other oddity is a series of glimpses around the world, characters briefly interacted with get a later paragraph at the end of some chapters. Although this sounds disruptive it actually works very well at keeping in touch with those who may prove to be inportant later on. The characters are great, the world detailed practical and well described and the plot twists and turns its way to the intricate conclusion, paving the way for what will be a great series.Rich, deep, vivid and vast this is one of the most enthralling epic fantasies I've ever read. Make sure you have plenty of uninterupted time, find somewhere comfortable and let the Curse of the Mistwraith swallow you for hours.
Review by jimmaclachlan
16/06/2015
The first book in a sweeping epic, it sets up a complex set of worlds & yet also has a ton of action. If you're looking for something that rivals the Lord of the Rings, I think this is it. If you're looking for a quick easy read, something you can skim through - don't read this book. You'll only get confused. Every word is hand picked & polished to wring out the full meaning.While the book is a setup to a series, it doesn't end on a cliff hanger, something I appreciate. Actually, it could easily be two books & was in at least one edition (German, I think). The action rises to a peak in about the middle & that would make a fine novel, all on its own. Then, very logically & smoothly, the adventure continues until another shattering climax at the end. The players are all still there & it's obvious life goes on, so I'm ready to read the next in the series. (The complete series this time - they're all coming now!!!)This is a book I'll keep & re-read, something I don't do lightly any more. There are too many good books out there to re-read any but the best.
Review by majkia
16/06/2015
Repeatedly the Rauven mages had stressed that assumptions were the weakness of the learned.Two half-brothers at war. Thus begins a tale that travels from one world through a portal to another world where mages hope the brothers working together can heal the plague of the mistwraith. Misunderstandings, assumptions, wrong choices, overlooked opportunities, prophesies and hatreds abound. Sorcerers, it seems, are just as prone to error as everybody else.The characters are well drawn and perverse and with minds of their own. The world is complex and the magic strange and confusing. The plot, though it seems fairly simple, confounds with consequences that aren't foreseen and complicate matters horribly.I'll definitely be continuing with this series.
Review by Sorrel
16/06/2015
The Curse of the Mistwraith completely failed to engage my imagination. It presents a very detached view of a world that might have been interesting if only it had been more accessible. It's a series that I definitely won't be picking up again. (Despite this, I have enjoyed other books by this author eg. Sorcerer's Legacy.)
Also in the The Wars of Light and Shadow series | View all