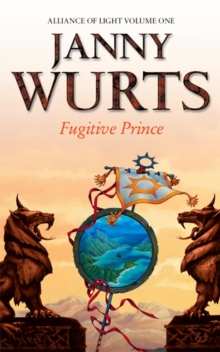 Fugitive Prince : First Book of the Alliance of Light
Paperback
Description
Where there is light, there must always be shadow...
The fourth volume in Janny Wurts's spectacular epic fantasy, now re-released with a striking new cover design along with the rest of the series.The schism began with two half-brothers empowered to subdue a Mistwraith.
In revenge it cursed them to a life of perpetual conflict.
Each believes absolutely in his cause, and loathes the other for opposing it...Lysaer, Prince of the Light - a charismatic leader sworn to set humanity free from sorcerous oppression.
He claims divine power to safeguard his people from an enemy he is convinced will destroy them.Arithon, Master of Shadow - a trained mage who wishes for nothing but to defuse war, and search out the vanished old races who hold the key to restore the world's shattered peace.When Koriani enchantresses join forces with Lysaer, new intrigues upset Arithon's hard-won autonomy.
Faction is set against faction, heart against heart, and the scene is set for an explosive recurrence of war.
The curse of the Mistwraith echoes eternal...
Information
Format: Paperback
Pages: 576 pages
Publisher: HarperCollins Publishers
Publication Date: 06/04/1998
Category: Fantasy
ISBN: 9780006482994
Free Home Delivery
on all orders
Pick up orders
from local bookshops
Reviews
Showing 1 - 2 of 2 reviews.
Review by reading_fox
16/06/2015
It's not easy being on the run. Especially when your half brother is stirring up entire continents worth of people to hate the very idea of your existance. So what you really don't need is a magical sisterhood designating you target no.1 for their particularly convolute plots. However on the plus side you've still got a few people prepared to die for you (well Lyessar wants to kill them too, so in the meantime they'll die in your cause rather than his) plus the not inconsiderable might of what's left of the Seven powerfull Sorcerers, even if they are hampered by ethics of permission.I spent a lot of this book going "Oh dear" as first one then another plot falls foul of chance, clever characters, magic, or ancient ruins. The best laid plans of Mice, Men and even Magicians go oft awry, which is lucky for Arithon because that's just about all thats keeping him alive. There's a lot more focus on the Korinthian order - although Elaria is still in the background, and we learn more about why the Fellowship dislike them so. There is a small amount explanation of the world's history here - fascinating explantation why 1000s of year sof humankind haven't managed to develop more technology - and a subtle barb at modern society. This is really a minor characters book though. Arithon spends a lot of it unconscious or just sailing about, Lyessar doesn't get to have much of a character as he's subsumed into the Mistbane's curse, and so it's left to assisstants, sorceresses, and clansmen to keep the plot moving. The increasingly disjointed plot lines do mean it's a slightly less immersive experience than the previous works though. I particularly disliked the prose devise of scrying into the next scene that happens a few times, and there's also some contrived time travel, which is another personal dislike, and a favourite character is killed off. There is always a bit of attrition in epic fantasy - it's almost one fo the defining characteristics of the genre but I thought this person was safe enough. Oh no.A worthy continuation of the series and the convenient starting point of a new story arc - notable in the absence of Arithon contrived masacres of Lysesar's forces which were heading towards predictable in the last books and a welcome change. The style continues as complex and enjoyable as ever. See how it all works out in the 5 centuries of the brothers lives in the next few volumes.
Review by AHS-Wolfy
16/06/2015
This continuation of the epic fantasy series sees the start of a new arc of the story. The time Arithon had bought at the end of the previous book is rapidly dwindling as Lysaer attempts to trap his half-brother by forming alliances that cross the country so that he will have nowhere to hide. Lysaer has also re-introduced the abhorrent act of slavery for those that seek to aid Arithon and put a bounty on the head of any clansmen that can be found. He wants them to man the oars of the newly built fleet of ships to be used in blockade to stop anyone escaping by sea. And even though he opposes the use of sorcery, Lysaer is willing to receive aid from the Koriani if it will serve up Arithon to justice. Will Arithon be able to untangle the web that the Koriani Prime Matriarch is spinning to ensnare him and what actions will the already beleaguered Fellowship of Sorcerers be able to manage to ensure his continued existence?Being the first part of a new arc there is a lot of set-up in this book. Not only does it provide the background for potential new readers it also introduces new characters galore and fleshes out those that carry over and come more to the fore this time around. The books in this series are not quick and light affairs. They are complex and at times heavy going but are so worth the effort in the end. The world-building, character development and their actions and consequences are all superbly handled and you can't help feel for them as the cursed half-brothers draw closer to confrontation and how this affects those that are drawn in to these events.
Also in the The Wars of Light and Shadow series | View all