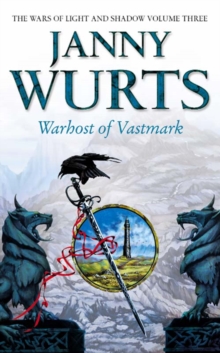 Warhost of Vastmark
Paperback
Description
Janny Wurts's epic tale of two half-brothers cursed to life-long enmity reaches new heights in the third volume, now re-released with a striking new cover.Tricked once more by his wily half-brother, Lysaer, Lord of Light, arrives at the tiny harbour town of Merior to find that Arithon's ship yards have been abandoned and meticulously destroyed, and that the Master of Shadow has disappeared as if into thin air.Meanwhile Arithon and the Mad Prophet Dakar are travelling on foot through the treacherous Kelhorn Mountains towards the Vastmark clans, there to raise further support for his cause.
But raising a warhost is a costly business. Is it mere coincidence that Princess Talith - Lysaer's beautiful, headstrong wife - is taken captive and held for a vast ransom by a master brigand?The forces of light and shadow circle and feint, drawing ever closer to a huge conflict. And in the background the Fellowship of Seven Sorcerers and the Koriani Enchantresses watch and plan, and wait...
Information
Format: Paperback
Pages: 576 pages
Publisher: HarperCollins Publishers
Publication Date: 14/10/1995
Category: Fantasy
ISBN: 9780006482079
Free Home Delivery
on all orders
Pick up orders
from local bookshops
Reviews
Showing 1 - 3 of 3 reviews.
Review by reading_fox
16/06/2015
The concluding part of the opening arc of the wars of Light and Shadow. Initially written as part of the Ships of Merior it is long enough to stand as a book in it's own right.Having again decimated Lyesar's forces, Arithon again seeks to build his ships and retreat to avoid the travails of the Mistrwith's curse which still afflicts him. From his base at Merior he learns that Lyesar will not be so easily curbed as he can sway mercenaries from Alestron - the town who's armoury Arithon destroyed by accident a few years back. And so rather than endanger the gentle inhabitants of Merior - the widow Jerrese her children and Alestron's ex-guard captain amoung them - Arithon retreats again, this time to the mountainous desolation of Vastmark. This is again inhabitanted by the clanborn, shepherd archers. And again in order to refine these into a suitable force delaying tactics must be engaged before Arithorn dares to allow Lyesar and his vast army to close with his forces. Meanwhile Darkar is dragged complaining behind, bound as he is by the Fellowships geas, and determined to gather evidence that Arithon has been acting as Lysear casts for him, with devious intent. This didn't quite grab me as entrancingly as the previous two volumes. The plot seems somehow repetitive from the previous two, and whilst there is no way of predictin Arithorn's tricks, it is always now evident that he his upto something which takes some of the surprise out of it. Lysear is also very predictable again, and hasn't yet learnt that brute force will never win, something that should have been evident fro the first. Many of the minor charaters also get short shrift, Elaria is particularly notable for her absence, not even a mention in Arithorn's thoughts. Technically the writing is perhaps better than previously, certainly I didn't notice any of the tortuous sentances that had previously jarred, but I think I would have preferred more complexities in the plot, and taken the writing jolts. There is development of Arithorn, and Dakar's characters but only along the previously established lines. Maybe these criticisms many be less marked when considering this as part of Ships of merior rather than a continuation. Still very good, but perhaps not up to the standards of the first, but a satisfying wrapping up of the plot points established, and preparation for the continuation of the third story arc...........................................................................................................................................................After re-readA bit harsh - I certainly enjoyed it as much as the others on the re-read. The is a wider focus on the surrounding characters, although Arithorn does still have centre stage. Elaria Does get one critical paragraph of Arithon's thoughts, and we learn a bit more about the Korianthi order. Chief companion role goes to Darkar. Once again thecentral themes of compassion, the freedom of choice and humanities ability to self-justify along predjudical lines are fully explored. Continues to be deeply captivating reading.
Review by AHS-Wolfy
16/06/2015
Volume three of <i>The Wars of Light and Shadow</i> and concluding part to the first story arc of this series. The tale picks up immediately after events of the previous book (not surprising as they were originally written as one volume) with Lysaer using the Alestron mercenary force to bolster his attempts to track and kill Arithon who has fled to the craggy wastes of Vastmark. Trying to avoid an all-out war, Arithon's tactics are to delay and confuse his opponent at every turn.Bereft of the need for exposition and the setting up of plot-points and major characters, this book flies along. The depth of the characters and world building is exceptional. The relationships which the reader builds with these characters are remarkable and often gut-wrenching in their heartbreaking effects. If you are thinking of starting out on this series then be warned that it will need to devote some time to it as none of the books are quick and easy reads. It is worth the effort though.
Review by majkia
16/06/2015
Odd I've read this and the Attolian books (The Thief - Megan Whalen Turner) back to back because Arithon reminds me so much of Gen the Queen's Thief. Both are all about complex and secretive plots they are slow to share with anyone.I'm greatly enjoying this series, although it can get to be a tough read as war is waged across varying landscapes and little is hidden of the horrors of such warfare. The Curse continues as brother is pitted against brother, the one gathering huge armies to track down and kill his half-brother, as the other jinks and dodges and tries to avoid as long as possible confrontation.Complex characterization, detailed world-building, and twisty plots abound.I do have to say I'd like to take the sorcerers out and shake them till their teeth rattle.....
Also in the The Wars of Light and Shadow series | View all