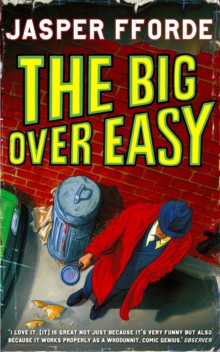 The Big Over Easy : Nursery Crime Adventures 1
Paperback
Description
It's Easter in Reading - a bad time for eggs - and no one can remember the last sunny day.
Humpty Dumpty, well-known nursery favourite, large egg, ex-convict and former millionaire philanthropist is found shattered beneath a wall in a shabby area of town.Following the pathologist's careful reconstruction of Humpty's shell, Detective Inspector Jack Spratt and his Sergeant Mary Mary are soon grappling with a sinister plot involving cross-border money laundering, the illegal Bearnaise sauce market, corporate politics and the cut and thrust world of international Chiropody.
As Jack and Mary stumble around the streets of Reading in Jack's Lime Green Austin Allegro, the clues pile up, but Jack has his own problems to deal with.And on top of everything else, the Jellyman is coming to town...
Information
Format: Paperback
Pages: 416 pages, b/w line illustrations
Publisher: Hodder & Stoughton General Division
Publication Date: 08/06/2006
ISBN: 9780340897102
Free Home Delivery
on all orders
Pick up orders
from local bookshops
Reviews
Showing 1 - 5 of 13 reviews.
Previous | Next
Review by murraymint11
16/06/2015
Ran along at a great pace. Lots of laugh-out-load moments, with clever use of puns and nursery rhyme tales. Loved the references to Inspector Moose from Oxford, Miss Maple for St Michael Mead, and Inspector Dogleash.
Review by reading_fox
16/06/2015
Detective Inspector Jack Spratt heads the Nursery Crime Division (NCD) of Reading police dept. That probably tells you all you need to know about this book. Its a massively funy spoof on the whole police procedural genre. Disappointed after losing his last case (prosecuting the three little pigs for the murder of Mr "Big Bad" Wolf, Jack is called in to investigate the apparent suicide of "the Big Egg" aka Humpty Dumpty. Yes he fell off a wall. Fortunetly the Queen's foresnic dept. could do what all the King's men couldn't. They reconstructed his shell and declared it a murder. Th epuns don't get any better but the literary references get worse. There are times when you can just see a pun looming in front of you and when it arrives you just want to shout - NO I can't belive you've just done that. You will get some very odd looks whilst reading this book! Some of them reference sare somewhat blatent - Inspecter Moose in Oxford, but others are more subtle. There are several that relate to the Thursday Next series, but you won't miss much if you haven't read these. Jack Spratt and Mary Mary are book people from Thursday's world she is instrumental in preventing them from being deleted. Quite how they've ended up in Berkshire is not explained - but there seem to be many book / nursey tale characters there too.Its a cracking read, and does also work as a whodunnit - the contrived and prolonged final twist, as in all good murder stories, is completely unexpected.
Review by JustAGirl
16/06/2015
This is the first of the Nursery Crimes series and is brilliant. Consistantly funny throughout but never losing the grip of the plot. It's written like an old noir book, and the nursery characters are real characters. Humpty is wonderfully portrayed, including the difficulties of being, basically, a large egg with legs. Jack Spratt and Mary Mary are a great detective team and this works excellently as a straight detective thriller as well as a very funny comedy.
Review by surreality
16/06/2015
Plot: The plot is this book's problem. It just ventures far too far into the absurd and doesn't have the redeeming twists of the <i>Thursday Next</i> books to save it from becoming completely pointless. It just doesn't add anything to the book. Characters: The main characters left me bored, the side characters were great. Stereotypes, but deliberately and very fittingly so. There is a lack of characters from literature in this series which is disappointing when you expect a <i>Thursday Next</i> spinoff. Style: Nothing to get excited about. Occasional nice humour, though it feels forced in many places. The lack of description is quite noticeable in some scenes. Plus: The side characters and side plots, and the idea of the Guild in the background that makes for a very nice metaphor on reporting. Minus: The main plot simply doesn't fly. The book doesn't meet expectations.Summary: The book suffers badly from being set in the <i>Thursday Next</i> universe, since it doesn't match the style set in those books. In comparison it just feels silly.
Review by mooknits
16/06/2015
I really enjoyed this book although I didn't expect to. It was well written and amusing and kept me interested the whole way through. It was very cleverly done indeed.