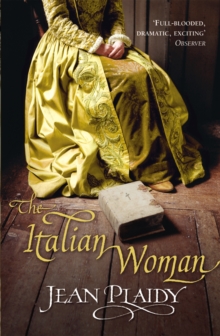 The Italian Woman : (Medici Trilogy)
Paperback
Description
When Catherine de' Medici was forced to marry Henry of Orleans, her's was not the only heart broken.
Jeanne of Navarre once dreamed of marrying this same prince, but like Catherine, she must comply with King Francis's political needs. And so both Catherine and Jeanne's lives are set on unwanted paths, destined to cross in affairs of state, love and faith, driving them to become deadly political rivals.
Years later Jeanne is happily married to the dashing but politically inept Antoine de Bourbon, whilst the widowed Catherine continues to be loved by few and feared by many - including her children.
But Catherine is now the powerful mother of kings, who will do anything to see her beloved second son, Henry, rule France.
As civil war ravages the country and Jeanne fights for the Huguenot cause, Catherine advances along her unholy road, making enemies at every turn...
Information
Format: Paperback
Pages: 400 pages
Publisher: Cornerstone
Publication Date: 01/07/2006
Category: Historical fiction
ISBN: 9780099493181
Free Home Delivery
on all orders
Pick up orders
from local bookshops
Reviews
Showing 1 - 2 of 2 reviews.
Review by cathymoore
16/06/2015
Book two of three about the life of Catherine de Medici. This follows Catherine through middle age, as she focuses her energy on keeping her children on the throne of France against the backdrop of religious reformation. While I felt sorry for her in part one, as a young woman in love with a man who loves someone else, I found her a much less sympathetic character this time around. However I'll look out for the third book so I can see how low she is prepared to stoop to hold on to power.
Review by PhilSyphe
27/08/2015
Rather than picking up from where "Madame Serpent" leaves off, this sequel backtracks several years, beginning by showing the reader one of Catherine de Medici's greatest rivals, Jeanne of Navarre. Only when we reach the second of the three long chapters in this book does Catherine once again take centre stage, carrying on from where events in Book One finished.There's more scope in "The Italian Woman" than in "Madame Serpent". Whilst Book One's main focus was on Catherine, particularly her unrequited love for her husband and her hatred for the king's mistress, Book Two features many more characters and follows events in their lives. Thus, in a sense it's better to have more variation, but I still prefer "Madame Serpent" for its more limited yet more engrossing themes.I admit to feeling much less sympathy for Catherine in this novel, as she's no longer the neglected queen who's considered a meek fool. Now she desires power in place of the love she never found, not caring who suffers along the way. In fact she only cares for her third-oldest son, the future Henry III. The rest of her children, including French kings Francis II and Charles IX, are scared of their mother – a mother who'd readily see them dead if it meant advancement for her favourite son.It's hard to feel any warmth for a character of this nature, but she nevertheless is the best-drawn character of the book. She, like the real Catherine de Medici, is a fascinating woman. As the author says in her afterword, much of Catherine's reputation is based on rumours and on the reputation that sixteenth-century Italians had for poisoning those who stood in their way. Even so, there's evidence enough to show she was no saint. Although I like the first in the trilogy more than this second instalment, "The Italian Woman" still proved to be an entertaining read.
Also in the Medici Trilogy series | View all