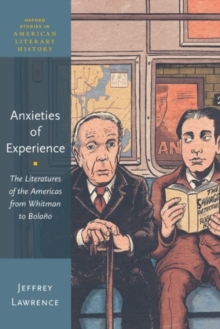 Anxieties of Experience : The Literatures of the Americas from Whitman to Bolano
Undefined
Description
Anxieties of Experience: The Literatures of the Americas from Whitman to Bolano offers a new interpretation of US and Latin American literature from the nineteenth century to the present.
Revisiting longstanding debates in the hemisphere about whether the source of authority for New World literature derives from an author's first-hand contact with American places and peoples or from a creative (mis)reading of existing traditions, the book charts awidening gap in how modern US and Latin American writers defined their literary authority.
In the process, it traces the development of two distinct literary strains in the Americas: the "US literature of experience" and the "Latin American literature of the reader." Reinterpreting a range of canonical works from WaltWhitman's Leaves of Grass to Roberto Bolano's 2666, Anxieties of Experience shows how this hemispheric literary divide fueled a series of anxieties, misunderstandings, and "misencounters" between US and Latin American authors.
In the wake of recent calls to rethink the "common grounds" approach to literature across the Americas, the book advocates a comparative approach that highlights the distinct logics of production and legitimation in the US and Latin Americanliterary fields.
Anxieties of Experience closes by exploring the convergence of the literature of experience and the literature of the reader in the first decades of the twenty-first century, arguing that the post-Bolano moment has produced the strongest signs of a truly reciprocal literature of the Americas in more than ahundred years.
Free Home Delivery
on all orders
Pick up orders
from local bookshops
Also in the Oxford Studies in American Literary History series | View all