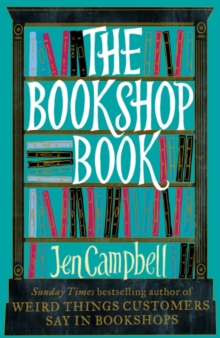 The Bookshop Book
Hardback
Description
We're not talking about rooms that are just full of books. We're talking about bookshops in barns, disused factories, converted churches and underground car parks.
Bookshops on boats, on buses, and in old run-down train stations.
Fold-out bookshops, undercover bookshops, this-is-the-best-place-I've-ever-been-to-bookshops. Meet Sarah and her Book Barge sailing across the sea to France; meet Sebastien, in Mongolia, who sells books to herders of the Altai mountains; meet the bookshop in Canada that's invented the world's first antiquarian book vending machine. And that's just the beginning. From the oldest bookshop in the world, to the smallest you could imagine, The Bookshop Book examines the history of books, talks to authors about their favourite places, and looks at over three hundred weirdly wonderful bookshops across six continents (sadly, we've yet to build a bookshop down in the South Pole). The Bookshop Book is a love letter to bookshops all around the world. --"A good bookshop is not just about selling books from shelves, but reaching out into the world and making a difference." David Almond (The Bookshop Book includes interviews and quotes from David Almond, Ian Rankin, Tracy Chevalier, Audrey Niffenegger, Jacqueline Wilson, Jeanette Winterson and many, many others.)
Information
Format: Hardback
Pages: 288 pages
Publisher: Little, Brown Book Group
Publication Date: 02/10/2014
Category: Literary companions
ISBN: 9781472116666
Free Home Delivery
on all orders
Pick up orders
from local bookshops
Reviews
Showing 1 - 4 of 4 reviews.
Review by ClicksClan
16/06/2015
Loved this book! So many fascinating stories and little funny bits.Felt a lot like a bookshop itself. Lots of little interesting tidbits hidden amongst the main content.Liked the interviews running through the book, shows just how important bookshops are to so many people.Makes it feel like the right bookshop, doing the right thing, can be successful. I would love to open a used & new book & craft shop some day.
Review by brokenangelkisses
27/08/2015
Did you know that 'Alice in Wonderland' was banned in China in 1931?Apparently Lewis Carroll's novel was banned because 'General Ho Chien thought it was offensive to depict animals talking as if they were people'. If you would enjoy reading a book full of similarly amusing information about books and bookshops then look no further: 'The Bookshop Book' will suit you perfectly.== What's it about? ==Ducks and golf. No, not really. Er, see the title. Books and bookshops, book sellers and authors, bookish trivia and book related chatter. Rather than chapters the book is loosely organised by geography: Europe, Africa, North America, Central and South America, Australasia and Asia each have their own section, though anecdotes and information from Europe and North America dominate.== What's it like? ==The paper equivalent of a box of chocolates. Dip in a hand randomly and you may find a soft caramel that melts quickly in your mouth (a wonderful thing or a bookish fact) or a sticky toffee that gives minutes of chewing (a chat with an author or bookseller). One chocolate may not be exactly what you were in the mood for, but that's okay because you can move on quickly to sweeter, more appealing tastes, confident in the overall quality of the box.Like chocolates, this book may be best reserved for multiple sittings so you can fully appreciate the diverse flavours and avoid the risk of gorging yourself to the point of boredom. Of course, you may be the kind of reader who can happily enjoy nibble after nugget without ever requiring respite, but I suspect the most enjoyment will be gained if you take regular rest breaks.Campbell entertains from the opening pages, informing readers on page two of the introduction of a Florentine bookseller who was 'so outraged that books would no longer be written out by hand that he closed his bookshop in a fit of rage and became the first person in history to prophesy the death of the book industry'. (I wonder what he would have made of ereaders?)== What will I learn? ==Among other golden nuggets, you will learn:- What the likes of Brian Aldiss, Rachel Joyce, Ian Rankin and a wide range of other modern authors think about books and bookshops.- That it is possible to sell almost anything alongside books if you have the right audience. I'm not just talking about coffee and cake here; think alcohol, cows, even hiking equipment.- That any building can be converted into a bookshop and some bookshops travel, while, after some difficulties with their premises, Brazenhead Books in New York technically doesn't exist.- That some bookstores sell old books, some sell new books, some sell a mixture of both, but at least one bookshop sells only one book.And much more besides. There are also several colour photographs of some of the bookshops mentioned.== I like the sound of this; tell me more. ==This a pleasurable read brimming with minor details about how various bookshops are run and have developed, all lovingly curated for the readers' enjoyment. The positive, relaxed language used in the book's subheadings helps to create a sense of almost childlike wonder that reminds us all just magical and life-transforming books and literacy can be.Many of the stores told are inspirational: libraries travelling by camel; people pursuing their dreams of opening a bookshop; and shops raising funds for charities promoting literacy. Just like Jen Campbell's first two books, 'Weird Things Customers Say in Bookshops' (reviewed here) and 'More Weird Things Customers Say in Bookshops', this would make a super gift for any bibliophiles in your life.== "My location is...Bookshop!" ==If you've ever considered opening your own bookshop, this could well give you the necessary nudge - Campbell makes it all sound like so much fun! Now the only question is, should you restrict your stocklist to books or should you branch out into suitable companion items? Sunday lunches, camels, cocktails...the options seem endless.What would your ideal bookshop sell? How would you arrange the books? And would you do the selling yourself or would you just sit and read, savouring the bookish atmosphere? So much to consider!
Review by EdGoldberg
16/06/2015
There are readers. There are library people and there are bookstore people and while they aren't mutually exclusive, they aren't necessarily the same. Someone I know only likes libraries because of their neatness and order and can't even abide the used book sale shelves we have in the library. Others love the unexpected you can find in a bookstore, especially a used book store…the clutter in the midst of which you find that book you didn't know you were looking for.The Bookshop Book by Jen Campbell is primarily for the used book store lovers, although Ms. Campbell does mention several modern, pristine looking bookstores, as well. Segmented by geographic area, she picks out the unusual, the odd, the bookstore that will attract bookstore lovers. There is the bookstore that is on a 60 foot narrowboat that runs up and down the canals in Lichfield, UK, "…where there's tea and biscuits and a sneaky glass of wine…there are sofas to sit on, and refreshments to be had…" Makes you want to go there, huh?Or how about Wigtown, the National Book Town of Scotland where you will find The Bookshop. For a small fee, you can join the Random Book Club, in which they will send (anywhere in the world) you a random second hand book every month. I joined and Susan just received her first book. She can't wait to read it. You MUST watch the video on their website.There is Tell a Story in Portugal whose goal is to "…promote Portuguese literature by selling English translations of its works to British tourists from a bookshop van that tours the country." The Libraria Acqua Alta in Venice which overlooks the canal. I can't imagine the moisture in those book pages.Fjaerland Book Town in Norway has a wonderful view of snow covered mountains. The Biblioburro in Colombia, South America is a man on his burro making sure people in the outskirts have material to read.I could go on an on. There are famous bookstores, like the Strand in New York and unknown bookstores. The book includes comments by bookstore owners, many of whom had always wanted to own a bookstore but wouldn't take the chance until retirement age. Ms. Campbell includes Bookish Facts, and Some Wonderful Things scattered throughout, as well as comments by authors, again both famous and somewhat less so. She covers six of the seven continents…no bookstores in Antarctica, I gather.I found this to be a charming book and one I will consult as we plan our next trip, both here and abroad. Do yuou love bookstores? If so, go to your nearest one and pick up a copy of The Bookshop Book.
Review by cabracrazy18
27/08/2015
I have absolutely fallen in love with this book. It has also fueled within me a burning desire to open a bookshop of my own. This book brings to light the magical places around the world that are run by quirky bibliophiles like ourselves. I can not express enough; if you love books and bookshops and book related things, you will love this book. Guaranteed.