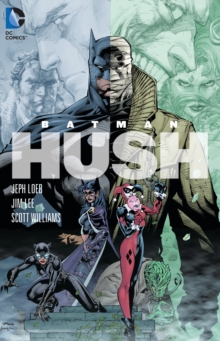 Batman Hush Complete TP
Paperback
Description
Written by Jeph Loeb Art and cover by Jim Lee and Scott Williams The epic crime thriller that rejuvenated The Caped Crusader is now available in one place as a trade paperback!
In this story of murder, mystery and romance, Batman sets out on a simple mission to discover the identity of the mysterious villain wreaking havoc in his life known as Hush.
But Batman ends up facing possibly the most intense case of his life as secrets from his past flood into the present, and the most notorious villains to ever haunt Gotham City's street attack simultaneously!
Guest-starring The Dark Knight's greatest allies and enemies, this collection features BATMAN #608-619 as well as the 6-page segment from Wizard #0 and a 2-page origin story that originally appeared at dccomics.com. From best-selling writer Jeph Loeb (SUPERMAN/BATMAN, TV's Heroes) and superstar artist Jim Lee (SUPERMAN, X-Men) comes the long-awaited collection!
Advance-solicited; on sale August 12 o 320 pg, FC, $24.99 US
Information
Format: Paperback
Pages: 320 pages
Publisher: DC Comics
Publication Date: 12/08/2009
Category: Superheroes
ISBN: 9781401223175
Free Home Delivery
on all orders
Pick up orders
from local bookshops
Reviews
Showing 1 - 5 of 7 reviews.
Previous | Next
Review by branimal
16/06/2015
About two years ago I was getting extremely excited for the long awaited sequel to Christopher Nolan's Batman Begins, The Dark Knight. Shortly after the DVD release of Begins and the comic collection that accompanied the special edition, I looked at graphic novels in a different light. They were a medium which could supply me with darker and more satisfying Batman tales which would in turn hold me over until my viewing of Dark Knight. What started as an interest, soon turned into the beginning of a passion. I began with Frank Miller's Year One and Jeph Loeb's The Long Halloween & Dark Victory novels but most recently, I acquired the Loeb/Lee collaboration, Hush. Hush changed things dramatically in the Batman universe. It brings together some of Batman's most notorious villains in Joker, Poison Ivy, Killer Croc and Riddler. It also brings an unlikely ally, Catwoman into the fold as well as a cameo by the man of steel himself, Superman. I won't spoil a lot other than that Batman manages to involve himself in a relationship and a major nemesis is turned to the side of justice, abandoning their evil past. Jim Lee's art is spectacular and Jeph Loeb's writing is top notch, as usual. However, Lee's work manages to outshine Loeb's writing as Loeb did not manage to create a story that belongs in the same league as Halloween with Hush. This is not really a terrible thing, it's just hard to recreate perfection. While Hush has a spectacular ending that I did not see coming, it seemed very anticlimactic. In the end, Hush is certainly a memorable piece of Batman history and deserves even the most casual of graphic novel reader's attention. Do yourself a favor and check it out but only if you have read Jeph Loeb's previous work first.
Review by aadyer
16/06/2015
Overall, reasonable. Bit of a "greatest hits" type of novel, the twists and turns were not entirely unexpected....Overall, a reasonable effort, but there are a lot better Batman novels out there
Review by SadieOldenkamp
16/06/2015
Really great reunion of many Batman characters, as well as others in the D.C. universe [Superman, Lois Lane, etc.]. Poison Ivy takes a main seat in the story development which was a major plus for me [I'll admit personal bias since she's one of my favorite D.C. characters]. Very well-drawnn, and in Batman's flashbacks to his childhood you see classic D.C. characters drawn as they were back in the day of early comics. A great work for anyone itching for a touch of nostolgia.
Review by randoymwords
16/06/2015
Not as bad as I thought it would be...Artwork first: When Jim Lee really likes what he's drawing it shows. He'll put a ridiculous amount of detail into a full-page shot of the Joker crouching in an alley. But, when it comes to illustrating conversations that move the plot forward, backgrounds are barely drawn and perspective is usually ignored. Of course, none of his female characters could possibly have a digestive system, but let's chalk that up to a stylistic quirk. Or at least sex appeal for the Maxim crowd.The story is forgivingly ridiculous, in that superhero way. Lots of drama here. Lots of kung-fu fighting and things blowing up. But there's also a bit of thought put into this. If there's a theme to the book, it's that of Batman's relationships to his "family" that he's built up over the years.Perhaps the thing that separates him from the villians is his support network, eh?I'd put this on the same level as the recent movies: interesting things to look at and a good springboard for discussion. Not a masterpiece by a long shot, but solid.
Review by Ceilidhann
16/06/2015
Gorgeous artwork (Jim Lee is pretty unbeatable when he's on his game) but the story doesn't feel as fresh or interesting as the last Batman work by Loeb I read, The Long Hallowe'en. This feels like a polished up retread of the well worn Batman detective stories, which is fine but the story just doesn't hold up for me. Luckily, the character interactions are much more interesting, although no villain is really given enough page time to truly make a deep impact, and I'm a sucker for some sharp Batman/Catwoman dialogue. It's a damn enjoyable piece of work but not an instant classic.