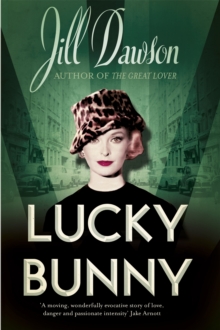 Description
Crime is a man's business, so they say, though not according to Queenie Dove.
A self-proclaimed genius when it comes to thieving and escape, she reckons she's done pretty well. Yes, she had a tough childhood in London's East End during the Depression, with a father in and out of prison.
But she survived the Blitz, learned how to get by on her wits, and soon graduated from shoplifting to more glamorous crimes. Daring, clever and sexy, she thrived in the Soho of the Krays and the clubs of Mayfair, fell wildly in love, and got away with it all. Or did she? For beneath Queenie's vivacious, unrepentant account lies another story - of punishment and loss, and a passionate relationship that turns sour. To the end, she believes she was lucky, but did she simply play the hand that fate dealt her?
Vividly portraying the times and circles she moved in, Lucky Bunny captures an intriguing, engaging woman as it questions how far we are in control of our own lives.
Information
Format: Hardback
Pages: 304 pages, None
Publisher: Hodder & Stoughton General Division
Publication Date: 01/08/2011
ISBN: 9780340935675
Free Home Delivery
on all orders
Pick up orders
from local bookshops
Reviews
Showing 1 - 3 of 3 reviews.
Review by elkiedee
27/08/2015
Lucky Bunny is fiction, but it is presented as the memoir of a female criminal, from her birth in 1933 to the 1960s.Queenie, as she has chosen to call herself, was born and brought up in London's East End. Her life of crime starts with stealing some milk, then she moves into shoplifting as a child, often working with older family friends. She has been brought up largely by her grandmother and her dad's girlfriends, most of them involved in various criminal activity.I found Lucky Bunny a joy to read. Queenie is a vivid and memorable character, clever, tough, sharply observant and funny, soaking up all around her. She meets many of the famous, and infamous, Londoners of her day, and is witness to many real episodes in East End history. In some ways, her life has been a bit of a nightmare, with poverty, neglect and deprivation and several family tragedies. Queenie doesn't see it like that. She is no one's victim, but a great survivor. Or is she? I am not totally sure I can trust all of Queenie's statements about herself. Is she really as lucky as she proclaims?I was also fascinated by the way Dawson takes up so many bits of London's social and women's history as well as criminal folklore and weaves them into a terrific yarn. I was amused by Queenie's namedropping of lots of real people and events, including Ruth Ellis and Christine Keeler. Queenie even suggests she might have been delivered at birth in 1933 by a young midwife called Jennifer, undertaking her training with the nuns, a reference to Jennifer Worth's Call the Midwife. In fact, Worth wasn't even born then and her book takes place more than 20 years later - is this a clue that some of Queenie's encounters with other real people are also her own inventions?I received a review copy of this book through the Amazon Vine programme.
Review by gaskella
16/06/2015
Jill Dawson is one of those authors who appears to write a different book every time, although when you look underneath, there are links. 'The Great Lover' tells the story of poet Rupert Brooke partly through the eyes of maid Nell; 'Watch me Disappear' explored the effects of a girl disappearing in a Fenland village in the 1970s and echoes contemporary child abductions and murders; 'Fred and Edie' tells the story of star-crossed lovers, executed for murdering Edie's husband in 1923. All have a geographical base from South London through the East End into East Anglia and the Fens; but she also has a pre-occupation with working class roots and criminal underclasses. These elements, both geographical and sociological, are both well to the fore in her latest novel 'Lucky Bunny'.Queenie Dove is an Eastender born before the war to a Irish Moll and her big bruiser and small time crook of a father, Tommy. Life is hard for Queenie and her younger brother Bobby – there's never enough food, Dad in and out of the nick, and Moll slowly going mad and ending up in hospital; only her Nan has any sense. They get evacuated to Ely, but Queenie can't hack it and returns to London where her Dad is now shacked up with Annie – formerly of the 'Green Bottles' – a group of goodtime girls, shoplifters and whores. With lead Green Bottle Gloria's help, Queenie becomes good at hoisting – shoplifting, but even she gets caught and is sent to reform school where she meets Stella, who will become her best friend. The two go on to have many adventures, resulting in Queenie falling for Tony, the nephew of the Italian coffee-bar owner. Queenie and Tony have a tempestuous relationship – so similar in many ways to that of Moll and Tommy, but Queenie is determined to have a future with her daughter and eventually bails out after one beating too many.You can't help but warm to Queenie, however naughty she may be, as she is determined right from the start to aim for something better for herself. She sees herself as lucky; lucky that she survives everything that life throws at her. From outside the book though, it's clear that she's stuck in the same vicious circle as her parents were – at least until she leaves Tony and escapes her fate – then she's lucky! There are questions of nature versus nurture too, growing up in poverty, Dad in jail, mother a dipso with post-natal depression, there's little wonder that it affects the kids with them ending up in a mini-crime wave themselves.Queenie's adventures are grounded in rich period detail. Being evacuated, and the tragic events at Bethnal Green tube station in 1943 when hundreds died on the steps, (fictionalised in a recent novel, The Report), through to the world of Soho's coffee bars in the 50s, Ruth Ellis, Diana Dors and culminating in the Great Train Robbery in 1963, when Queenie reaches thirty years old. That's where Dawson leaves her, looking forward to the rest of her life.I would have liked to have slightly less of childhood Queenie and more of the post-school teenager into twenty-something young woman – Queenie's early years did take up nearly half the book which made for a slow start. Queenie tells her story how she wants to hear it, and she doesn't ask for our sympathy or to understand her morals. It did leave me wondering though, what happened next to Queenie Dove? (ARC supplied by Amazon Vine)
Review by sly_wit
16/06/2015
I'm sure there are many people who could just pick this book apart, but it really appealed to me. I loved Queenie's voice from the opening pages and was eager to see where it would go. I felt it conveyed the flavor of the East End (which, granted, I know nothing about) and I could imagine myself there quite easily. It could have used more "caper" elements, but I loved how the links to actual events had me running to Wikipedia afterwards.