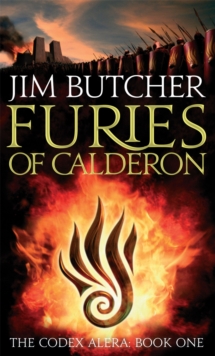 Furies Of Calderon : The Codex Alera: Book One
Paperback
Description
For a thousand years, the people of Alera have united against the aggressive races that inhabit the world, using their unique bond with the furies - elementals of earth, air, fire, water and metal.
But now, Gaius Sextus, First Lord of Alera, grows old and lacks an heir.
Ambitious Lords manoeuvre to place their Houses in positions of power, and a war of succession looms on the horizon.
Far from city politics in the Calderon Valley, young Tavi struggles with his lack of furycrafting.
At fifteen, he has no wind fury to help him fly, no fire fury to light his lamps.
Yet as the Alerans' most savage enemy - the Marat - return to the Valley, his world will change.
Caught in a storm of deadly wind furies, Tavi saves the life of a runaway slave.
But Amara is actually a spy, seeking intelligence on possible Marat traitors to the Crown. And when the Valley erupts into chaos - when rebels war with loyalists and furies clash with furies - Amara will find Tavi invaluable.
His talents will outweigh any fury-born power - and could even turn the tides of war.
Information
Format: Paperback
Pages: 624 pages
Publisher: Little, Brown Book Group
Publication Date: 01/05/2009
Category: Fantasy
ISBN: 9781841497440
Free Home Delivery
on all orders
Pick up orders
from local bookshops
Reviews
Showing 1 - 3 of 3 reviews.
Review by majkia
16/06/2015
What a great read! The pacing was pure Jim Butcher, never a let up on action and plot twists. Surprise after surprise, and a skillful weaving of interconnecting plots. Characters were skillfully and fully shaped with depth and color.Highly recommended!
Review by eleanor_eader
16/06/2015
Fifteen year-old Tavi, pitied or mocked by many for his inability to furycraft, but gifted with a quickness of mind and determined to find a useful and respected means of living, loses his uncle's sheep on the day of a court hearing and a terrible storm; as events unwind into chaos and danger from this simple oversight, he meets Amara, a spy for the First Lord, who has evidence of a plot that will throw the land into war and instability after decades of peace. <i> Furies of Calderon</i> is a cleverly-written romp, stuffed with interesting and varied characters and perilous situations, as one would expect having read even a few of Butcher's <i>Dresden Files</i> series,* and the world's quirks – elemental furies that aid, work and fight with their humans – are used imaginatively enough to fill in a landscape of fantastical difference. The political intrigue underlying the action is neither obscure nor convoluted [obviously 'young adult' reading, unless things get more complicated over the other books]… but Butcher doesn't pull his punches on the battlefield, or shy away from complex characters, and builds enough layers to make a gripping read out of an easy one.*I enjoyed the 'high fantasy' feel quite a bit more than the urban fantasy of Harry Dresden's Chicago; to be honest, I got rather bored with Dresden's limitless capacity for landing in trouble – there are more characters to share the burden in the <i>Codex Alera</i>series and less trauma for trauma's sake.
Review by JR.Raluces
16/06/2015
This was my first sample of Jim Butcher's work, and it will definately not be the last! I had heard a lot about the Dresden Files series of books but never read them, and then this came recommended to me by my brother, a set of 6 Fantasy books that Butcher apparently decided to write based on a bet?! Butcher said that the essence of a good fantasy novel was the story complexity and execution, rather than the initial concept idea, and therefore said he could write a successful story based on two concepts given to him by challenging authors. The concepts given were the Roman Legions, and Pokemon. The result, the Codex Alera series. Told in first person narrative, which I always find the best way in telling these types of fantasy epics, it gives multiple view points of several main characters, both likeable and not, that help build and devlop a world with shape and depth that you can lose yourself in. The crux is that there are six elements of 'magic' (term loosly used). Known as 'Furies', they are elemental beings, that have a 'relationship' with the people of the world of Alera. The six different types of furies are earth, fire, water, air, metal and wood, each with their own unique abilities akined to that element. The furies essentially allow the humans to harness and utilise the abilities associated with the element they link with, allowing advanced array of powers, where some are more adept and masterful than others in their control and use.The characters are complex, likeable and even the so called 'bad guys' have traits and motives in their actions that leave you questioning if they are all they seem at times. It leaves you guessing, intrigued and reading to the end. I love the fast paced style, the prose, and I found it thoroughly enjoyable start to the series, which has meant I am going straight on to the next one! I like the presence of the strong female chacacters which some fanatasy series and authors often overlook. They provide a unique insight and whether bad or good, they are powerful and complex in their make up that helps develop and drive the story. One slightly negative thing I will say, a distinct lack of maps ! I love maps, and the world Butcher creates is excellent, exciteable and diverse, and whilst this comes across in his dialogue, I always think a map contributesx and gives so much more, but hey, that might just be me! Anyways, a cracking start to an epic series that I know I am going to enjoy the rest of, and can't wait to get reading! Hope you enjoy too!
Also in the Codex Alera series | View all