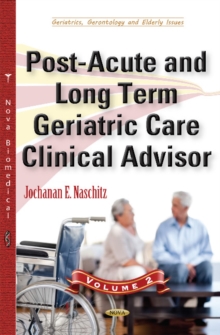 Post-Acute & Long Term Geriatric Care Clinical Advisor : Volume II
Hardback
Description
Changing demographics have resulted in the elderly constituting a more significant proportion of the population.
Many older people will develop functional impairment and disability, necessitating either support at home or admission to long-term care facilities, rehabilitation centers, psychiatric institutions and hospices.
Guidance in the clinical challenges that face the staff of such institutions is essential.
Clinical practice guidelines dealing with many of the prevalent conditions in long-term care facilities have been published by the American Medical Directors Association; these aim to educate staff, improve patient outcomes, decrease avoidable transfers and reduce costs.
Yet, guidelines do not cater methodically to problems resulting from the complex situations seen in older patients with multiple comorbidities.
Textbooks are also often deficient in providing a focused approach to conditions and issues that are of importance in geriatric long-term care.
The present manuscript (Volumes I and II) focuses on case management in geriatric long-term care.
Concise recommendations are provided, addressing diagnostic issues and management strategies.
We have adopted an approach of dividing recommendations into do and do not categories in order to guide physicians and nurses in their approach to conditions encountered frequently, to help them recognize red flag signals, and to highlight significant unusual situations.
When fine-tuning of management is indicated, the text goes into specifics, such as details on nutrition, pharmacology, medication dosing, therapeutic procedures, and the recognition of adverse events.
Recent progress, shifting evidence, controversial issues and uncertainties are pinpointed.
Expert advice is provided. It is hoped that this book might prove to be a worthy contribution to the medical field, enriching doctors and nurses committed to long-term geriatric care.
Information
Format: Hardback
Pages: 310 pages
Publisher: Nova Science Publishers Inc
Publication Date: 01/05/2016
Category: Geriatric medicine
ISBN: 9781634850766