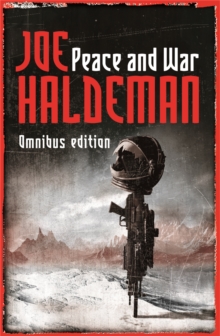 Peace And War : The Omnibus Edition/Forever Peace, Forever Free, Forever War
Paperback
Description
Together in one volume for the first time ever - the classic novel of epic future conflict THE FOREVER WAR, its sequel FOREVER FREE, and the companion novel FOREVER PEACEFOREVER WARWilliam Mandella is a reluctant hero, fighting in a distant interstellar war against unknowable and unconquerable aliens.
But his greatest test will be returning to Earth. A few months of his tour of duty equate to centuries on his homeworld, during which he becomes increasingly isolated from the world he has been fighting to protect.FOREVER FREEMandella returns home for the last time - to find humanity has evolved into a group conciousness which excludes him.
Alone, alienated and missing the certainties of combat, he and his fellow verterans search for an escape - and finally look towards space.FOREVER PEACEA war is raging, fought by indestructible machines operated remotely by soldiers miles away - and for soldiers like Julian Class, war is truly hell.
So when he and his companion, Dr Amelia Harding, uncover something which could take the universe back to square one, the prospect isn't so much terrifying, as terrifyingly tempting ...
Information
Format: Paperback
Pages: 704 pages
Publisher: Orion Publishing Co
Publication Date: 09/11/2006
Category: Fantasy
ISBN: 9780575079199
Free Home Delivery
on all orders
Pick up orders
from local bookshops
Reviews
Showing 1 - 4 of 4 reviews.
Review by lewispike
16/06/2015
There are two books (Forever Peace and Forever Free) which are clearly linked, plus a third book (Forever War) that is thematically linked but a very different setting, characters etc.What links them all is stories about soldiers, written by an ex-soldier. The first two books were, it appears, about Vietnam: although Vietnam in space with far more content about fighting suits and time-skipping with relativistic travel than anything remotely resembling 'nam to my eyes. They are a good, well written, fast moving stories in which I find I care about the characters. The stories might not stand up to a rigourous analysis, but they move along nicely enough that I didn't really care.The third book is much more about the "War against Terror" and internally forces in the the USA. Perhaps that is part of why I don't like it as much - it seems to be far less about the soldiers and far more about the perils of modern American society. Whilst I agree with a lot of those perils, it's not the best done story about it I've seen - in fact it's rather clumsy. It's not a nice feeling when you're sitting there reading a book thinking "But X did that better. No, no, Y was much clearer there..." which is what I felt for most of the last book. The fact it started as one thing (a war/soldier story), turned into a physics/ultimate weapon/love story, then tried to mash the bits together to make a whole might have helped with this. I think both of these stories had merit, the marriage between them should have been annulled and written as two (possibly related) stories. It would have worked so much better.
Review by stevejwales
16/06/2015
The Forever War - 21/02/12
William Mandella is drafted to fight in an interstellar war against the alien Taurans but, due to the effects of relativity, each time he returns from a tour of duty of a few months, centuries have passed on Earth.
Really engrossing – kept wanting to read on (and there are 2 more volumes in the omnibus…)
The happy ending may seem a bit cheap and easy, but Mandella definitely deserved a bit of good luck and the idea of using a shuttle to "time travel" to wait for loved ones is pretty ingenious. Marygay wasn't the only one on the shuttle, though: how must the others who waited feel when they learn that these are the last survivors (and how would 'Man' know that anyway?) and their loved ones didn't make the many billions to one odds that Mandella and Marygay did to be reunited?

Forever Free - 10/03/12
In this direct sequel to The Forever War, William and Marygay and the other vets living on Middle Finger get fed up of being Man's genetic insurance policy and try to escape to the future with a relativistic journey on the Time Warp. Something goes wrong and they are forced to return and find that all humans, Man and Taurans have disappeared. Then it goes a bit mad in the last 30 pages or so: they travel to Earth to find that the same has happened there and meet shape-shifting aliens, the Omni, who were always there, hidden, and then they meet "the nameless" – effectively gods who have set up the experiment that is the universe, setting the laws of physics on a whim, just to see what happened…
Another "easy" ending (like Marygay being alive at the end of The Forever War with the war suddenly over), but with a pretty literal deus ex machina as an explanation. An interesting idea – a sudden and mad one in the last few pages of a book, but an interesting one nonetheless.

Forever Peace - 14/03/12
The first 'sequel' to The Forever War (in publication order), which appears third in this omnibus as it isn't a 'direct' sequel, unlike Forever Free, but a look at some of the same issues from a different angle.
2043: the first and third worlds are at war with the first world using remotely-operated "soldierboys". Julian Class, a draftee soldierboy mechanic, and his lover Dr Amelia "Blaze" Harding discover that the Jupiter Project they are working on could destroy the universe but, worse still, there is a faction which wants this to happen.

Review by questbird
16/06/2015
The Forever War is undeniably a classic science fiction. I really enjoyed the descriptions of the strange physics of fighting on other planets, and the effects of time dislocation on societies and individuals. Forever Peace was OK, but a bit laboured I thought. Much more small-town, like a Ray Bradbury pastoral (or dis-pastoral) tale but with a universe changing finale. I must admit I didn't get too far into 'Forever Free' the third 'companion novel' in the volume, so I can't comment other than to say I had lost interest by then.
Review by ennui2342
16/06/2015
Picked this up because I heard there was a movie due.The first of the three books - Forever War - is the meat of the story and is by far the best of the three, putting the issues of fighting a relativistic war front and centre, and the effect this has on the soldiers involved. Obviously it has dated a little in places (or alternatively has become a 'classic') but it still reads well and hasn't aged badly at all being comparatively well written (not like re-reading Asimov for example).The second book, starts well, looking to shape up into a Vinge type epic. However, I really feel it was let down with what seemed to be a tacked on ending which was a different book from the one promised in the first half, and rapidly descended into the fantastical to wrap up with a clichéd ending.The final book doesn't follow from the others, but is a companion story which reads much more easily as a modern tale of nano-tech and brain interfacing. An enjoyable story in its own right, only weakly linked to Forever War.
Also in the Gollancz S.F. series | View all