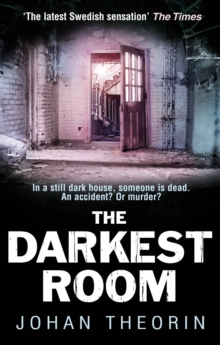 The Darkest Room : Oland Quartet series 2
Paperback
Description
'The dead are our neighbours everywhere on the island, and you have to get used to it'.
It is bitter mid-winter on the Swedish island of Oland, and Katrine and Joakim Westin have moved with their children to the boarded-up manor house at Eel Point.
But their remote idyll is soon shattered when Katrine is found drowned off the rocks nearby.
As Joakim struggles to keep his sanity in the wake of the tragedy, the old house begins to exert a strange hold over him.
Joakim has never been in the least superstitious, but from where are those whispering noises coming?
To whom does his daughter call out in the night? And why is the barn door for ever ajar? As the end of the year approaches, and the infamous winter storm moves in across Oland, Joakim begins to fear that the most spine-chilling story he's heard about Eel Point might indeed be true: that every Christmas the dead return...
Information
Format: Paperback
Pages: 480 pages
Publisher: Transworld Publishers Ltd
Publication Date: 29/04/2010
Category: Thriller / suspense
ISBN: 9780552774611
Free Home Delivery
on all orders
Pick up orders
from local bookshops
Reviews
Showing 1 - 2 of 2 reviews.
Review by bsquaredinoz
16/06/2015
Even though I read it alone and there wasn't a campfire in sight reading The Darkest Room was a similar experience to having sat at the feet of an old-fashioned storyteller and become engrossed in his latest tale. Different threads and themes are woven together in a way that would be a disaster in a lesser craftsman's hands but in Theorin's, who is clearly a master of his craft, the sensitively translated product is deliciously atmospheric.<br/><br/>The novel centres on a house which was originally built from timber washed ashore after a shipwreck in 1846. The house, at Eel Point on the remote Swedish island of Öland, has seen many inhabitants in the subsequent decades and the book reveals what happened to some of them in between recounting the story of the house's current owners Katrine and Joakim Westin. Just as they and their children are settling into their new home after moving from Stockholm tragedy strikes the family, as it has befallen many of the house's previous occupants, and Theorin teases us by slowly revealing that things are not as they might first have seemed. Are there ghosts at Eel Point or does the danger that lurks take a more earthly form?<br/><br/>In addition to the Westins we meet Tilda Davidsson, a recently graduated police officer who is the sole officer operating full-time out of a newly re-opened station in one of the island's towns. Her job is primarily a community liaison though she does have at least one more serious investigation to worry about as the island experiences a string of burglaries. As well as being an interesting character in her own right Tilda's familial relationships offer a way for Theorin to include Gerlof Davidsson here, who was my favourite figure in the first book, Echoes from the Dead. There just aren't enough clever octogenarians featured in fiction these days and even though Gerlof's role is a more minor one I appreciated his insights as Tilda records his thoughts and stories in an informal oral history.<br/><br/>I know that saying that a book's setting is a character is frowned upon in some reviewing circles but I can't think of any other way to describe the presence in this story of the house in particular and the island in general. The action takes place in the Northern winter when the island is at its coldest, harshest and least inviting. Snow, ice and storms feature heavily and I can't be the only reader to have reached for a warming cup of tea and another blanket as I lost myself in the tale. Aside from the natural environment the book also explores a theme that Theorin is clearly engaged by, namely the social changes the island has seen as Sweden has moved from being an agricultural based society to a more urbanised one.<br/><br/>There are plenty of other aspects of this absorbing book I could talk about but I'm wary of giving spoilers and frankly further discussion on my part is just taking you away from your next task which is to track down a copy of the book. Now. It is part historical fiction, part ghost story, part whodunit, and part sailor's yarn. It is wholly enjoyable and recommended to all.
Review by Floratina
16/06/2015
READ IN DUTCH<br/><br/>Joakim and Katrine decide to move to a manor near the shore of Öland. There have been a number of strange deaths ever since the house was build using salvage wood from a wrecked ship. <br/><br/>I don't really know what to think of this story. I liked his first book better, I guess. I'm not really into ghost stories and I think I expected it to be slightly different. The writing style was nice and it was nice to read but nothing special. I still want to read his new book, because his first book was very good and maybe this story just wasn't my cup of tea.
Also in the Oland Quartet series | View all