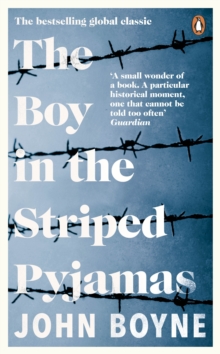 The Boy in the Striped Pyjamas
Paperback
Description
Nine year old Bruno knows nothing of the Final Solution and the Holocaust.
He is oblivious to the appalling cruelties being inflicted on the people of Europe by his country.
All he knows is that he has been moved from a comfortable home in Berlin to a house in a desolate area where there is nothing to do and no-one to play with.
Until he meets Shmuel, a boy who lives a strange parallel existence on the other side of the adjoining wire fence and who, like the other people there, wears a uniform of striped pyjamas.
Bruno's friendship with Shmuel will take him from innocence to revelation. And in exploring what he is unwittingly a part of, he will inevitably become subsumed by the terrible process.
Information
Format: Paperback
Pages: 224 pages
Publisher: Transworld Publishers Ltd
Publication Date: 01/02/2007
ISBN: 9780552773805
Other Formats
Paperback from £6.09
CD-Audio from £12.65
EPUB from £3.99
Hardback from £11.25
Multiple copy pack from £134.00
eAudiobook MP3 from £6.40
Free Home Delivery
on all orders
Pick up orders
from local bookshops
Reviews
Showing 1 - 5 of 10 reviews.
Previous | Next
Review by eleanor_eader
16/06/2015
A cautionary tale for Nazi commandants everywhere. The overly chummy 'children's fiction' writing style of Boyne's cautionary tale strikes an inappropriate and ghastly chord, but is unmistakeably a clever device that leaves us suitably chilled when we reach the ending. It is a fable in the truest sense - nothing about it is remotely plausible. Unfortunately, some of the things that aren't remotely plausible actually happened, so in the spirit of fiction let's say 'if one thing, why not the other' (Had everyone been eaten by bears at the end, I would have been thoroughly unsurprised... the tone reminds one of those storytellers who relish the part in Goldilocks where the girl gets et). Again, though, it is true to it's own nature... I do not believe the author ever intended his work to be an introduction to the holocaust. This story is for the most basically informed on up, anyone who will watch events unfold with a kind of creeping horror mixed with exasperation (for such a questing youth, the boy, Bruno, is almost as blinkered as his father - though in vastly different ways - as to exactly what is going on around him). Boyne does not educate the world about the trampling march of evil over innocence, so much as ask us to examine our individual nature and beliefs, and to be careful where they will lead us.
Review by Clurb
16/06/2015
A very simple story about a worryingly naive German boy. A quick easy read with a strong message.
Review by eesti23
16/06/2015
This book is one of my favourite books that I have read which is something as the topic is such a sad and grim one. I found it fantastic how Boyne managed to tell the story from such an accurate children's perspective and showed how something that did not make any sense to adults was just as confusing for children but for different reasons.
Review by OpalCat1986
16/06/2015
As someone who is interested in the particular phase in history that this book highlights, I was really pleased to come across one from a different persective. Despite it being a relatively short read I was intrigued in the story straight from page one and I was not let down by the slimpicity of the narrative as it reflected Bruno's innocence and made the out come of the book even more moving and horrifying.Although I enjoyed the film and would have gone to see it without reading the book, i'm glad I did read it before I went to see the film.
Review by villy83
16/06/2015
Synopsis:Nine-year-old Bruno is forced to move from his house in Berlin because his father is posted to another job in Out-With. Living with his parents, some servants, occasional soldiers and his unkind sister in a very isolated place, Bruno misses very much his former life and friends, until he finds someone else with whom to talk and spend his spare time.Personal Opinion:The historical background in this book is not new (Holocaust), but John Boyne provides a new and original approach to it. Its simplicity is very catching, as the story is told in third person but from Bruno's point of view. Therefore, the style is very plain and matter-of-fact.About the characters, there is not much to say, because apart from Bruno neither of them are much developed. The story just spins around the kid's thoughts and concerns. In my opinion, the author succeeds in bringing the innocence of a child's mind while contrasting it to the horror and devastation that surrounds him, being this the main asset of the story.The structure is original as well: as in the mind of a little kid, the story is structured in chapters that present some important days/facts in Bruno's life. Still, I found that the book could have lasted a little longer (only a few pages were left and I was willing for more!).All in all, this is a must read! It is a stunning story, and the treatment of the ending is really unexpected. This book avoids the typical drama linked to this kind of historical portraits, offering a more innocent (and interesting) approach. I loved it, very good!