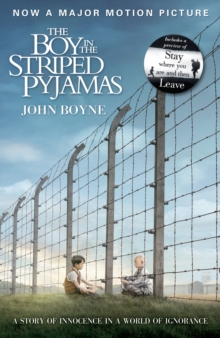 The Boy in the Striped Pyjamas
Paperback
Description
Lines may divide us, but hope will unite us . . . Nine-year-old Bruno knows nothing of the Final Solution and the Holocaust.
He is oblivious to the appalling cruelties being inflicted on the people of Europe by his country.
All he knows is that he has been moved from a comfortable home in Berlin to a house in a desolate area where there is nothing to do and no one to play with.
Until he meets Shmuel, a boy who lives a strange parallel existence on the other side of the adjoining wire fence and who, like the other people there, wears a uniform of striped pyjamas. Bruno's friendship with Shmuel will take him from innocence to revelation. And in exploring what he is unwittingly a part of, he will inevitably become subsumed by the terrible process.
Information
Format: Paperback
Pages: 256 pages
Publisher: Random House Children's Publishers UK
Publication Date: 11/09/2008
Category: Adventure
ISBN: 9781862305274
Other Formats
Paperback from £6.09
CD-Audio from £12.65
EPUB from £3.99
Hardback from £11.25
Multiple copy pack from £134.00
eAudiobook MP3 from £6.40
Free Home Delivery
on all orders
Pick up orders
from local bookshops
Reviews
Showing 1 - 5 of 16 reviews.
Previous | Next
Review by SkyRider
16/06/2015
I'd had this book recommended to me by a number of friends, all of whom said the same thing - don't read anything about it beforehand as a large amount of the pleasure in reading it comes from discovering what's going on. Sadly, the cover on the edition I got gave the game away right from the start with the cover picture making it abundantly clear what the striped pyjamas were.It's a story about lost innocence. We are shown one of history's horrific periods through the eyes of a child who doesn't understand what's going on around him and naively assumes (as children do) that everything he sees and experiences has a rosy explanation. Gradually he begins to understand what is surrounding him with devastating repercussions.Boyne's brilliance in being able to present the point of view of the clueless, innocent Bruno is utterly convincing, drawing us into the story and making the contrast with the real world so much more shocking.
Review by bowerbird
16/06/2015
This is a modern fable and as such should be read world-wide as a lesson against racism and discrimination. Whether it is credible that a boy of his age should understand so little about anti-semitism in war-time Germany is not that important. (Aessop's fables ask us to believe what a humanised fox might think when he can't reach the grapes.)The way this book is written ensures that the reader always knows more than the protagonist. It is also an easy read which the younger reader should enjoy as much if not more than adults. A great book for class discussion.
Review by elliepotten
16/06/2015
Bruno is a little boy in the tradition of little boys: hates his big sister, looks up to his dad, loves exploring and reading adventure stories, all combed hair and shorts. Bruno's father, unlike others in the tradition of little boys, is a Commandant under Hitler. When Bruno and his family are taken away from their lovely home in Berlin to a grim new house, his life is turned upside down. There is no one to talk to and no one to play with, there are unpleasant soldiers hanging around the house at all hours of the day, and right outside Bruno's bedroom window is a huge wire fence, stretching as far as the eye can see. On the other side hundreds of men and boys live in huts, being told what to do by the soldiers, all wearing grey striped pyjamas and little cloth hats. Who are they, and why does no one like to talk about them? Exploring the fence boundaries one day, he comes across a little boy sitting on the other side of the fence, and he and Schmuel strike up a strange but devoted friendship that changes both their lives.One thing I would say is that although this is marketed as a young adult novel, I certainly wouldn't place it in that category. It is written in a childish style, but the themes and the undercurrents are decidedly adult. Like 'The Curious Incident of the Dog in the Night-Time', much of the heartbreaking sadness of this novel comes from the fact that the reader has a much greater awareness than the main character of what is really happening around him. Bruno calls his home 'Out-With' and Hitler 'The Fury' because he can't pronounce them properly, and he assumes that the salute 'Heil Hitler' means 'Well, goodbye for now, have a pleasant afternoon.' His struggle to understand what the reader already knows is devastating to read, and the inevitable tragedy of the novel is even worse than I had expected. (Not really a spoiler - it was hardly going to be a happy sending, set in Auschwitz, after all...). I was sat in bed at 1.30am sobbing and had to get up to compose myself before I could sleep! I wouldn't recommend it to a child under, say, 14 or 15.There was a long section of the novel at the beginning where Bruno is a tad irritating in his complete naivety, and Schmuel doesn't actually appear for a long time, but ultimately I thought it was a brilliant book. There may have been inaccuracies, there may be things that just wouldn't have happened, but it was still a brutal reminder of the capacity for human cruelty and the horror of one of the worst atrocities in our history. Bruno's sister's change in attitude from uncomprehending to profoundly anti-Semitic also clearly demonstrated the way children's natural innocence can be so easily corrupted by the views of the adults around them.Highly recommended...
Review by ivirago
16/06/2015
The story is told from the point of view of a child and I think it's done convincingly. You almost smile at the naivety of the boy - he doesn't know what a concentration camp is, nor what is meant by a Jew, and he assumes that life for the inmates of the camp is as pleasant as his own. He is naive right up the the end, and that is what adds such punch to this story in my opinion. The actual storyline was a winner right from the start, I think, but the author complimented that by telling it well and I had to give that credit. Beautifully told story with a harrowing aftertaste.
Review by sirfurboy
16/06/2015
This is a powerful book, and well written. The subject matter is a harrowing one of course, and it is hard to imagine that a book about concentration camps could be a pleasant read. But this book is engrossing, and the friendship between Bruno and Schmuel is a powerful antidote to the evil's taking place. The ending is profound and powerful. Not a happy book, but one you cannot regret reading.