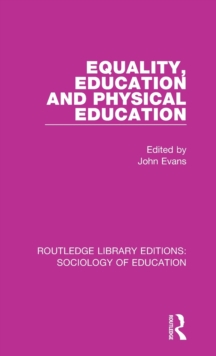 Equality, Education, and Physical Education
Hardback
Description
In this book, first published in 1993, John Evans presents a guideline for challenging sexism, racism and elitism in programmes of physical education.
Physical education in relation to social class, gender, race and disability is also discussed.
The results arising show problems in the teaching of physical education, and examines the importance of physical education in the development of the child in today's educational system.
It is the intention of the contributors to help practitioners clarify their thinking on concepts and issues involved in effecting equal opportunities in physical education.
In turn, it is hoped that this will lead to better formation of physical education programmes which demonstrate both equality and equity.
This title will be of interest not only to teachers but to students of sociology and education.
Also in the Routledge Library Editions: Sociology of Education series | View all