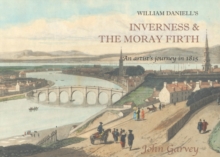 William Daniell's Inverness & the Moray Firth : An Artist's Journey in 1815
Hardback
Description
In 1768 the Royal Academy of Arts was founded by George III.
The first president of the academy was Sir Joshua Reynolds.
William Daniell was born in 1769 and joined the Royal Academy Schools in 1779 at the age of 10.
He became a successful artist in oils and watercolours, but his unique and particular skill was as an aquatintist.
His ability to transfer his artistic work to aquatint prints was exceptional and was recognised as such by his peers, resulting in his election as a Royal Academician in 1822.
In 1813, at the age of 44, Daniell set about his major work: A Voyage Round Great Britain.
Over the years 1813 to 1823 he went on horseback around the country's coast, dividing the journey into six trips from his residence in London.
He made detailed, annotated pencil sketches of interesting views, including in them people and buildings.
From these sketches, he finally published 308 aquatint prints together with a comprehensive text describing the landscape and the people.
This book follows part of Daniell's journey in 1815, from Thurso to Banff, revisiting the places that he visited.
It includes good reproductions of the 30 aquatint prints which he finally published, together with present day photographs of these same views insofar as this was possible.
The journey covered a wide spectrum of landscape and involved areas of Scotland that were at that time being cleared by local landowners, and areas that were more stable.
The observations of other travellers, Thomas Pennant, John MacCulloch and Charles Cordiner are referred to where appropriate.
The book also describes the technique of aquatinting, which requires high artistic skills and dexterity.
Containing themes of history, art and travel, this book will appeal to a wide range of readers.
Information
Format: Hardback
Pages: 160 pages
Publisher: Troubador Publishing
Publication Date: 28/06/2014
ISBN: 9781783064328
Free Home Delivery
on all orders
Pick up orders
from local bookshops