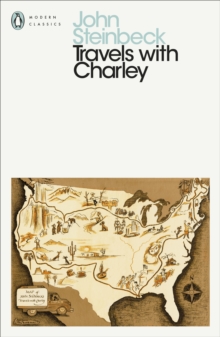 Travels with Charley : In Search of America
Paperback
Description
When he was almost sixty years old, worried that he might have lost touch with the sights, the sounds and the essence of America's people, Steinbeck took note of his itchy feet and prepared to travel.
He was accompanied by his French poodle, Charley, diplomat and watchdog, across the states of America from Maine to California.
Moving through the woods and deserts, dirt tracks and highways to large cities and glorious wildernesses, Steinbeck observed - with remarkable honesty and insight, with a humorous and sometimes sceptical eye - America, and the Americans who inhabited it.
What he saw was a lonely, generous nation too packed with individuals for single judgements; what he saw made him proud, angry, sympathetic and elated.
His vision of how the world was changing still speaks to us prophetically through the decades.
Information
Format: Paperback
Pages: 240 pages
Publisher: Penguin Books Ltd
Publication Date: 01/03/2001
Category: Classic travel writing
ISBN: 9780141186108
Free Home Delivery
on all orders
Pick up orders
from local bookshops
Reviews
Showing 1 - 4 of 4 reviews.
Review by 60GoingOn16
16/06/2015
If any recently read book has reminded me of the importance of giving a writer and his or her words the care and attention they deserve, it is John Steinbeck's Travels with Charley: In Search of America. If you happened to have read this post (sorry, we're back to Hardy again . . .), you'll know that I came late to this book, just a few weeks ago. And during those weeks, I've been reading it at a gentle pace. Because that is what it demands. Yes, you could speedread it in a couple of hours but you would miss so much in the rush to reach the last page.But how could one rush at a book that opens thus:"When I was very young and the urge to be someplace else was on me, I was assured by mature people that maturity would cure this itch. When years described me as mature, the remedy prescribed was middle age. In middle age I was assured that greater age would calm my fever and now that I am fifty-eight perhaps senility will do the job. Nothing has worked."When Steinbeck and his standard poodle headed off in a camper van called Rocinante, (named after Don Quixote's horse) to rediscover the author's native land, the heart disease that was to end his life just a few years later had aready made its presence known. This was to be Steinbeck's last opportunity to reconnect with his roots and to note what remained and what had changed in America, especially in parts of the country he remembered from his youth and earlier life.His travelling companion, the eponymous Charley, was "an elderly gentleman", struggling - nobly as dogs do - with the infirmities of age; Steinbeck's concern to preserve his venerable canine's dignity is poignant yet never sentimental.But not only did Steinbeck write great opening lines, he wrote great closing lines too - and pretty well everything in between is as good as it gets. Every word counts; every sentence is carefully crafted. Nothing is superfluous. Emphasis and inflection, when needed, arise as they should from the words and the images themselves, not an exclamation mark in sight.Here is a writer at the very height of his powers; a writer who, in just a few words, can give us the measure of a man or a woman: a lonely lake guardian in northern Michigan, who "wanted his pretty little wife and . . . . something else" and who "couldn't have both"; an equally lonely and loquacious elderly woman stuck in the Bad Lands, with her "dying vestiges of a garden", or the vagabond actor with his handwritten note from John Gielgud, which he kept "in a carefully folded piece of aluminium foil".When I was in my teens and early twenties, I read every Steinbeck I could get my hands on; landmark novels, such as The Grapes of Wrath informed my political thinking, as well as my thoughts on writing. But, somehow, this one book had passed me by. I'm grateful, however, to have discovered and read it at more or less the same age as Steinbeck was when he wrote it. Perhaps one needs to be this age to understand why he noticed the things that he did and the responses that they evoked in him.And he was such a perceptive observer of the human condition; as readers, we marvel at his ability to translate his thoughts and reflections into words that speak to us all. Read Travels with Charley and you will know what it is to write from the heart, as well as from the head. If you've not yet had the good fortune to sit down with this wise, compassionate and exquisitely written book, buy or borrow a copy as soon as you can, take it slowly and know what it is to read from the heart.
Review by PIER50
16/06/2015
An enjoyable read. John Steinbeck travels round America with his poodle Charley. The thoughts of Charley often feature as Steinbeck interacts with the dog, people and places he meets on route. One should remember that the America of the 1960s (when the book was written) was of course different from the America of today. An well written and eleoquent book
Review by AdonisGuilfoyle
16/06/2015
The only previous knowledge I had of John Steinbeck's 1960s travelogue was from a reference in a Stephen King novel, where the author-insert character considers writing a similar account, but with the title 'Travels with Harley'. However, the original is still effortlessly readable, if a little dated in places. Driving a camper van across America - allegedly because he knew he was dying, and wanted to see 'his' country one last time - with his poodle Charley, Steinbeck stops off in New England, Montana, Texas and New Orleans, among other places, and chats with a variety of people along the way. His narrative is witty, sharply observational, and suitably descriptive, evoking a sense of both the author and his dog (and I was quite concerned about Charley's health at one point, but don't worry, he makes it!) and the amazing landscapes they take in. Similar to Bill Bryson's <i>Notes from a Big Country</i>, Steinbeck discovers that you can't go home again - when he returns to his hometown of Salinas, California, he feels like a ghost left behind while the city and faces of his youth have moved on. I love how relevant Steinbeck's assessment of America remains, his sentiments echoed in Bryson's book some thirty years later, and probably still true today. 'I cannot commend this account as an America that you will find', he writes, but although there have been positive changes, the seeds of modernity and equality that Steinbeck describes are still very much a part of American culture. 'Can I then say that the America I saw has put cleanliness first, at the expense of taste?' he bemoans, objecting to the replacement of small, individual towns and friendly roadside cafes with sprawling cities and homogenised plastic-packed, mass-produced food in vending machines. I think everyone, wherever they come from, can relate to that particular corruption of 'progress'!Steinbeck is an entertaining and eloquent travelling companion, and his snapshot of America, circa 1961, is both a historical document and a series of literary vignettes. Charley the dog is also full of character, suffering from 'old man' problems and getting hopelessly filthy. One of my favourite quotes is: 'For Charley, is not a human; he's a dog, and he likes it that way. He feels that he is a first-rate dog and has no wish to become a second-rate human'. Who can blame him?
Review by Elainedav
16/06/2015
In 1960, Steinbeck undertook a journey around America, in a custom made vechicle which we would describe as a camper van or RV these days and his dog Charley was along for the ride! He heads north to Maine initially and then west all the way to Washington state, south to California and then back across the states, through the South to New York. What a fantastic, fabulous trip that should be......but that doesn't always come across. By his own admission, he largely avoids the large cities, but he also seems to avoid the national parks and other places of interest. Instead the commentary focusses on the people he meets and also the larger issues of the recent history, which dominate his fictional works. So, for instance, in Washington he talks about mass migration and how the city of Seattle has changed dramatically since his last visit and that made me think of the themes in The Grapes of Wrath.By Virginia, he is fed up of travelling and says the 'journey' has ended for him. From that point onwards, you get the sense that he is in a hurry to get home and is just driving, driving, driving. Anyone who has done a long trip in an RV can probably relate to that!His relationship with Charley comes across very strongly and is lovely to read about, There are health worries for Charley along the way and a sense throughout that owner and dog are able to communicate with one another, 'ftt' being a well used phrase! The passage describing the approach to the giant redwoods, anticipating Charley's reaction and the disappointment at the actual reaction were very amusing. But the funniest part is the ending, when having driven all around the states, Steinbeck has to pull over in Manhatten rush hour traffic because he is lost!Great read, slightly disappointing as a travelogue, but great as a memoir.
Also in the Penguin Modern Classics series | View all