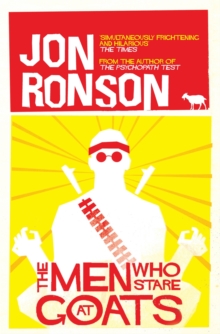 The Men Who Stare at Goats
Paperback
Description
In 1979 a secret unit was established by the most gifted minds within the US Army.
Defying all known military practice - and indeed the laws of physics - they believed that a soldier could adopt a cloak of invisibility, pass cleanly through walls, and, perhaps most chillingly, kill goats just by staring at them.
They were the First Earth Battalion. And they really weren't joking. What's more, they're back and fighting George Bush's War on Terror.
Often funny, sometimes chilling and always thought-provoking, journalist Jon Ronson's Sunday Times bestseller The Men Who Stare at Goats is a story so unbelievable it has to be true.
Information
Format: Paperback
Pages: 288 pages
Publisher: Pan Macmillan
Publication Date: 01/07/2005
Category: Warfare & defence
ISBN: 9780330375481
Other Formats
EPUB from £7.98
Paperback from £6.85
Free Home Delivery
on all orders
Pick up orders
from local bookshops
Reviews
Showing 1 - 3 of 3 reviews.
Review by cliffagogo
16/06/2015
Jon Ronson investigates some of the more outlandish ideas that American military have used as alternatives to conventional weaponry – mind control, invisibility and psychic healing. The author's fish-out-of-water style has been done to death by documentary TV presenters everywhere (Louis Theroux, Nick Broomfield, etc) but it's the absurdity of the subjects which makes this such a readable book.
Review by atreic
16/06/2015
I don't read a lot of non fiction, and I don't read a lot of books about the military, so this book was off piste for me.I spent much of the book confused as to whether it was satire, conspiricy theory or straight journalism. This is probably just a poor reflection on my lack of current affairs knowledge, rather than the book. It felt like a book of two halves, almost. In the first half, the author discusses psychic ops, soldiers who believed that with proper training, they could walk through walls or stop a goat's heart with the power of their minds. This was placed in the context of a shell-shocked post Viatnam army, inspired by the memes of the 60s. In the second hald, the author does a cunning segway into psychological ops, and discusses the army's behaviour in Iraq and Guantanamo bay. In a way, this is a big pile of cherry picked stories, not all of which I believe, loosely piled together to look a bit like a coherant narrative. But on the other hand, it does have some truly terrifying things to say about the way the US military has behaved over the past 50 years.
Review by lilywren
16/06/2015
The book provides a brief introduction into the rather dark world of 'Psychological Operations' (PsyOp). Ronson focuses upon the covert psychological techniques which have been used for interrogation purposes by the CIA and US Army. He introduces us to projects from as early as the 1950's up to the modern day 2000's and the 'War on Terror'. Warning! For those not yet aware of this world it is pretty twisted and frightening. Ronson touches upon areas including Project MKUltra (commenced in the 1950s by the CIA and including the use of drugs, sensory deprivation, hypnosis and various forms of torture in order to influence), the torture and human rights violations which took place at Abu Ghraib prison (2003-2004) and the link between the US military and the mass suicide by the Heaven's Gate Cult in San Diego in 1997.One of the poignant stories Ronson recalls is that of Frank Olson. Olson was a leading US biochemist working with the US government in the 40's and early 50's. In 1953 he 'jumped' to his death in what was an apparent suicide.Circumstances around his death have been suspicious, especially given that Olson was becoming more and more concerned about the work he was doing. At the time, he was rumoured to have been resigning from his post and ready to speak out against the CIA. Ronson spends some time with Eric Olson, Frank's son, who has tireless searched for the truth about the circumstances surrounding his father's death. It gives a fascinating and frightening insight and certainly provides enough interest for me to read more on the subject.It has been said that the book is one of two halves and I would tend to agree with this opinion. At the beginning of the book you could be forgiven for thinking this is a rather humorous piece of fiction. There are some incredibly amusing stories (which Ronson hints are purposely put out there in order to detract). The tale relating to a Major General Albert Stubblebine III may even raise a chuckle. Stubblebine was active in the early 80's and particularly interested in psychic warfare. He was also convinced given the right training people can walk through walls. Was this guy really a General?"General Stubblebine bangs his nose hard on the wall of his office. Damn, he thinks. General Stubblebine is confounded by his continual failure to walk through his wall….There is no doubt in his mind that the ability to pass through objects will one day be a common tool in the intelligence-gathering arsenal….These powers are attainable, so the only question is by whom?……Special Forces! (p.3)."However, the more we move through the book, the darker it becomes. We are reminded that fact is often stranger than fiction and that this story involves real people, families and victims. Ronson provides an insightful and thoughtful introduction to what is, essentially, a complex story of conspiracy, psyops and the ultimate power of psychological warfare and mind control which goes far deeper than we can ever know.