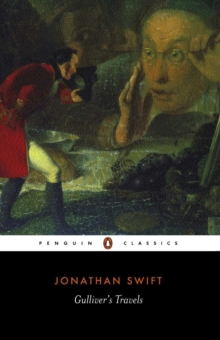 Gulliver's Travels
Paperback
Description
A wickedly clever satire uses comic inversions to offer telling insights into the nature of man and society, the Penguin Classics edition of Jonathan Swift's Gulliver's Travels is edited with an introduction and notes by Robert Demaria, Jr.Gulliver's Travels describes the four voyages of Lemuel Gulliver, a ship's surgeon.
In Lilliput he discovers a world in miniature; towering over the people and their city, he is able to view their society from the viewpoint of a god.
However, in Brobdingnag, a land of giants, tiny Gulliver himself comes under observation, exhibited as a curiosity at markets and fairs.
In Laputa, a flying island, he encounters a society of speculators and projectors who have lost all grip on everyday reality; while they plan and calculate, their country lies in ruins.
Gulliver's final voyage takes him to the land of the Houyhnhnms, gentle horses whom he quickly comes to admire - in contrast to the Yahoos, filthy bestial creatures who bear a disturbing resemblance to humans.This text, based on the first edition of 1726, reproduces all the original illustrations and includes an introduction by Robert Demaria, Jr, which discusses the ways Gulliver's Travels has been interpreted since its first publication.Jonathan Swift (1667-1745) was born in Dublin.
Sent to Kilkenny Grammar School when he was six, Swift later attended Trinity College, Dublin, where he received his BA degree in 1686.
He is considered the foremost prose satirist in the English language, which stemmed from his criticism of Britain's repressive colonial policies in Ireland.
Among Swift's best known works is his ironic masterpiece, 'A Modest Proposal' (1729), and his novel, Gulliver's Travels (1726).If you enjoyed Gulliver's Travels, you might like H.G.
Wells's The Time Machine, also available in Penguin Classics.'A masterwork of irony ... that contains both a dark and bitter meaning and a joyous, extraordinary creativity of imagination'Malcolm Bradbury
Information
Format: Paperback
Pages: 336 pages
Publisher: Penguin Books Ltd
Publication Date: 30/01/2003
Category: Classic fiction (pre c 1945)
ISBN: 9780141439495
Other Formats
Paperback from £2.50
Hardback from £5.09
CD-Audio from £8.59
Free Home Delivery
on all orders
Pick up orders
from local bookshops
Reviews
Showing 1 - 5 of 20 reviews.
Previous | Next
Review by maykram
16/06/2015
Not really a review as such. I gave up in reading this book after 80 pages as i simply couldn't get into it. Yes i can see how it was a satire on politics at that time, but quite simpy it bored me.
Review by jontseng
16/06/2015
A Brobdingnagian work of satire.
Review by kaelirenee
16/06/2015
Sure,the story of the big man washed up on the shore surrounded by little people is a cute story we've all seen Mickey Mouse do. But reading this book as an adult was an eye-opener. Swift's tongue is firmly planted in his cheek through the whole book and this is a great one to read aloud.
Review by jaystew
16/06/2015
A fictional novel about a man called Gulliver that gives up on his profession as a surgeon and travels the seas. Among his adventure Gulliver runs into some trouble as well as stumbling upon many shocking lands. Gulliver comes across tiny people, giants, naive scientists, and some talking horses. A fairly funny and entertaining read that is a good story and worth reading.
Review by hemlokgang
16/06/2015
No wonder this novel is considered a classic which has been enjoyed "in the nursery" and in the library! Jonathan Swift wrote a story in the 1700s which is absolutely timeless. On one level this is a delightful fantasy romp to imagined lands with amazing inhabitants. However, do not be deceived. This is a philosophical treatise written with tremendous wit and a profound message about the author's desire for truth, indeed his bottomless pit of want for truth. The author levels his satiric wit at the following topics and fires away: religion, travel tales, politics, sex, relationships, colonialism, capitalism, prejudice, social superficiality, prejudice, stereotypes and more. Anyone who has traveled to a culture which is vastly different from their own and reveled in the experience will likely appreciate this book, and those who have not but harbor strong opinions about those folks from another culture......well, it should be required reading! Go ahead, read it and laugh out loud, smile, wince, cringe, and love it!