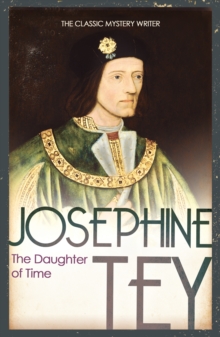 The Daughter of Time
Paperback
Description
Josephine Tey's classic novel about Richard III, the hunchback king, whose skeleton was discovered in a council carpark, and who was buried in March 2015 in state in Leicester Cathedral.
The Daughter of Time investigates his role in the death of his nephews, the princes in the Tower, and his own death at the Battle of Bosworth. Richard III reigned for only two years, and for centuries he was villified as the hunch-backed wicked uncle, murderer of the princes in the Tower.
Josephine Tey's novel The Daughter of Time is an investigation into the real facts behind the last Plantagenet king's reign, and an attempt to right what many believe to be the terrible injustice done to him by the Tudor dynasty. Inspector Alan Grant of Scotland Yard, recuperating from a broken leg, becomes fascinated with a contemporary portrait of Richard III that bears no resemblance to the Wicked Uncle of history.
Could such a sensitive, noble face actually belong to one of the world's most heinous villains - a venomous hunchback who may have killed his brother's children to make his crown secure? Or could Richard have been the victim, turned into a monster by the the Tudors?
Grant determines to find out once and for all, with the help of the British Museum and an American scholar, what kind of man Richard III really was and who killed the Princes in the Tower.
Information
Format: Paperback
Pages: 224 pages
Publisher: Cornerstone
Publication Date: 06/08/2009
Category: Crime & mystery
ISBN: 9780099536826
Other Formats
EPUB from £4.99
Hardback from £11.95
Paperback / softback from £6.38
Free Home Delivery
on all orders
Pick up orders
from local bookshops
Reviews
Showing 1 - 3 of 3 reviews.
Review by rvhatha
16/06/2015
Favorite quotes: "She would fritter it away, of course, in small unimportances; so that in the end she would not know what she had done with it; but perhaps a series of small satisfactions scattered like sequins over the texture of everyday life was of greater worth than the academic satisfaction of owning a collection of fine objects at the back of a drawer.""It's an odd thing but when you tell someone the true facts of a mythical tale they are indignant not with the teller but with you. They don't *want* to have their ideas upset. It rouses some vague uneasiness in them, I think, and they resent it. So they reject it and refuse to think about it."
Review by RubyScarlett
16/06/2015
Really good but boy do you have to brush up on your History before starting this. I dived in as if it were a regular novel but had to take numerous breaks just to make sure I understood a bit about the period so as not to become lost with the cast of characters. Very clever premise and surprisingly engaging investigation seeing that it's one into a murder that's centuries old. Tey's excellent at making instinct seem like a plausible justification for drawing conclusions. I love her. Really original novel.
Review by Eyejaybee
27/08/2015
One grows older and, hopefully, one also grows wiser and more discerning, though this can have deleterious effects on one's illusions. I first read this novel nearly forty years ago, and thought it was marvellous. Something (perhaps the recent coverage of the re-burial of the remains of Richard III) prompted me to read it again, which proved to be a mistake. When first reading it as a callow youth I didn't spot the relentless smugness. This sense expends beyond the characters (though surely Inspector Alan Grant must rank as one of the most irritatingly self-satisfied fictional detectives) to the narrator. Every description is delivered with a barely concealed sneer. The sad thing is that the premise of the book is so clever, and potentially entertaining. Having sustained an injury falling through a trapdoor while pursuing some brigand,, Grant is consigned to a lengthy stay in hospital where crushing boredom quickly descends. Knowing his predilection for studying faces, an actress friend brings him a selection of photographs of paintings in the National Portrait Gallery. One in particular grabs his attention. This turns out to be King Richard III, though he is depicted as a handsome character, with signs of ill health, trather than the hideously deformed monster that has been enshrined in the works of Holinshed and Shakespeare.This revelation of a different Richard III spurs Grant to read more deeply into the life and times of Richard III, and in particular to review what really happened to his nephews, 'the Princes in the Tower'. He does come up with some interesting fallacies in the received version of the story, though, in the nature of things, he does not offer any definitive conclusions. Josephine Tey does provide some interesting lessons in the history of the fifteenth century, but not enough to redeem the smugness of the tone. This is not a novel that has aged well.