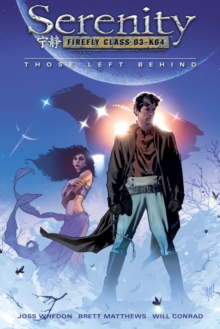 Serenity Volume 1: Those Left Behind
Paperback
Information
Format: Paperback
Pages: 96 pages, 1 Illustrations, unspecified
Publisher: Dark Horse Comics,U.S.
Publication Date: 24/01/2006
Category: Comics and Graphic Novels
ISBN: 9781593074494
Free Home Delivery
on all orders
Pick up orders
from local bookshops
Reviews
Showing 1 - 5 of 20 reviews.
Previous | Next
Review by francescadefreitas
16/06/2015
I had hoped for more from this graphic novel - a little bit of back story to some of the characters, or some character growth that would have been to slow-paced to put into series or film. But it was a standard Firefly episode: heist gone wrong, legging it out of town, dramatic take off, sexual tension between appropriate characters, random River eeriness, a trap, and escape.So, like a cup of tea with old friends, it was nice to see the characters again, but there was nothing new to fill me with wonder.
Review by drewandlori
16/06/2015
Rather disappointing prequel to the Serenity movie. (The movie was fantastic, though.)
Review by cdogzilla
16/06/2015
Show and movie were incredible. This was so-so.
Review by jenreidreads
16/06/2015
Very useful as a bridge between the tv show, Firefly, and the movie, Serenity. Not all that awesome by itself, though.
Review by devilwrites
16/06/2015
I wasn't going to review this, and really, there's no need of a review. However, I figure some of you will want to know about this and what's it about, so here's a mini review:Before the movie Serenity opened, there was a comic book mini-series that was published. The story is meant to bridge the gap between the television show Firefly and the movie Serenity. And, without giving too much away about the movie, the graphic novel does exactly that. If you've seen the movie, you get the title of this graphic novel immediately, though I have to say, it lets me down a little bit. The mini-series was just three comic books, and to be honest, they could've gotten away with more, telling a longer story and really giving fans something to settle into. The story goes by too fast, but it does it's job, which is to explain certain things about the movie.The art was good, though I couldn't stand the rendering of Inara, and the use of SUPER blue eyes at times was beyond annoying. Still, the story captures the flavor of the characters, which is most important. I had no trouble hearing the actors speaking the lines, and River was captured particularly well. The story also brings back a couple of baddies from the episode "Ariel", which was good to see.If you're a fan of Serenity the movie, get this. You can get it off Amazon or find it in your bigger bookstores. Also, note the number "1" on the spine of the trade. I haven't heard anything (though I don't follow comic book news), but I get the feeling there's going to be an actual comic book series with these characters. Or at very least, the universe. And in hindsight, I think that's a fair trade for the fans. While not every fan is a comic-book reader, this format does allow this universe to carry in a medium true to the show. Episodic, with quirks of humor and tales of deeper emotional peril. And of course, there's the adventure. If Whedon ever does do anything in television/film again with these characters, at least he'll have a chance to play with them in another format first. :)