Henrietta's War : News from the Home Front 1939-1942
Paperback
Description
Spirited Henrietta wishes she was the kind of doctor's wife who knew exactly how to deal with the daily upheavals of war.
But then, everyone in her close-knit Devonshire village seems to find different ways to cope: there's the indomitable Lady B, who writes to Hitler every night to tell him precisely what she thinks of him; the terrifyingly efficient Mrs Savernack, who relishes the opportunity to sit on umpteen committees and boss everyone around; flighty, flirtatious Faith who is utterly preoccupied with the latest hats and flashing her shapely legs; and then there's Charles, Henrietta's hard-working husband who manages to sleep through a bomb landing in their neighbour's garden.
With life turned upside down under the shadow of war, Henrietta chronicles the dramas, squabbles and loyal friendships that unfold in her affectionate letters to her 'dear childhood friend' Robert.
Warm, witty and perfectly observed, Henrietta's War brings to life a sparkling community of determined troupers who pull together to fight the good fight with patriotic fervour and good humour. Henrietta's War is part of The Bloomsbury Group, a new library of books from the early twentieth-century chosen by readers for readers.
Information
Format: Paperback
Pages: 176 pages
Publisher: Bloomsbury Publishing PLC
Publication Date: 05/07/2009
Category: Classic fiction (pre c 1945)
ISBN: 9781408802816
Free Home Delivery
on all orders
Pick up orders
from local bookshops
Reviews
Showing 1 - 5 of 6 reviews.
Previous | Next
Review by evangelista
16/06/2015
Joyce Dennys was an artist and writer who wore the face of mother and doctor's wife to most of the world. She expressed her frustrations at the limiting nature of her roles in life through stories of the fictional Henrietta whose life bears a marked resemblance to her own. These stories, written in epistolary form directed to Henrietta's childhood friend Robert, were originally published one at a time in Sketch. Many years later, these missives were gathered together in (I believe) two publications, Henrietta's War being the first.These letters to Robert detail the unsettling time of the second world war in a small, English coastal community with great wit and with little maudlin focus upon deprivation, but perhaps written as a distraction for a friend fighting on the front. Henrietta is considered a bit vague by those around her - unsuitable for organized war efforts, giving blood, being a doctor's wife or even singing on cue in the choir. The community she resides in and her husband all affectionately seek to compensate for her perceived lack of organization in various ways, but the reader quietly cheers for her as we realize her hidden depths. It is hilarious when she falls down the stairs (see one of the charming illustrations above) and immediately begins to fantasize about the time she will now be able to spend in bed avoiding chores. Frightfully humorous but too close to home when she realizes that marketing is depriving the women of her Devonshire village of their once good looks. And laughably ridiculous when the demands of filling out a simple form with computations nearly sends her over the edge. But what emerges at the end, is a portrait of traditional housekeeping that is both an insightful window into another time and a reminder that women are meant for more than the roles written for them.The book concludes on a quiet note on a Christmas night. Perfect for the weather here, perfect for the season complete with a gentle reminder of a more meaningful viewpoint some twenty or so pages before the end:"Lady B smiled happily. 'The secret of happiness is to adopt this attitude towards possessions,' she said - and she made a pushing-away gesture with her hands - 'rather than this,' and she pulled an imaginary treasure to her bosom. 'Once you drop the grabbing habit everything is plain sailing.' "
Review by ElizaJane
16/06/2015
Reason for Reading: I am reading all The Bloomsbury Group books.Joyce Dennys who at the time was more known for her illustrations and aid work during WWI found her time more limited during WWII, being now taken up almost full-time as a mother and doctor's wife so she turned to writing, publishing a fictional letter from "Henrietta" to a dear "Childhood's Friend" on the war front about daily life back on the home front. The article proved so popular that Henrietta's letters became a regular feature in Sketch. The letters were first collected into book form in 1985.Each letter is accompanied by one humorous illustration. The letters mostly deal with the local shenanigans going on around the village. The gossip, whose mad at who and why, the embarrassing things that happen to the writer plus the author also shows her concern for her reader "Robert", talks of the war occasionally, then gets back on track remembering her letters are supposed to make Robert forget the war and think of home.Of course, the town is filled with eccentric characters such as the dominating Lady B. with a dog the size of a rat and the will of Hitler, the bossy though very efficient Mrs. Saversnack, the dreamy-headed flirtatious Faith and the shy absolutely smitten Composer who is madly in love with her. Then there is Henrietta herself who is a bit of a klutz and will get into the strangest situations or find herself watching one delightedly and her doctor husband who being the strong, silent type stays mainly in the background.The book is whimsical and quaint. While concentrating on everyday life, enough information about daily living circumstances during the war such as rationing, air raid drills, committees, wardens, collecting tin and other such material for the army show just how much affect the war had on a tiny village in England even to this point where it has not been bombed. Especially when one considers that even while these letters are fictional, this is source material written at the very time the real events of those days were happening. Enjoyable, with some actual laugh out loud moments
Review by pokarekareana
16/06/2015
I was captivated by this book - it recounts a woman's experience of war on the Home Front in a rural part of Britain, through the letters she writes to an old friend who is away fighting. Henrietta, who comes across as a slightly eccentric figure, describes her neighbours in a funny, charming way, and while the war never quite reaches Devon properly, she talks about evacuees, the blackout and rationing in a really endearing way. I can only imagine what the recipient of the letters would have thought! This book makes me want to go to Devon in 1941.
Review by 2chances
16/06/2015
Joyce Dennys, an illustrator by trade, wrote this series of essays as a weekly column during WW II; they purport to be letters written by Henrietta (the local doctor's wife) to her Childhood's Friend, Robert, at the Front. Gentle, wry, and often laugh-out-loud funny, Henrietta's letters describe the daily struggles of ordinary Englishmen and -women, Keeping the Home Fires Burning. Of course, each letter is illustrated by one of Dennys's witty illustrations.This may be my favorite Bloomsbury to date (except perhaps Mrs. Tim of the Regiment, of which I was already a longtime fan). I adored the motley collection of eccentrics that people Henrietta's coastal town, from ferocious Mrs. Savernack (who gives up sleep for the duration so that she can patrol the moor on horseback by night) to giddy Faith, whose heart is touched when her beau offers her ALL his clothes coupons. But my absolute favorite is elderly, unflappable Lady B., who spends her spare time writing nasty letters to Hitler.Here is a lovely bit: It is Lady B.'s birthday, and Henrietta notices with concern that she seems uncharacteristically blue. Gently, Henrietta probes for the wound: is Lady B. feeling frightened? No. Feeling her age? No. Well, then, what is it? "Well, it's like this," said Lady B, getting rather pink. "I know it's rather silly of me, Henrietta, but I did hope, I did HOPE," she added passionately, "that Hitler would try to invade us on my birthday."Oh, the Brits. Churchill was correct when he said it was the old ladies of Britain who would finally break Hitler.
Review by porch_reader
16/06/2015
As a doctor's wife in a small English village, Henrietta has a unique perspective on the home front during World War II. Written as a series of letters to a friend on the front lines, Henrietta's view of the war is at times comical, but also a bit poignant. In focusing on the small details of life during war, Dennys not only provides insight into the challenges faced by those at home, but also creates a rich portrait of Henrietta, a character who I came to like very much. A number of other villagers add depth to the story.Here's just one example of the humor in this book:"'I was thinking to-day,' said Lady B dreamily, 'that if all we useless old women lined up on the beach, each of us with a large stone in her hand, we might do a lot of damage.''The only time I saw you try to throw a stone, Julia, it went over your shoulder behind you,' said Mrs Savernack.'Then I would have to stand with my back to the Germans,' said Lady B comfortably."I loved the resourcefulness and spunk of these characters!
Also by Joyce Dennys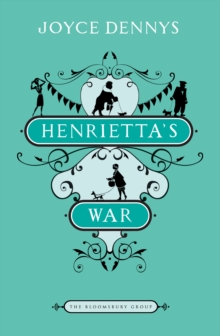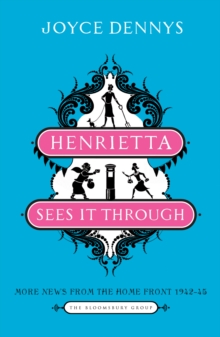 Also in the The Bloomsbury Group series | View all