James McHenry, Forgotten Federalist
Paperback / softback
Description
A Scots-Irish immigrant, James McHenry determined to make something of his life.
Trained as a physician, he joined the American Revolution when war broke out.
He then switched to a more military role, serving on the staffs of George Washington and Lafayette.
He entered government after the war and served in the Maryland Senate and in the Continental Congress.
As Maryland's representative at the Constitutional Convention, McHenry helped to add the ex post facto clause to the Constitution and worked to increase free trade among the states. As secretary of war, McHenry remained loyal to Washington, under whom he established a regimental framework for the army that lasted well into the nineteenth century.
Upon becoming president, John Adams retained McHenry; however, Adams began to believe McHenry was in league with other Hamiltonian Federalists who wished to undermine his policies.
Thus, when the military buildup for the Quasi-War with France became unpopular, Adams used it as a pretext to request McHenry's resignation. Yet as Karen Robbins demonstrates in the first modern biography of McHenry, Adams was mistaken; the friendship between McHenry and Hamilton that Adams feared had grown sensitive and there was a brief falling out.
Moreover, McHenry had asked Hamilton to withdraw his application for second-in-command of the New Army being raised.
Nonetheless, Adams' misperception ended McHenry's career, and he has remained an obscure historical figure ever since - until now. James McHenry, Forgotten Federalist reveals a man surrounded by important events who reflected the larger themes of his time.
Information
Format:Paperback / softback
Pages:336 pages, 10 black & white photographs
Publisher:University of Georgia Press
Publication Date:30/03/2016
Category:
ISBN:9780820349794
Other Formats
Hardback from £35.95
EPUB from £23.60
Also by Karen E. Robbins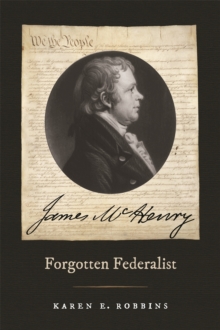 Also in the Studies in the Legal History of the South series | View all