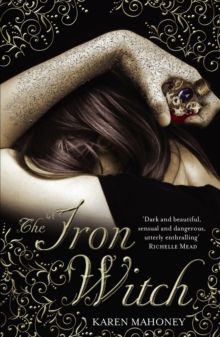 Description
Freak. That's what they call seventeen-year-old Donna Underwood at Ironbridge High School.
A horrific fey attack that killed her father when she was just a child left Donna branded with iron tattoos that cover her hands and arms - and magically enhanced strength, that she now does all she can to hide.
Now, after ten years of wishing for a normal life, Donna finally accepts her role in the centuries-old war against the darkest outcasts of Faerie - the dark elves.
Aided by Xan, a gorgeous half-fey dropout, Donna must save her best friend's life - and that means betraying one of the world's greatest secrets and confronting the very thing that destroyed her family.
Information
Format: Paperback
Pages: 304 pages
Publisher: Random House Children's Publishers UK
Publication Date: 01/01/2011
Category: Fantasy
ISBN: 9780552563819
Free Home Delivery
on all orders
Pick up orders
from local bookshops
Reviews
Showing 1 - 4 of 4 reviews.
Review by Elphaba71
16/06/2015
I picked this debut novel by Karen Mahoney up after reading several 'Must Read' recommendations..... And they were right it is a Must Read! They Call Donna Underwood the novels seventeen year old heroine a Freak, she has iron tattoos on her hands and arms, giving her enhanced magical strength. Donna's best friend Navin is great, he sticks by her through thick and thin. Navin & Donna go to a local party, enter Xan. Now Xan, he is something else! Donna is instantly attracted to him, and she just can't explain why. Soon Donna discovers her arch enemies, the Wood Elves and has to set about rescuing Navin from them with the help of Xan. Karen Mahoney has written a great debut novel, I was totally absorbed from page one. There are plenty of twists and dark turns with a bit of humor thrown in too, keeping you hooked right to the end. The characters of Donna, Navin & Xan are extremely likeable and believeable too, as are the others! My favorite part had to be the incident with the Sink plunger!! Loved it! We are not left with a cliffhanger at the end of the book, but I'm looking forward to the next installment to see what happens with Donna and co. Great, Go read it!
Review by ngoldfdf
16/06/2015
I found this in the fiction section, but it most certainly belongs in YA. Especially with the pretty obvious love triangle the Mahoney lays out, this is some pretty cliched paranormal lit, with angsty teenager included. It read like half of the other teen lit supernatural stuff out there, i thought she would have incorporated more of the intriguing science aspects of alchemy, but nope. Finishing the book with a sigh of disappointment from the lazy copy and paste style the author seemed to take. I read the book before reading some pretty negative reviews, but all the same I'm still left not giving a shit about what happens to any of these characters. The angsty teen girl, the misunderstood pretty boy, the nerdy loyal boy next door, and the magical world that seems to be out to get them, but which side should they choose? (i.e. which boy should she choose) lol
Review by DarkFaerieTales
16/06/2015
Review courtesy of Dark Faerie TalesQuick & Dirty: A half-fey bad boy and a low self esteem alchemist girl use her "enhancements" to rescue her best friend from Faery.Opening Sentence: It all started with the party.The Review:Seventeen-year-old Donna Underwood has been labeled a freak by herself and her peers. The things that make her different aren't that she is part of a secret society of alchemists (though that can't help her social standings), or that she is home schooled; it is because of her "enhancements" made in the form of intricate silver and iron scroll work tattoos along both her hands and forearms. These tattoos are the result of a terrible accident that cost Donna both of her parents when she was just a little girl. They have made her more than human, and it is hard enough to be accepted when you are just a normal teenager. So when one of her only friends, her very best friend, is kidnapped and taken into Faery, Donna will stop at nothing to get him back. But what is she really willing to sacrifice to get Navin? Could she truly give an ancient and rare item of unimaginable power away to insure his release? What would be the consequences of such actions upon both the human and Fey worlds?Donna Underwood and the Alchemist Society. I hate to say it, but that sounds too close to an 80's hair band name. Barring that, Donna and the alchemists are an interesting addition to this storyline. Her background is exposed to us, as the reader, at the same time she is explaining it to her best friend, Navin. Alchemists are humans that stand between us and the Fey. Their ultimate goal is transmutation: to seek a way to bestow immortality through the elixir of life. Though there is lots of information to digest, Donna delivers just enough for us to get a feel of things without getting bogged down with details. Donna doesn't seem all that excited about alchemy in general, so our information seems skewed against it. I am not sure if this is on purpose, or if it is just in the delivery. I can relate to going against authority figure expectations (like joining a secret society that your parents were a part of) in Donna's defense, but I think that there is still more to uncover. I get the feeling that this expectation-versus-personal-individualism will come up more in future books.Donna's character over reacts to things like anyone her age would even with these strange events. Youth is allowed the freedom that age and experience can no longer provide; with intensity and a sense of urgency that gets lost with familiarity. Everything is new and there is no real past experience to draw a calm and thoughtful reaction from. This is both a blessing and a curse, especially in Donna's case. Because she chose to investigate and solve her problems on her own, she is forced to deal with the consequences alone as well. Had she sought guidance from someone older and wiser, like her Aunt, the outcome could have been much different. I understand her reasoning for going at it alone, but I suppose that is the privilege of hindsight along with separation of events that we as readers enjoy.It is obvious that Donna has led a secluded life. The fact that she is willing to risk so much for a single friend should attest to that. The loss of her parents has tempered Donna's ability to trust and accept others into her life, alchemist secrets or not. Her self-depreciating manner doesn't help her confidence out either. The fact that she found another person to relate to is remarkable, and it is nothing short of a miracle that she learns to trust him as well. Alexander "Xan" Grayson has a bad boy reputation and the good looks to pull it off. Their relationship may seem like opposites attract at first, but I think it has much more to do with similar backgrounds. The fact that they are both privy to the knowledge of "other" gives them more than enough reason to bond. I like that their "relationship" is slow in its infancy. This is a YA novel after all, and there is no reason for rushing things along like we would see in other genres. It's a little refreshing to read, to be honest. I am not sure if there will be some sort of love triangle between Donna, Xan, and Navin but I hope not. Teenage love triangles are starting to become a cliché.Overall, not a bad YA book. It's pacing was good as was its climax. There was nothing that really stood out, except the background story on her tattoos and alchemy heritage. I hope that the next book in this series expands on this new and unique take in the world of magic and fantasy.Notable Scene:"We have to get out of here, Now."Glancing once more at the door, he joined her at the window and began to unlatch the shutters, swinging them back against the outside wall of the house."You first," she said."Don't be stupid-" Donna pushed him. Hard. "No time to argue. You. First." She enunciated each word and glared at him. There was no way she would let someone she cared about get hurt because of her-not ever again.Then the sound of banging started, from behind the grandfather clock.The Iron Witch Series:0.5 The Lost Boy1. The Iron Witch2. The Wood Queen3. The Stone Demon (April 8, 2013)FTC Advisory: Flux graciously provided me with a copy of The Iron Witch. No goody bags, sponsorships, "material connections," or bribes were exchanged for my review. The only payment received came in the form of hugs and kisses from my little boys.
Review by sharlenehsmith
27/08/2015
The other reviews made me hesitant to read this. I think the writing is good for a YA novel. I agree that the diary entries sound similar to the novel itself. It did change to first person writing but style remained.<br/><br/>The story of a young girl, being brought up into a different world, discovering things aren't what they appear to be, falling in love with someone who feels the same is a tried &amp; read theme. I will admit that there are heaps of other books out there similar to this one.<br/><br/>I had hoped they would unveil more 'Alchemy' as the story progressed. I understand why it doesn't. The 'iron witch' doesn't want to be part of this. She wants to be normal. That world took her father away &amp; her mother seriously ill. It would've made for a more interesting read.<br/><br/>I wasn't sucked into the book like I was with other series. I will continue to read the series &amp; see where it takes me.
Also in the The Iron Witch Trilogy series