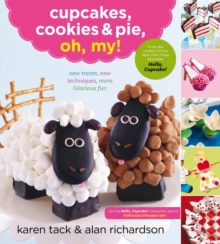 Cupcakes, Cookies, and Pie, Oh My! : New Treats, New Techniques, More Hilarious Fun
Paperback
Description
Two million copies later, the New York Times best-selling authors of Hello, Cupcake! and What's New, Cupcake? are back, applying their oversized imaginations not just to cupcakes but to cookies, pies, cakes, and other treats.
Hello, Cupcake! inspired millions to become cupcake artists and launched an international sensation.
Now the talented pair who started it all returns, with projects that are more hilarious, more spectacular, more awe-inspiring-and simpler than ever.
But they don't stop at cupcakes. No sweet treat is safe from their ingenuity: refrigerator cookies, pound cakes, pie dough, cheesecakes, bar cookies, and Jell-O are all transformed into amazing and playful desserts.
There's something for everybody in this book, and every single item you need can be found in the neighborhood supermarket or convenience store.
Information
Format: Paperback
Pages: 240 pages, 100 colour illustrations
Publisher: Houghton Mifflin
Publication Date: 13/01/2012
Category: Cakes, baking, icing & sugarcraft
ISBN: 9780547662428
Free Home Delivery
on all orders
Pick up orders
from local bookshops
Reviews
Showing 1 - 2 of 2 reviews.
Review by detailmuse
16/06/2015
Cupcakes, Cookies, & Pie, Oh My!, one of the most creative books I've seen, is full of dessert-decorating ideas developed by Karen Tack (a food stylist known as "the cake whisperer") and photographed by Alan Richardson.To be clear, it's not a cookbook -- the projects begin with store-bought goodies (think pound cakes, packaged cookies, frostings and candies; you could substitute home-baked goods for some basic items). But that doesn't mean the projects are simple or quick, in fact they're complex and laborious, requiring the goodies to be transformed by rolling, cutting, melting, mixing, etc., and then assembling. To give an example, the sheep project featured on the cover involves:-- cutting slices of Sara Lee pound cake to form the sheep bodies, dipping the leg portions into melted frosting and setting it to dry, then covering the rest of the body with regular frosting onto which you stick mini-marshmallows (some of which have been shaken with cocoa powder for the black sheep);-- cutting Milano cookies to form the sheep heads, coating them with melted frosting as above, attaching the heads to the bodies and then decorating the faces with piped frosting, mini-chocolate chips, decors and Jelly Belly beans;-- then there's still the pretzel-fences and patches of coconut-grass to make.The directions are extremely well written and are presented with a mise en place methodology that gets all of the components prepared and in stand-by mode before beginning the overall assembly. And there's meticulous clarity, for example (my emphasis added): "For the eyes, pipe two dots of vanilla frosting onto the cookie. For the pupils, attach the mini chocolate chips, flat side out, to the frosting." In most projects, there's room to get children involved. Each project includes a beautiful photograph of the finished product; most have additional photos showing the techniques of interim steps.My favorites are the rainbow-trout cupcakes that have fish scales made of M&Ms and swim in waves of blue and green Jell-O; high-fashion shoes composed of decorated cupcake fronts, tapered and coated (in melted frosting, as above) graham-cracker soles and Pirouette-stiletto heels; cupcakes baked in tall popover molds and decorated to look like soda-fountain drinks; and a pumpkin pie (one of the few actual recipes in the book) decorated with colored leaves and a rake made from extra pie dough. My only quibble is that most of the projects end up being mostly decoration (i.e. sugar overload).These projects are special-occasion treats, not everyday, and they're WOW-worthy -- hugely fun and inspirational to browse through and then destined to be the talk of a birthday party, shower or family gathering.(Review based on an advance reading copy provided by the publisher.)
Review by satyridae
16/06/2015
Once again, I was seduced by an adorable cover. I should remember to look inside recipe books while I'm still at the library. I don't care how adorable a cake looks, if it is from a recipe whose ingredients include boxed cake mix and a can of supermarket frosting, I'm not feeding it to my friends.