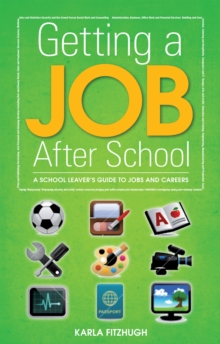 Getting a Job After School
Paperback
Description
Do you want to leave school at 16 or 18 and get a job right away? Are you worried you won't be able to get a job? If so you're not alone - many young people are facing the toughest job market in 20 years so competition for every vacancy is fierce, meaning you need to prove yourself to any potential employer. If you want great advice on choosing your post-education career path and then finding and getting a job, make sure you invest in this book. Getting a Job After School helps you choose, find, and get, work after you've left school.
It contains a comprehensive directory of jobs, highlighting the opportunities open to you within each job sector, including: * Administration, Business, Office Work and Financial Services * Building and Construction * Catering and Hospitality * Computers and IT * Design, Arts and Crafts * Education and Training * Engineering, Manufacturing and Production * Environment, Animals and Plants * Healthcare * Languages, Information and Culture * Legal and Political Services * Leisure, Sport and Tourism * Marketing, Advertising, Media, Print and Publishing * Performing Arts * Personal and Cleaning Services including Hair and Beauty * Retail, Sales and Customer Services * Science, Mathematics and Statistics * Security and the Armed Forces * Social Work and Counselling Services * Transport and Logistics But it's not just a directory of jobs; it gives you invaluable advice on how to actually find and secure a job, especially if it's your first and you're not sure how to prepare and apply.
From essential employability skills and how to apply for work, to potential training opportunities such as apprenticeships and other routes to employment, it provides all round advice to cover everything you want to know.
Getting a Job After School even gives you extra support on other important issues to consider such as the pros and cons of leaving school, coping with money, moving out of home and adapting to the world of work, so you're fully prepared to take the leap.
Give yourself a fighting chance at getting a great job!
Free Home Delivery
on all orders
Pick up orders
from local bookshops
Also by Karla Fitzhugh