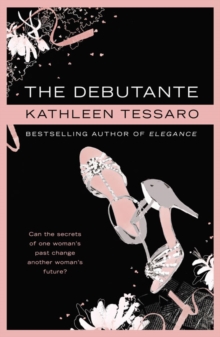 Description
Can the secrets of one woman's past change another woman's future? Cate is a gifted young artist who survives in New York by producing remarkable copies of Old Masters.She arrives in London to stay with her aunt Rachel who owns an auction house, determined to leave the pain of her past behind. Cate is sent to Devon with Rachel's colleague Jack to value the contents of Endsleigh, the grand Georgian home of a former socialite.
But inside, its once elegant interiors are now worn with age and dust. Then Cate discovers hidden in the back of one of the bookshelves, an old shoebox containing an exquisite pair of silk dancing shoes from the 1930's along with a mysterious collection of objects - a diamond brooch, a photograph of a handsome young sailor, a dance card, and a beautiful pearl and emerald bracelet from Tiffany's. Unable to solve the questions in her own life, Cate quickly becomes engaged in solving the mystery of the shoe box and begins to unravel the story of Baby Blythe; bright, beautiful and reckless, she was the most famous debutante of her generation. The clues in the box reveal a tale of a dark, addictive love, a tale that will lead Cate to uncover some secrets of her own.
Information
Format: Paperback
Pages: 384 pages
Publisher: HarperCollins Publishers
Publication Date: 01/01/0001
ISBN: 9780007215409
Free Home Delivery
on all orders
Pick up orders
from local bookshops
Reviews
Showing 1 - 3 of 3 reviews.
Review by moosenoose
16/06/2015
 I really enjoyed this book, which surprised me because after reading the first two chapters, I was a little wary of a story set in England but written by an author who is not 'a native'. I sometimes find authors that are not born in the country their story is set in, often make numerous mistakes that can ruin the tale. However I soon forgave Tessaro for the tiny omissions in the first couple of chapters as the rest of the book was fantastic and she had clearly done more than enough home work. I was drawn to this book because I love historical fiction, but when I realised it is mostly set in Devon, close to where I live (less than 30 minutes drive away actually) I had to buy it. The description of the area, both past and present was fantastic and very accurate. In fact at one point, a photographer was mentioned as being in business during the 1920/30's at a certain building in Union Street, Plymouth. I looked up this photographer online and the business did exist exactly at the address noted in the book – a building I have walked past many times without even realising what its history was. It's little facts like this that make the story all the more enjoyable and real. Although one little niggle – why did the characters always stay at Lyme Regis, another county and a couple of hours drive away? They could have easily stayed at a closer more believable location! As to the characters, although I enjoyed the love story developing between Cate and Jack, it was the hidden story of the Blythe sisters that drew me in and made me want to unravel the secrets of their lives. You have the elder, sensible sister who is well-behaved and deeply religious. She marries well and has to uphold her husband's important reputation. Then there is the younger sister, the wild, outrageous flapper who loves to party and has no intention of settling down or worrying about how she is perceived by the 'well to do' crowd. The fact that part of the Blythe sisters story is told via letters, mostly one-sided, also helps to add to the mystery and suspense of this tale and I thoroughly enjoyed every bit of it – especially the slightly unusual ending!Favourite Lines: "I saw Malcolm for lunch……In the end I gave up trying to get a word in edgeways and amused myself instead by thinking of various ways I could kill him using only the objects found on the table…….I'm partuculalry proud of asphyxiation through excessive amounts of mint jelly, dowsing them in brandy then setting them on fire, and the forceful ramming of a napkin down the throat…..I may not have come up with anything wicked to do with a spoon yet but it's only a matter of time…." (Page 196-7).
Review by tina1969
16/06/2015
Description from Fantastic Fiction:Endsleigh House stands, crumbling and gracious, on the south-west coast of England, its rooms shut up and dusty. But what secrets do they hold? Cate, an exile from New York, is sent to help value the contents of the once-grand Georgian house. Cataloguing its' contents with Jack - a man with his own dark past, she comes across a hidden shoebox containing an exquisite pair of dancing shoes from the 1930s, along with a mysterious collection of objects: a photograph, a dance card and a Tiffany bracelet.Returning to London, rather than face the questions lingering in her own life, Cate immerses herself in piecing together the clues contained in the box to uncover a story, that of Irene Blythe and her sister Diana - two of the most famous debutantes of their generation.The tale that unfolds is one of dark, addictive love, and leads Cate to face up to secrets of her own. Can the secrets of Baby Blythe's past change Cate's own ability to live and love again?My Thoughts:This is what I would call a comfort book. A heartwarming story that is perfect to curl up with.The story is told in the present with snippets to the past told in the form of letters. I found that there was enough in the book to hold my interest to the end and I wanted to turn the pages to see what was going to happen. I did find the ending quite sweet and one could say a little predictable but in this type of book I wouldn't have wanted an ending any other way.A pleasant, enjoyable read which I would recommend if you want something not too taxing.
Review by AdonisGuilfoyle
16/06/2015
A widowed antique dealer and a young artist are brought together over the sale of a country house and the secrets of two enigmatic sisters. The blurb, once again, tempted me into downloading this novel, while the mystery of the beautiful Blythe sisters (who smack of the Mitfords) kept me reading. Jack and Cate's angst and attraction added nothing to the mix, the pair of them thrown together on the rebound. Cate's amateur detection, alongside 'Baby' Blythe's letters from the past, could have carried the story quite successfully without the need to pair Cate off with Jack. The ending also confused me, with the old woman in the home, but I might have stopped paying attention by that point. An atmospheric sense of history and credible, if none too likeable characters, but I would preferred to read more about the Blythe sisters than Cate and Jack.