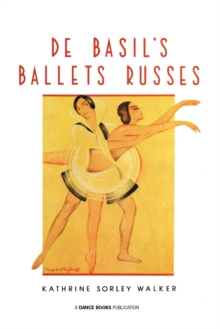 De Basil's Ballets Russes
Paperback / softback
Description
Drawn partly from the scattered remnants of Diaghilev's Ballets Russes and partly from extraordinary new talent, Colonel W. de Basil's company of dancers kept alive the heritage of the Russian ballet for a period spanning virtually twenty years.
De Basil's Ballets Russes, under various titles, and initially founded in association with Rene Blum, director of ballet at Monte Carlo, not only preserved the greatest of the Diaghilev ballets but mounted many new ones, among them major works by Balanchine, Fokine, Massine, Nijinska and Lichine -the company's one home-grown choreographer.
It provided a brilliant showcase for great dancers such as Danilova, Woizikovsky and Massine, whose reputations were already made, and for many younger dancers including the remarkable 'baby ballerinas'.
De Basil launched not only the original trio -Toumanova, Baronova and Riabouchinska - but a whole succession of teenage dancers of outstanding natural ability whose superb training had made of them finished artists of the highest quality well before their eighteenth birthdays. Among many other dancers whose careers were influenced by de Basil - a White Russian Cossack officer who emigrated to Paris in 1919 and whose gifts were entrepreneurial rather than artistic - were Tchernicheva, an ex-Diaghilev dancer whom he brought out of retirement to become a leading performer again in her maturity, and Kirsova, suddenly thrust into stardom by rapturous Australian audiences.
The story of the de Basil ballet is one of glamour, mystery and the obsessive dedication without which no art form can achieve excellence.
Its locations are many - Europe, the USA, Central and South America and Australasia were toured by the company, which appeared not only in the great capitals but in places where classical dance had rarely if ever been seen before.
Travelling through the countryside, this multi-national troupe would climb out of their coach to hold class in a wayside field, using the wire fences as barres; and no matter what conditions they had to face backstage, on stage these dancers would create magic.
Kathrine Sorley Walker's researches for this eminently readable book have taken her on a tour of duty hardly less exhausting than those of the de Basil company. The result is a riveting account of these little-documented years, by one of Britain's best dance historians and critics, that fills a conspicuous gap in the literature of the ballet.
Information
Format: Paperback / softback
Pages: 354 pages, black & white illustrations
Publisher: Dance Books Ltd
Publication Date: 01/07/2010
Category: Ballet
ISBN: 9781852731373
Free Home Delivery
on all orders
Pick up orders
from local bookshops
Also by Kathrine Sorley Walker | View all