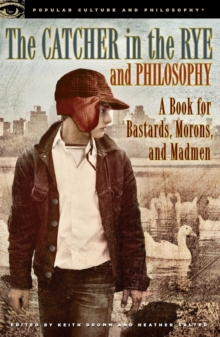 The Catcher in the Rye and Philosophy : A Book for Bastards, Morons, and Madmen
EPUB
Please note: eBooks can only be purchased with a UK issued credit card and all our eBooks (ePub and PDF) are DRM protected.
Description
Few novels have had more influence on individuals and literary culture than J.D. Salingers The Catcher in the Rye. Published in 1951 and intended by Salinger for adults (early drafts were published in the New Yorker and Colliers), the novel quickly became championed by youth who identified with the awkwardness and alienation of the novels protagonist, Holden Caulfield. Since then the book and its reclusive author have been fixtures of both popular and literary culture. Catcher is perhaps the only modern novel that is revered equally by the countless Americans whom Holden Caulfield helped through high school and puberty and literary critics (such as the New Yorkers Adam Gopnik who insisted as recently as 2010 that Catcher is a "perfect" twentieth-century novel).

One premise of The Catcher in the Rye and Philosophy is that the ease and sincerity with which readers identify with Holden Caulfield rests on Salingers attention to the nuances and qualities of experience in the modern world. Coupled with Salingers deft subjective, first-person style, Holden comes to seem more real than any fictional character should. This and other paradoxes raised by the novel are treated by authors who find answers in philosophy, particularly in twentieth-century phenomenology and existentialism--areas of philosophy that share Salingers attention to lived, as opposed to theorized, experience. Holdens preoccupation with phonies, along with his constant striving to interpret and judge the motives and beliefs of those around him, also taps into contemporary interest in philosophical theories of justice and Harry Frankfurts recently celebrated analysis of "bullshit."

Per Salingers request, Catcher has never been made into a movie. One measure of the devotion and fanatical interest Catcher continues to inspire, however, is speculation in blogs and magazines about whether movie rights may become available in the wake of Salingers death in 2010. These articles remain purely hypothetical, but the questions they inspire--Who would direct? And, especially, Who would star as Holden Caulfield?--are as vivid and real as Holden himself.
Information
Format:EPUB
Pages:288 pages
Publisher:Open Court
Publication Date:09/10/2012
Category:
ISBN:9780812698022
Also in the Popular Culture and Philosophy series | View all