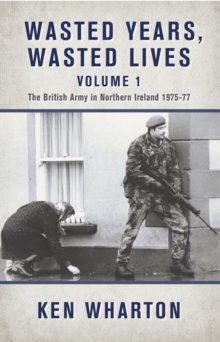 Wasted Years Wasted Lives, Volume 1 : The British Army in Northern Ireland 1975-77
Hardback
Description
Over the past several years, Ken Wharton, himself a former soldier, has been prolific in his coverage of the Troubles which spread their tentacles far from the streets ands fields of Northern Ireland.
Over 4,000 people died in or as a consequence of them and it cost the lives of over 1,300 British soldiers - a fact which is unacknowledged by the MOD - and the lives of over 300 policemen and women.
This is Ken's sixth book about the period and he draws on meticulous and detailed research, first-hand testimony of the soldiers who trod the same streets as himself, and an almost encyclopaedic knowledge of the near 30 year period of murder, violence and civil war.
The first-hand accounts help us to understand and examine the fears of the young soldiers who patrolled the dangerous streets of the Ardoyne and New Lodge, of Andersonstown, Turf Lodge and Ballymurphy and of the Creggan in Londonderry and the Derrybeg in Newry.
Warton looks at the Loyalist paramilitaries and treats their sectariansim and mindless murder with the same contempt with which he treats the Republicans.
He does not mince words about the Irish-Americans and their political stooges in the US Government, judicial system and the ordinary '7th generation Irishmen of the American East Coast.' This is a book not just for soldiers, but for anyone who wishes to look back and try and understand the madness inflicted upon several generations of innocent Irish and British people.
In years to come, historians - both social and military - will reflect on this period of insanity with a greater knowledge than hitherto.
If you wish to know how it felt to be an innocent sectarian victim, or an off-duty soldier or policeman or a young lad from Leeds, Liverpool or London hard targeting through the Lower Falls, then this book is a must read.
Information
Format: Hardback
Pages: 428 pages, 75 b/w photos, 3 maps
Publisher: Helion & Company
Publication Date: 01/07/2013
Category: British & Irish history
ISBN: 9781909384552
Free Home Delivery
on all orders
Pick up orders
from local bookshops