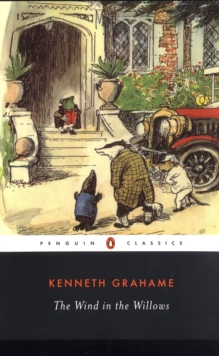 The Wind in the Willows
Paperback
Description
Kenneth Graham's The Wind in the Willows is one of the most celebrated works of literature for children, and this Penguin Classics edition contains notes and an introduction by Gillian Avery.Meek little Mole, wilful Ratty, Badger the perennial bachelor, and petulant, boastful Toad: over one hundred years since their first appearance in 1908, they've become emblematic archetypes of eccentricity, folly and friendship. And their misadventures - in gypsy caravans, stolen sports cars, and their beloved Wild Wood - continue to capture readers' imaginations and warm their hearts long after they grow up.
Begun as a series of letters from Kenneth Grahame to his son, The Wind in the Willows is a timeless tale of animal cunning and human camaraderie.This Penguin Classics edition features an appendix of the letters in which Grahame first related the exploits of Toad, and new introduction by children's literature historian Gillian Avery.Kenneth Grahame (1859-1932) was an English bank official, writer, author of The Wind in the Willows (1908), set in the idyllic English countryside.
The work established Grahame's international reputation as a writer of children's books and has deeply influenced fantasy literature.If you enjoyed The Wind in the Willows, you might enjoy JM Barrie's Peter Pan, also available in Penguin Classics.'A charming book'Terry Jones
Information
Format: Paperback
Pages: 240 pages
Publisher: Penguin Books Ltd
Publication Date: 26/07/2005
Category: Classic
ISBN: 9780143039099
Other Formats
Paperback from £2.50
Hardback from £4.39
CD-Audio from £5.69
Free Home Delivery
on all orders
Pick up orders
from local bookshops
Reviews
Showing 1 - 5 of 22 reviews.
Previous | Next
Review by LibraryLou
16/06/2015
A charming story of Ratty, Mole, Badger and Mr Toad, and the adventures they have together. One of the best children's books ever written.
Review by heathersblue
16/06/2015
I'm still thinking of this novel and the various levels of enjoyment encountered. Mole and Water Rat have a kind of friendship only dreamt of...it is like an ideal form of male bounding whee everything is okay with everyone and everyone works calmly towards the best interest of each other.Why you should read it, however, can be boiled down to one single scene with Toad and a pretend car made of chairs. If you've read it, you know the one!
Review by melydia
16/06/2015
A book that appears to have been part of everyone's childhood except mine. We had a lovely hardbound copy as long as I can remember, but I never read it until now. And it doesn't translate well to adults. Having been written a century ago, I expected it to be dated, but I didn't expect it to be quite so...odd. Each chapter is more or less a separate story about the same group of characters: poetic Rat, generous Mole, selfish Toad, gruff Badger, and friendly Otter. Toad has by far the most personality, what with his utter conceit and his obsession with motorcars, but he's less entertaining than tiresome. I don't have any issues with the idea of talking animals in general, but when they begin interacting with humans it can get a little strange. For example, the illustrations in this book show Toad at roughly half the height of an adult human - which he would have to be, given part of the storyline. Maybe I would like this book more had I grown up with it, but as it stands I just see it as a really bizarre little tale that I will most likely never read again.
Review by onlyhope1912
16/06/2015
Such a funny book! You are introduced to Mole who leaves his home to go out and travel. He meets Ratty and takes up life on the river. All to soon we are introduced to my favorite character Mr. Toad of Toad Hall. That silly little fellow does whatever he takes it into his head to do, from traveling in a canary-yellow gypsy wagon to stealing a motor car. After being arrested Toad comes home to find Weasels have taken over Toad Hall. Ratty, Badger, and Mole must fight to save his home.
Review by dreamweaversunited
16/06/2015
This is the book that got me into reading. I read a bit of it every night with my mother before going to bed. The descriptions were so enchanting that I kept with it even when I didn't know what all the words meant. I'd read it with a dictionary by my side so I could learn every word I didn't know. It was slow progress, but the story had me so spellbound that I never gave up.