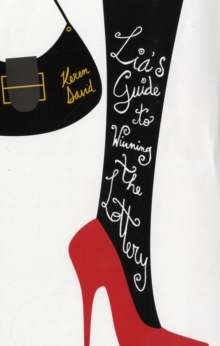 Lia's Guide to Winning the Lottery
Paperback
Description
Money can' t buy you love. But it can buy many other very nice things. Lia' s mum is a nag, her sister' s a pain and she' s getting nowhere in pursuit of the potentially paranormal Raf.
Then she wins GBP 8 million in the lottery, and suddenly everything is different.
But will Lia' s fortune create more problems than it solves?
Everyone dreams of winning the lottery - but what' s it really like?
Find out in this hilarious story by Keren David, nominated for the Carnegie medal.
Check out the fabulous Lia' s Guide to Winning the Lottery microsite at www.liasguidetowinningthelottery.co.uk
Information
Format: Paperback
Pages: 352 pages
Publisher: Frances Lincoln Publishers Ltd
Publication Date: 04/08/2011
Category: General
ISBN: 9781847801913
Free Home Delivery
on all orders
Pick up orders
from local bookshops
Reviews
Showing 1 - 5 of 8 reviews.
Previous | Next
Review by elliepotten
16/06/2015
"My mother kicked me out one minute after I won eight million pounds."Well, with an opening line like that, how could I resist? Lia Latimer is sixteen when her first ever lottery ticket - bought for her by her friend Jack as a joke birthday present - wins her the jackpot. The novel follows her through the trials and tribulations of life as a lottery winner, and it's clear that David has done plenty of research to guide Lea's experiences - the psychology, the pitfalls, the management, the advice and the opportunities.Alongside the lottery story there is a good dash of family angst as the Latimers struggle to adjust to Lia's new wealth - particularly her little sister Natasha, who suddenly finds herself in great demand amongst the popular girls at school... Lia must also learn to negotiate her friendships now her life has changed. Does she owe Jack money because he bought her the ticket? Why does her best friend Shaz seem so uncomfortable about the whole thing? And is Raf, her long-time crush, interested in getting to know her for herself, or for her money?I have to mention one thing that really bugged me about the book, which was the particularly vapid ongoing theme of digging at paranormal romance novels. Lia and her friends are obsessed with them, and it's unclear whether David is merely acknowledging the genre's popularity or outright mocking it. Would a sixteen year-old girl (and her peers at school) really be entertaining the possibility that her tall, dark and handsome boy toy is a vampire/werewolf/fallen angel? Those parts made me cringe, I have to say.That aside, however, I liked it. It definitely made me stop to consider the realities of suddenly being wealthier than you've ever imagined. Lia, a rather immature sixteen in many ways, makes many blunders in the early days: telling too many people, throwing too much money around, getting carried away buying gifts and hailing taxis just because she can. Throughout the novel she has to learn to manage her winnings and discovers what she can do with a little help and some good advice. David doesn't go down the 'money is the root of all evil' path, but she does encourage her readers to think about what having money means - how it can corrupt but also aid, how it can be a social catalyst or an embarrassment, how it can be used wisely or frittered away. A fun, interesting and unusual read - and hey, if I ever DO win the lottery, at least I'll know what not to do!
Review by vanderschloot
16/06/2015
This reminded me a bit of Louise Rennison, although a little darker and less hysterically funny and silly. Lia, the main character, is a bit annoying, and there is something about David's depiction of her that does not ring true to her age. This book is more complex and prone to moralizing than the cover suggests. It is definitely not all about the fun of spending tons of money on designer clothing, which is what the cover led me to believe. If you are looking for teen/chick lit, this is probably not for you.
Review by TheRomanceBookie
16/06/2015
I won Keren David's Lia's Guide to Winning the Lottery from Library Thing, a signed copy of it actually, which I was pretty stoked on life about! :)It's taken me a couple of months to read it, but I've finally gotten to it, and am really glad!This book really caught my eye, because of the word: Lottery. Who doesn't want to win the lottery, right?? I sure would! I don't know exactly what I would do with all that money. Personally, I think I would be really scared because I'd be afraid I spend it all and then have no money again! And has anyone else heard of the curse of winning the lottery?? I am seriously not making this up! Here's an article explaining what I'm talking about! It's scary! Especially for a superstitious person like me!Anyway, so Lia is main character in Keren's new book, which was released this year in the US and last year in the UK. Lia is sixteen, and she wants is a vintage leather jacket she saw hanging in a downtown market place...that is before she wins 8 million pounds from a winning ticket her best friend bought her for her birthday!!What can be more exciting??!!However, things quickly turn bad. Lia's best friend, Jack,...the one who bought her the ticket, has a mother who wants to sue her for half of the winnings, even though all her son did was buy the ticket, Lia picked the numbers (and it was a birthday present!!). Lia's other best friend, Shazia, isn't allowed to accept any gifts from Lia, because it is against her religion. A bunch of people start using Lia so they can get free stuff (expensive free stuff!). And just when the guy she's been crushing on...a guy who might just possibly be a vampire...shows interest, he starts backing off. All these problems, doesn't even include her parents! Her mother just keeps mentioning ways to spending Lia's fortune, including handing over her credit card bill all of a sudden (totaling over 8,000 pounds!!) which was spent on hair extensions, nails, shopping at top notch boutiques! And then there's Lia's dad who wants Lia to pay for the bakery expansion, which he's been looking forward to for years; and then her sister who wants singing lessons (over 400 pounds a month!), even though she can't sing to save her life!Lia's life has just gotten extremely complicated!My thoughts:Overall, I liked this book. I think it was an easy, fun read. I had a problem with Lia's attitude at the beginning. She seemed really spoiled, and extremely disrespectful towards her mother, calling her a "cow" and other terrible things. I mean, her mom was a bit overly taken her daughter's money for granted, thinking she was entitled to spending it on herself too; but still it is her mother! And her mother and father did a great job raising Lia and her sister, Natasha! However, Lia definitely changed positively as time went by in the book! She started realizing just how much money can change your life! How people get jealous, and say terrible thing, including putting up a Facebook page bashing her, how your friends change, how YOU change! It's pretty intense!Raf, Lia's guy interest, was pretty odd too. But when everything gets explained at the end, it makes a bit more sense.Overall, if you are looking a fun easy read, possibly if you're specifically interested in a book about a 16 year old winning the lottery than I think you'll like this one! :) I think it's worth reading!The Romance Bookie :)
Review by BrynDahlquis
16/06/2015
I wasn't too impressed with the first half, but I never seriously considered putting it down for good. It was okay, but nothing special. But the second half was -so- much better, and I pretty much read the rest in one sitting.Keren David's writing is a little annoying in the fact that she's constantly mentioning pop culture icons, which always seems a little tacky to me. But I do like the way the story is told, which doesn't quite become clear until the very end and you realize just how cool it is.You also can't take the romance side too seriously. Lia's convinced Raf is some kind of supernatural creature, which is really hilarious if you're not taking it too seriously (if Keren David meant it to be serious, then she's in trouble).This book kind of reminds me of Audrey, Wait! by Robin Benway, except not nearly as good. I would definitely choose that over this, but Lia's Guide To Winning The Lottery is still a pretty fun little adventure.
Review by collsers
16/06/2015
This YA book was a fun romp. What teenager hasn't dreamed of winning the lottery and being able to drop out of school and move out of their parents' house? For Lia, these dreams became possible. Lia may not have always been the most likable character, but I found her to be an extremely realistic character; her selfish moments and self-centeredness were typical of a teenager. I'm no longer a teenager, but I could identify with some of her struggles and emotions. The US edition of this book did not change any of the British slang, which could pose a challenge for a young American reader who has not read many books from England. Some mature themes, such as sex, drugs, and alcohol use, are found in the books, so I would recommend this book more for older teens. Fans of Louise Rennison and similar books will enjoy Lia's Guide.