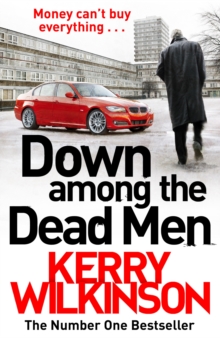 Down Among the Dead Men
Hardback
Description
Down Among the Dead Men is a Manchester crime novel from bestselling crime writer, Kerry Wilkinson. 'I'm going to do you a favour: I'm going to tell you my name and then I'm going to give you thirty seconds to turn and run.
If any of you are still here after those thirty seconds, then we're going to have a problem.' Jason Green's life is changed for good after he is saved from a mugging by crime boss, Harry Irwell.
He is then drawn into Manchester's notorious underworld, where smash and grab is as normal as making a cup of tea.
But Jason isn't a casual thug. He has a life plan that doesn't involve blowing his money on the usual trappings.
That is until a woman walks into his life offering the one thing that money can't buy - salvation.
Information
Format: Hardback
Pages: 352 pages
Publisher: Pan Macmillan
Publication Date: 22/10/2015
Category: Crime & mystery
ISBN: 9781509804610
Free Home Delivery
on all orders
Pick up orders
from local bookshops
Reviews
Showing 1 - 1 of 1 reviews.
Review by atticusfinch1048
27/01/2016
Down Among The Dead Men – Stunning Stand Alone ThrillerKerry Wilkinson is the prolific writer of the Jessica Daniels and Andrew Hunter series set in and around Greater Manchester all of which are excellent crime thrillers. Down Among The Dead Men is the new standalone book from Kerry Wilkinson, which is far grittier than his other thrillers set in the very dark underbelly of Manchester. To some from Manchester this may seem a little tame on what actually happens on the streets, to the read it is enough to pique interest.Jason Green's life is changed when Harry Irwell steps in when he is a teenager to stop him being badly beaten up, who showed him that compassion did exist in Hulme, a hard working class district of Manchester. Hulme having never recovered from the slum clearances of the 1960s, their replacement housing did not inspire greatness just crime and fear.Jason lives with his alcoholic mother, and his younger brother Chris, all with their own different problems all with their failed dreams. Jason works for Harry Irwell, and is paid in a way that makes him look like a proper employee, tax and National Insurance paid. He delivers messages for Irwell and sometimes packages and then delivers what is required to Irwell. Often meeting Irwell at his casino in town where the music is played loud to drown out whatever is being said.Jason visits the library after every job to check his account and also to check on the weather report in Crete, where he introduced to a new world by student and librarian Lucy. At the same time Natalie a woman also offers him a new world, a salvation from what is dragging him down and let him live. Jason is conflicted he does not know which way to go and who he can really trust.When Chris, Jason's brother goes missing, and Irwell is in no hurry to help him find his troublesome sibling, Jason puts his own life at risk. First he goes in to North Manchester a place controlled by another gang and then he drives over to Oldham to see the boss of that gang. Jason is now in a place where he really does not know who to trust.As Jason Green tries to work out who to believe and what he needs to do next, the work is still coming in, always seemingly placing him in more danger every time. Being painted by Lucy and chased round by Natalie who wants him to betray Harry, Jason is confused even more so when his brother reappears battered, bruised with broken bones.As the book races towards its conclusion there are some interesting twists, and asks the question will Jason ever know the truth, who can he trust and is he able to see through the bull. He knows that he will have to fight to the end to achieve his aim of retiring in the sun, and will these women keep confusing him and his feelings. If only he could have a decent night's sleep.This is an excellent standalone book that takes the reader on a tour of some of the darker sides of Manchester; it does not paint a picture of a romantic Manchester. With some interesting twists and turns this book keeps you on edge all the way to the end.