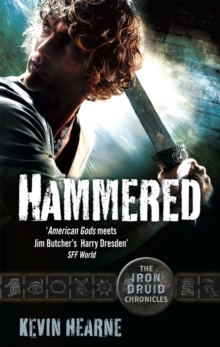 Hammered : The Iron Druid Chronicles
Paperback
Description
Thor, the Norse god of thunder, is worse than a blowhard and a bully - he's ruined countless lives and killed scores of innocents.
After centuries, Viking vampire Leif Helgarson is ready to get his vengeance, and he's asked his friend Atticus O'Sullivan, the last of the Druids, to help take down this Norse nightmare.One survival strategy has worked for Atticus for more than two thousand years: stay away from the guy with the lightning bolts.
But things are heating up in Atticus's home base of Tempe, Arizona.
There's a vampire turf war brewing, and Russian demon hunters who call themselves the Hammers of God are running rampant.
Despite multiple warnings and portents of dire consequences, Atticus and Leif journey to the Norse plain of Asgard, where they team up with a werewolf, a sorcerer, and an army of frost giants for an epic showdown against vicious Valkyries, angry gods, and the hammer-wielding Thunder Thug himself.
Information
Format: Paperback
Pages: 352 pages
Publisher: Little, Brown Book Group
Publication Date: 01/09/2011
Category: Fantasy
ISBN: 9780356501215
Free Home Delivery
on all orders
Pick up orders
from local bookshops
Reviews
Showing 1 - 2 of 2 reviews.
Review by iftyzaidi
16/06/2015
This is the third book in Hearne's Iron Druid Chronicles and once again picks up right where the second ([Hexed]) left off. The action, as always, is break-neck paced. In fact one has to wonder how the main character has survived 2000 years when he has managed to severely deplete two separate pantheons in the space of a couple of months. The trademark humour is also present (In some ways its probably the goofiest of the three) though it does end on a fairly dark note. Eminently readable but probably the weakest book in the series so far in my reckoning.
Review by reading_fox
16/06/2015
Best of the series so far. The proportionality works much better, the pacing and plot are also more developed, and there are less diversions down random side alleys.As part of his price for aid in his fight against the witches in the last book, our Druid Atticus offered to help the vampire Leif in his quest for vengence against the norse god Thor, who'se been kicking around for a several centuries making a pain in the ass of himsef. Atticus though is warned against this project by both Jesus and the Morrigan, so he has some doubts about his course of action - for the first time in these books. He's also going to try runnign away again - a tactic which has served hin well in the past, but on this occasion he's still lumbered with a dog an apprentice, and a tract of land in need of helaing. It will be enteretaining to find our how he manages it. Pretty muich teh whole book is written with a slightly sarcastic cool dude tone, Atticus hanging out with the lads, looking good and going to cause some troubel later on. I suspect this will both appeal to some subset of readers, and greatly annoy another set. Whetehr Hearne cares enough to ever give Attiicyus soem form of moral empathy will be, maybe, revelaed in later books. As a Druid you'd have though it would ahve been one of his prevailing traits. But so far it isn't. - partly explained apparently by ATticus' desire to fit in with modern US culture around him. I remain unconvinced. But in a popcorn style way this remain entertaining. The dog Obereon finally is actually funny, rather than trying to be, and Atticus pays at least a little bit of the price expected foir going up against major league opposition. He still gets to use magic almost unlimited though, which just comes across as odd. The complex actions scenes are well crafted.
Also in the Iron Druid Chronicles series | View all