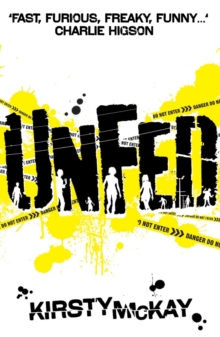 Description
The good news: Bobby survived her Undead school trip.
Bad news: her best mate, Smitty, is missing. Bobby knows she's got to find him . even if it means risking it all and going out into the starving-zombie-infested wastelands again.
Even if it means taking fellow survivors - including a couple of old frenemies - along for the ride. And even if the zombies are not the only ones who are chasing them this time.
Information
Format: Paperback
Pages: 384 pages
Publisher: Chicken House Ltd
Publication Date: 06/09/2012
Category: Horror & ghost
ISBN: 9781908435323
Free Home Delivery
on all orders
Pick up orders
from local bookshops
Reviews
Showing 1 - 1 of 1 reviews.
Review by KateBond
16/06/2015
This book is a sequel, so anything you read about it will contain spoilers about <i>Undead</i>. <br/><br/><i>Unfed</i> picks up where the previous novel left off: on the bus that rescued Bobby, her friends, and her mother from the hordes of zombies roaming the Scottish countryside. Only now, the bus is rolling over in a horrific accident. Bobby is thrown, and wakes up to find Smitty trying to lift some heavy debris that has fallen over her body. She drifts in and out of consciousness, finally awaking in what she's told is a military hospital after having spent six months in a coma. Her head has been shaved and she is told that her mother has died (which Bobby immediately learns is not true, as her phone contains clues that only her mother could have given her), and when zombies attack the hospital, killing nearly everyone, Alice, Pete, and Bobby must reluctantly team up again--this time with a new hot guy named Russ (who behaves very suspiciously)--to find Smitty and Bobby's mom before everyone dies.<br/><br/>It really sucks that we get no Smitty for the first two-thirds of the story, but when he finally appears, it is worth the wait. While crossing the country to find Smitty, we learn a lot more about Bobby's life before the events of Undead, including her relationship with her parents (it feels like we're gearing up to have Bobby's mom sacrifice herself or something in book three, because she is really, really terrible), and it explains a lot about how this girl has been able to survive when very few other people could. And on top of being attacked at every turn by zombies, the gang is pursued by heavily armed military guys who work for Xanthro and have a billion guns and a helicopter at their disposal. <br/><br/>These books are enormous fun. I highly recommend. <br/>