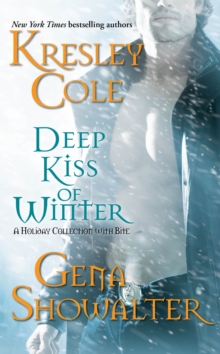 Deep Kiss of Winter
Paperback
Description
#1 NEW YORK TIMES BESTSELLING AUTHOR KRESLEY COLE delivers a breathtaking tale of a brutal vampire soldier about to know love for the first time . . . and a Valkyrie aching for his touch. Murdoch Wroth will stop at nothing to claim Daniela-the delicate Valkyrie who makes his heart beat for the first time in three hundred years.
Yet the exquisite Danii is part ice fey, and her freezing skin can't be touched by anyone but her own kind without inflicting pain beyond measure.
Can they conquer an agony of frustration and slake the overwhelming desire burning between them?NEW YORK TIMES AND USA TODAY BESTSELLING AUTHOR GENA SHOWALTER puts a daring spin on a tale of huntress and hunted . . . and concocts a sensual chemistry that is positively explosive.
With only skin-to-skin contact, Aleaha Love can change her appearance, assume any identity.
Now she's an AIR (alien investigation and removal) agent on a mission to capture a group of otherworldly warriors.
Only she is held captive when dangerously seductive Breean, a golden-skinned, iron-willed commander, threatens her new life-and for the first time, Aleaha wants only to be herself.
Information
Format: Paperback
Pages: 528 pages
Publisher: Simon & Schuster
Publication Date: 01/12/2010
Category: Fantasy
ISBN: 9781451600056
Free Home Delivery
on all orders
Pick up orders
from local bookshops
Reviews
Showing 1 - 2 of 2 reviews.
Review by ladycato
16/06/2015
I won this hardcover from the Knight Agency. I haven't read either author before though I have seen their names everywhere, so I was curious to give them a try. In the end, I found both well-written, but found the male leads to be a turn-off in the start. Christmas is a theme in both but it's not integral to either story."Untouchable" is the largest novella in the book, taking place in Kresley Cole's world of Lore where rival vampires and fey struggle for power. Daniella is an ice maiden, half Valkyrie and half Icere. She requires constant cold, and can't sustain touch with anyone else. When she sees the vampire Murdoch, it's lust at first sight--after she survives an attack of Icere assassins. I had a difficult time getting into this one as it's obviously a well-established world with a cast of existing characters that overlapped into this book; by the end, this became very confusing as several side characters had mates suddenly pop up. The sex scenes were a bit crude for my liking, as they leaned more towards crazed lust than actual romance."Tempt Me Eternally" by Gena Showalter takes place in a different different realm: far-future Earth, after wars with alien planets. Aleaha is a shapeshifter desperate to fit in with the humans of Earth. She's assuming the role of a police-like officer when Breean arrives as part of an alien invasion. I was bothered by the scene of Breean's arrival, as his honey-scented pheromones induce anyone to a sexual frenzy whether they want it or not--and it's my belief that if they don't want it, that's rape, even if the guy is a well-endowed alien. Thankfully, Breean backs off (if he hadn't, I would have stopped reading in disgust) and a romance begins developing between the two. I really like Showalter's writing style. It's well-paced, and she created a very intriguing world in a short amount of space. This ended up being my favorite of the two, which was a huge turn around from my opinion at the start.
Review by Aula
16/06/2015
[Untouchable]My favorite of Cole's IAD series. Murdoch was a great male lead in that he wasn't overbearing, he actually took who Daniela was into consideration, instead of just forcing himself on her emotionally as I find most of Cole's other leads have done in this series. The solution to their problem was obvious early on but the story still flowed well. I would have loved this to be bigger story rather than a short one. Ah well - one can hope!I didn't read Showalter's story as I'm not fond of her characters nor the world she's created for her series.
Also in the Immortals After Dark series | View all