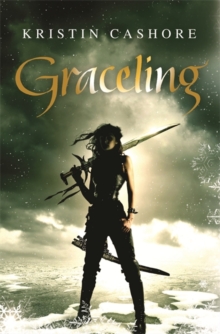 Description
In a world where people born with an exceptional skill, known as a Grace, are feared and exploited, Katsa carries the burden of a skill even she despises: the Grace of killing.
She lives under the command of her Uncle Randa, King of the Middluns, and is expected to carry out his dirty work, punishing and torturing anyone who displeases him.
Breaking arms and cutting off fingers are her stock-in-trade.
Finding life under his rule increasingly unbearable, Katsa forms an underground Council whose purpose is to combat the destructive behaviour of the seven kings - after all, the Middluns is only one of the Seven Kingdoms, each of them ruled by their own king and his personal agenda for power. When the Council hears that the King of Liend's father has been kidnapped Katsa investigates ...and stumbles across a mystery.
Who would want to kidnap him, and why? And who was the extraordinary Graced fighter who challenged her fighting skills, for the first time, as she and the Council rushed the old man to saftey? Something dark and deadly is rising in the north and creeping across the continent, and behind it all lurks the shadowy figure of a one-eyed king ...
Information
Format: Paperback
Pages: 400 pages, maps
Publisher: Orion Publishing Co
Publication Date: 16/05/2009
Category: Fantasy
ISBN: 9780575085305
Free Home Delivery
on all orders
Pick up orders
from local bookshops
Reviews
Showing 1 - 5 of 7 reviews.
Previous | Next
Review by litaddictedbrit
16/06/2015
This was a brilliant and undemanding fantasy adventure. After the more challenging 'The Angel's Game, it was perfect. I always like to start a new fantasy series because I love getting to know all of the new characters; and there were a lot to like in this novel, particularly the women. Katsa, the female lead, demonstrates two sides to her character very early on and a lot of her story is trying to reconcile who she really is with the 'work' she performs for her Uncle Randa. This was a refreshing change from morally unswerving leads who are admirable but a little too righteous for my tastes - I like a bit of an internal struggle, what can I say? I loved the fact that Katsa isn't defined through her ability to charm men and her appearance and that she can be aloof. Similiarly loveable is little Bitterblue (who I won't say too much about because she appears later on..) - her dignity and composure is really sweet when combined with the natural vulnerability of a ten year old child. Po, the male lead, is just fabulous - he brings a great touch of comedy to the book and his interaction with Katsa made me chuckle on more than one occasion. The Seven Kingdoms are painted beautifully and the landscapes are incredible. The action scenes are really well-written and lively and just detailed enough - any more and it would have been gory and any less and they wouldn't have portrayed all of the levels of Katsa's Grace. I raced through this book because there is plenty of action, twists involving a whole range of Graces and compelling characters.Overall:This book isn't going to change the literary world, but it will make it seem a lot more fun for a while! I'd recommend this to fantasy fans looking for a light, spirited read - I've already ordered Cashore's second novel, Fire!
Review by iftyzaidi
16/06/2015
I read Fire, which was a prequel of sorts, earlier this year and really enjoyed it. This book sequentially comes after Fire, but was written first. Generally I like it, but did feel that it was not as well-paced as Fire. It dragged a little in the middle, but things picked up in the last quarter and ended with a compelling finale.
Review by Tsana
16/06/2015
Graceling by Kristin Cashore is a book I've heard many good things about, and a book I'd been meaning to read for a while. It's a fantasy book about an arse-kicking heroine and it elicited a variety of different feelings in me.Katsa is Graced with supernatural fighting ability. In her world, when people have two different coloured eyes they will have some sort of magical Grace which can differ wildly between people (ability to hold breath for a very long time, ability to predict the weather, supernaturally good dancer, fighter, musician, etc). Katsa is also the niece of King Randa. In his kingdom, all Gracelings must be sent to serve the king as soon as their Grace becomes apparent. He sends the more "useless" people (eg good swimmers) back to their families and keeps the more useful ones. Katsa, with her fighting/killing Grace, becomes a useful tool he shapes into his weapon as she grows up. And so she serves as his thug, breaking kneecaps bones or killing when people owe him money or slight him. Until one day someone points out that she's more powerful than the king and the king can't actually force her to do anything.Which was sort of odd, I thought. That she never realised it herself, I mean. She has no family or friends that aren't also valued to the king (the king's only son, for example, and his spymaster). On the side, they and a few others had even been running a secret Council — a network of well-meaning people running around, helping the less fortunate. In fact, the book opens with Katsa rescuing an imprisoned old man, about whom they know little, simply because he was imprisoned apparently unjustly. This is one of the ways in which Katsa is a bit of a contradiction of a character: she runs around defying the king in secret without realising that defying him openly wouldn't be much harder. She thinks she's a terrible person because of how easily she can kill, but she spends a lot of time helping people she has absolutely no obligation to even care about. She thinks the amount of power a person has dictates how horrible a person they are, yet she's pretty powerful and not a horrible person. The girl full of contradictions was interesting to read about.For the first half or so of the book, my thoughts were that it wasn't bad but that it had perhaps been over-hyped a bit. Aside from a few amusing (laugh out loud) exchanges, it felt a bit directionless. It seemed as though Katsa was going along with things that happened to be convenient. In the end, everything from the first half of the story tied in with the main action but it was hard to see that until later. Half way through, the story picked up significantly, adding genuine danger to Katsa (since normally no one can hurt her) and giving her a concrete mission for the rest of the novel. After that I enjoyed it much more and the second half was significantly more un-put-down-able than the first.I had a few pet peeves crop up as I was reading, another aspect which mixes up my feelings for Graceling. It bothered me when Bitterblue, a ten year old princess, was constantly referred to as the child instead of by her name. It's true she didn't have a lot of agency for most of her time in the story, but it felt a bit dehumanising, like she was just a person Katsa had to protect, not so much a person in her own right (she wasn't treated that way all the time in the narrative, but enough to bother me). There was also, near the start, the moment where Katsa gleefully fed a dirty and damaged dress into the fire. It was very much in character for her to hate anything which hampers her movement, but in a pre-industrial realm such a dress would have taken days to make, with the fabric imported from far away, etc. While her not caring about her uncle's money makes sense, destroying the dress so insensitively (especially since her maid is so invested in the dresses) bothered me.Cashore's series (Graceling, Fire, Bitterblue) has a different central character in each book. As such, Graceling ties up all the loose ends in Katsa's life without entirely giving us a "happily ever after". I expect to see her pop up in the later two books and I look forward to seeing how she goes. (And while I hope she never changes her stance on marriage, I hope she and her love interest are happy together.)Graceling is not a long read, for a fantasy book, and I recommend it to fans of fantasy and kick-arse heroines.4.5 / 5 stars
Review by Elysianfield
16/06/2015
When Katsa was 8 year old she accidently kills her cousin and she learns that she has the Grace of killing. Her uncle King Randa uses her to punish everyone who displeases him and Katsa learns to hate him for this. Katsa organizes a Council that tries to help people and it is the Coucil's job to rescue the King of Lienid's father whe he's kidnapped. While on the rescue Katsa meets another Graceling with matching fighting skill who turns out to be Prince Po of Lienid and looking for his missing grandfather. <br/><br/>I have some mixed feelings about this one. I enjoyed it but I'm still having problems writing my feelings about it. <br/><br/>I liked Katsa, she was tough and nice but I felt that I was supposed to be more scared of her than I was. And at times she was more childish than 10 year old Bitterblue who acts much older than her age. And if you can't feel pain then why make such a huge thing about hairpins digging into scalp?<br/><br/>But I liked Po (what kind of name is that?) and Raffin. Po was so cute and fun and loved the way he understood Katsa.<br/><br/>It wasn't bad and I liked it but guess I was again expecting something more. I have Fire also so I'm curious to see how that one goes.
Review by RubyScarlett
16/06/2015
Wonderful. Riveting worldbuilding - I could have read a whole book entirely devoted to Graces - excellent pace and outstanding characters. It's a very feminist-friendly book with a positive approach to sex, a romance far from clichés, female and male characters that I couldn't help but fall in love with. One of the best books I've read this year.