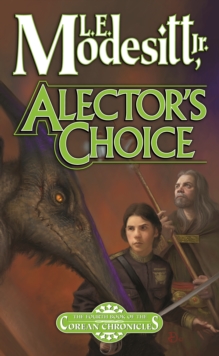 Alector's Choice
Paperback
Description
Corus has been designed to become the new home of a superior race from a distant world, whose life depends on drawing sustenance from the biological life force of a planet.
After changing the climate, they have grown ordinary people to tend to the plants and animals in preparation for their eventual arrival.
Meanwhile, their plans are supervised by a staff of Alectors, who in effect rule the world.
Alectors are bigger, tougher, and have both psychic talents and technology unavailable to the natives.
The time is now fast approaching for the transfer from the old world, nearly bled dry of life force.
But, neither the Alectors (who will be reduced in status when the real powers arrive) nor the local humans (who seem destined to become no more than cattle, though they know nothing of this) are ready.
Information
Format: Paperback
Pages: 640 pages
Publisher: St Martin's Press
Publication Date: 04/04/2006
Category: Fantasy
ISBN: 9780765352576
Free Home Delivery
on all orders
Pick up orders
from local bookshops
Reviews
Showing 1 - 1 of 1 reviews.
Review by jimmaclachlan
16/06/2015
Chronologically, this is the fourth book that happens well before the original trilogy that begins with Legacies. I guess it is no longer a trilogy, although the first 3 & the next 3 books each seem to form one, but there is a new book coming out "The Lord-Protectors Daughter" & I'm not sure where it will fall in the chronology. I think it is the start of a third trilogy & I plan to buy it.Usually, I don't like second trilogies, but this is an exception. Told from the opposing view point of the first trilogy, it gives a lot more depth to the overall story. The moral dilemma's of right & wrong are well set off by responsibility & greed. All are shown in a practical, daily setting. The hero has limited resources, set responsibilities & must deal with life on its terms. He's in a pretty tough spot, without much wiggle room. The setting is unique to this series. There is an old order that is dying, a set of invaders & the new 'native' species, which is ascending. The first trilogy was told from the POV of one of the ascending natives, this second from one of the invaders.The hero is the typical Modesitt hero - nothing new there & if you don't like him in other books, you won't like him here. Basically, he's the same person on the opposing side. It's actually nice as it takes away some of the variables & makes the point even clearer - sometimes there are no right answers & you need to do the best you can with what you have.It's not great literature or particularly deep, but it is very entertaining. Well worth reading.
Also in the The Corean Chronicles series