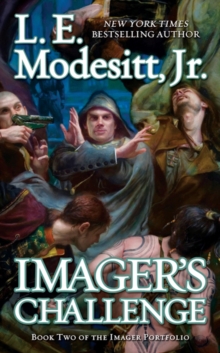 Imager's Challenge
Paperback
Description
"Imager's Challenge" takes up immediately after the conclusion of "Imager".
Still recovering from injuries received in foiling the plots of the Ferran envoy, Rhenn is preparing to take up his new duties as imager liaison to the Civic Patrol of L'Excelsis.
No sooner has he assumed his new position than he discovers two things.
First, the Commander of the Civic Patrol doesn't want a liaison from the infamous Collegium, and soon has Rhenn patrolling the streets of the worst district in the city.
Second, Rhenn receives formal notice that one of the High Holders, the father of a man Rhenn partly blinded in self-defense, has declared his intention to destroy Rhenn and his family.
Rhenn's only allies are the family of the girl he loves, successful merchants with underworld connections.
In the end, Rhenn must literally stand off against gang lords, naval marines, Tiempran terrorist priests, the most powerful High Holder in all of Solidar, and his own Collegium - and find a way to prevail without making further enemies and endangering those he loves.
Information
Format: Paperback
Pages: 576 pages
Publisher: St Martin's Press
Publication Date: 28/09/2010
Category: Fantasy
ISBN: 9780765360908
Free Home Delivery
on all orders
Pick up orders
from local bookshops
Reviews
Showing 1 - 3 of 3 reviews.
Review by jet1
16/06/2015
Whilst I enjoyed this book I found too many echoes of previous Modesitt novels and the pace rather slow.
Review by jimmaclachlan
16/06/2015
I first read this about 5 years ago when it came out &amp; gave it 3 stars. I'm bumping it up to 4 stars. Modesitt weaves a great mystery through his unique magical fantasy world. It's very realistic in many ways as it explores balances of power, money, influence, &amp; public perceptions. Power certainly comes in many forms &amp; isn't the panacea it is in simpler novels. The method of magic, imaging, is uniquely handled &amp; the growth of the main character is excellent.<br/><br/>This book should definitely be read after the first, if you possibly can. He fills in a bit, but the situation &amp; character growth won't come across nearly as well. This world is every bit as complex as his Recluce series with a similar, if slightly higher level of technology. Highly recommended.
Review by skraft001
27/08/2015
Excellent world building. Lots of explanation in the process and perhaps some unnecessary regarding the political tensions with other countries as lent nothing to this book. Being a long series, it likely will be brought up in another book, but probably will be all re-explained again. Definitely was rooting for the relationship of Rhenn and Seliorca and enjoyed seeing him advance in his Imager career.
Also in the Imager Portfolio series