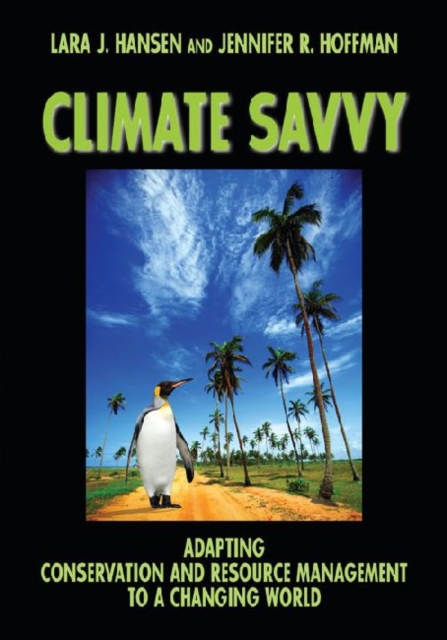 Climate Savvy : Adapting Conservation and Resource Management to a Changing world
Paperback / softback
Description
In this title, climate change experts Lara Hansen and Jennifer Hoffman consider the implications of climate change for key resource management issues of our time - invasive species, corridors and connectivity, ecological restoration, pollution, and many others.
How will strategies need to change to facilitate adaptation to a new climate regime?
What steps can we take to promote resilience? "Conservation in a Changing Climate" offers a wide-ranging exploration of how scientists, managers, and policymakers can use the challenge of climate change as an opportunity to build a more holistic and effective philosophy.
Based on collaboration with a wide range of scientists, conservation leaders, and practitioners, the authors present general ideas as well as practical steps and strategies that can help cope with this new reality.
Creating an Innovative Community of Practice on Climate Change Adaptation is a Project by Island Press and EcoAdapt.
Island Press and its partner, EcoAdapt, are working to create a knowledgeable environment for those working on climate change adaptation. The Climate Change Adaptation Knowledge Environment (CAKE) will allow practitioners to connect with one another, share knowledge and strategies, and build a community via an interactive online platform.
CAKE is intended to attract and support individuals and organizations who are interested in developing the discipline of adaptation.
It will be useful for those working on the ground on conservation projects and those developing policy.
CAKE will facilitate the identification of important information and facilitate its distribution and accessibility.
Information
Format:Paperback / softback
Pages:256 pages
Publisher:Island Press
Publication Date:30/06/2010
Category:
ISBN:9781597266864
Information
Format:Paperback / softback
Pages:256 pages
Publisher:Island Press
Publication Date:30/06/2010
Category:
ISBN:9781597266864