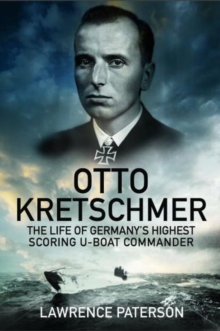 Otto Kretschmer : The Life of Germany's Highest Scoring U-boat Commander
Hardback
Description
Otto Kretschmer was only in combat from September 1939 until March 1941 but was Germany's highest-scoring U-boat commander sinking 47 ships totaling 274,333 tons.
This definitive work details his personal story and the political backdrop from his earliest days.After completing his officer training and time on the training ship Niobe he served aboard the light cruiser Emden.
In December 1934, he was transferred to the light cruiser Koln, then in January 1936 made the move to the fledgling U-boat service.
Hisfirst operational posting was to the 2nd U-Flotilla's Type VII U35 where he almost being drowned during training in the Baltic Sea.
During the Spanish Civil War, Kretschmer was involved in several patrols as part of the international non-intervention force.He demonstrated a cool approach to combat: his mantra `one torpedo for one ship'proved that the best way for his boat to succeed against a convoy was to remain surfaced as much as possible, penetrating the convoy and using the boat's high speed and small silhouette to avoid retaliation.His nickname `Silent Otto' referred to his ability to remain undetected and his reluctance to provide the regular radio reports required by Donitz: he had guessed that the Allies had broken German codes.
Alongside his military skill was a character that remained rooted in the traditions of the Prussian military.
Information
Format: Hardback
Pages: 268 pages
Publisher: Greenhill Books
Publication Date: 05/03/2018
ISBN: 9781784381929