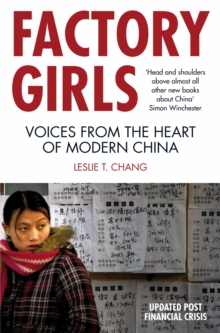 Factory Girls : Voices from the Heart of Modern China
Paperback
Description
'Head and shoulders above almost all other new books about China, this unflinching and yearningly compassionate portrait of the lives and loves of ordinary Chinese workers is quite unforgettable' - Simon Winchester.
Every year in China millions of migrant workers leave their rural towns to find jobs in the cities.
These people are the driving forces behind China's economic boom: they work very hard and for little money to make the trainers, ornaments, designer handbags and toys which we buy.
Through the lives of two young women, Chang vividly portrays a world where you can lose your boyfriend and your friends with the loss of a cell phone; where lying about your age, your education, and your work experience is often a requisite for getting ahead; and, where a few computer or English lessons can catapult you into a completely different social class.
This is a powerful and humane portrait of the forces which are shaping China. 'Astonishing ...Heartbreaking ...As one tool in trying to understand today's China, this is a most valuable, if troubling read' - "Irish Times". 'Engrossing ...An exceptionally vivid and compassionate depiction of the day-to-day dramas, and the fears and aspirations, of the real people who are powering China's economic boom' - "Scotsman". 'Chang's elegant book is evidence that the best trips home often require a circuitous approach' - Nell Freudenberger, "Financial Times".
Information
Format: Paperback
Pages: 320 pages, map
Publisher: Pan Macmillan
Publication Date: 01/01/2010
Category: Cultural studies
ISBN: 9780330447362
Free Home Delivery
on all orders
Pick up orders
from local bookshops
Reviews
Showing 1 - 3 of 3 reviews.
Review by edwinbcn
16/06/2015
Factory girls. Voices from the heart of modern China is a sociological study into the lives of young female migrant workers in China. The book is interesting because so few books are written about the topic. However, the author is no sociologist and the scope of the book seems limited.The author follows three young women during three years. There are no explanations as to how she decided on these three women, or whether other women were interviewed during the same period. The interviews themselves are not included. Still, a fairly comprehensive picture emerges.The style of the book is that of journalism (the author is a journalist), so very readable with little attention to methodological encumbrance. A more serious problem with the book is that the author is selective in the information she presents to the effect of misleading. Regarding the salaries of the migrant workers she pipes the common Western view that the salaries are extremely low, and the workers are exploited. The author insufficiently makes clear what the meaning of poverty is, and that many Chinese people will take any opportunity to get away from the countryside to work in the city. The problem with a word such as "poverty" is that everyone thinks they know what it means while most Western people haven't seen any real poverty in their entire life.Another flaw in the book is that the wages of the migrant workers are systematically incorrectly presented, and that deductions for food and accommodation are presented in a negative light. The reality in China is that China has a very high percentage of house ownership, and rental accommodation is very, very expensive. It is not unusual that migrant workers pay 130 US dollars for a bed per month: all the room they get for that is less than two square meters, and to prevent theft of their property, their part of the bunk bed is turned into a cage, which they can lock while they go out. Although communal kitchens in private home compounds were abolished decades ago, Chinese people are used to eating in canteens, where food is spooned out to them. These arrangements, while leaving little freedom, individuality or privacy are very common to China, where these terms have but a shade of the meaning they have in a country such as the United States.A peculiar feature of the book is that more than 25% of it is devoted to telling the author's life story. There is absolutely no excuse for that other than amateurism and vanity.
Review by Opinionated
16/06/2015
Most books written about modern day China are patronising rubbish. its all so terrible, its all going to fall apart, it can't last. etc etc This is exceptional in its honest, sympathetic and human treatment of real people and real lives, and is shows how - just as is in the west - the industrial revolution is giving women the power to change and control their own lives, and to find their own paths. Yes factory conditions are bad, and the ability to "eat bitterness" is a pre requisite just as it was in America in the 19th century and Britain in the 18th century. But millions jump at the chance, not just for small wages but for the chance to be part of the modern world and for individual freedom. And this new found economic independence and personal liberty is changing family relations and the fabric of society very quickly. The book focuses on two young women, Min and Chungmin, and their struggles to advance up the economic ladder, with little education and no support but their own wits and intelligence. Are they representative? Probably not - they were open minded enough to make the friendship of a foreign, albeit Chinese speaking, journalist. Are their stories typical? Very much so and as Chang herself points out the story of Napoleon's lowest foot soldier is more important that the story of Napoleon.I couldn't agree more. A tremendous book
Review by jcbrunner
16/06/2015
"Factory girls" is a good read that doesn't truly fulfill its titular aspirations. The real factory girls are teenage migrant girls from the most underdeveloped regions of China who lack both the inclination and self-awareness to discuss their economic and life situation with an outside reporter. These are green kids who discover the world, growing up fast in an ever changing world. Compared to their parents, they grow up in a much more prosperous (consumer) environment. Compared to Western standards, their world is more like a mixture of the American Wild West and Manchester capitalism. The girls, however, are not powerless and often vote with their feet, changing employers at an alarming frequency. A constant re-invention of self (including abandoning friends and acquaintances) is the theme of their life. This re-invention is also changing the classic gender patterns. Given the increasing economic resources and the overabundance of men, these girls can choose whom to marry and where to work and live. A limited taste of freedom.Instead of the factory girls, the author follows the lives of a few white collar women. Like in the Wild West, success seems to go to the cheaters and snake-oil sellers. It is not by hard work but by accepting bribes and kickbacks that one acquires a fortune. The right connections and the suitably forged documents are the ticket to wealth. Her description of manufacturing and business processes makes one wonder how the Chinese products hold together at all and manage to pass some quality controls. While the Japanese seem to strive for technical perfection, the Chinese aim to cut corners. Hurt, they often are in this abrasive process. Despite their economic gains, Chang's account does not present happy people but drained women in a rat race who cannot enjoy what they have as long as an acquaintance has more. If hell is other people, China is not lacking in company. A Chinese train trip during the New Year season must indeed be painful.A bit redundant among the tales of new China, Chang includes, over multiple chapters, the story of her rediscovering her own Chinese roots (at the other end of China). This highlights the book's big weakness: Her need to distinguish her Western, American, Taiwanese, educated, rich family/person from the poor, ignorant, Cantonese/provincial Chinese. Her husband, Peter Hessler, whose book Country Driving covers some of the same topics in its middle part, possesses the self assurance to be willing to look strange and foolish among the natives. Her Chinese roots (and thus the possibility of being actually considered Chinese) makes her struggle to maintain her superiority and distance, a fact her interlocutors notice too. Recommended.