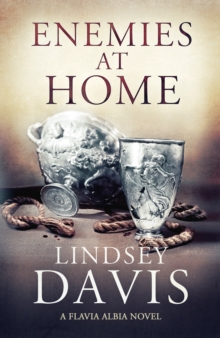 Enemies at Home : Falco: The New Generation
Hardback
Description
From renowned author Lindsey Davis, creator of the much-loved character, Marcus Didius Falco and his friends and family, comes the second novel in her all-new series set in Ancient Rome. We first met Flavia Albia, Falco's feisty adopted daughter, in The Ides of April.
Albia is a remarkable woman in what is very much a man's world: young, widowed and fiercely independent, she lives alone on the Aventine Hill in Rome and makes a good living as a hired investigator.
An outsider in more ways than one, Albia has unique insight into life in ancient Rome, and she puts it to good use going places no man could go, and asking questions no man could ask. Even as the dust settles from her last case, Albia finds herself once again drawn into a web of lies and intrigue.
Two mysterious deaths at a local villa may be murder and, as the household slaves are implicated, Albia is once again forced to involve herself.
Her fight is not just for truth and justice, however; this time, she's also battling for the very lives of people who can't fight for themselves. Enemies at Home presents Ancient Rome as only Lindsey Davis can, offering wit, intrigue, action and the further adventures of a brilliant new heroine who promises to be as celebrated as Marcus Didius Falco and Helena Justina, her fictional predecessors.
Information
Format: Hardback
Pages: 400 pages
Publisher: Hodder & Stoughton General Division
Publication Date: 17/04/2014
Category: Historical mysteries
ISBN: 9781444766585
Other Formats
Paperback from £7.85
EPUB from £5.99
Free Home Delivery
on all orders
Pick up orders
from local bookshops
Reviews
Showing 1 - 1 of 1 reviews.
Review by passion4reading
16/06/2015
Flavia Albia is asked to investigate in a double murder case where the household slaves, under suspicion and trying to avoid arrest by the local vigiles, seek sanctuary in the Temple of Ceres. Assisted by the sympathetic aedile Manlius Faustus, she sets about to sift the truth from the surrounding web of lies.This is the second volume in the Flavia Albia series of historical mysteries, set in Ancient Rome in the reign of the Emperor Domitian. Apart from the titular heroine, Manlius Faustus makes a welcome return as an aedile in touch with his plebeian roots when going about his duty, as does his dopey slave Dromo. We are introduced to two of Flavia's senator uncles, and her mother makes a brief appearance, as the rest of the family is enjoying a holiday at the seaside.For the first 170+ pages not much is happening as Flavia Albia is interviewing suspects and following up on leads that don't actually lead anywhere; we share her frustration at the lack of results as she is about to give up on the case, when suddenly certain parties have been moved to action. As the body count rises and the number of suspects declines, Flavia Albia reminds us that there are often victims on both sides.I did enjoy accompanying Flavia Albia on her investigation, even if the beginning was terribly (and probably realistically) slow and her often flippant first-person narrative does occasionally start to grate. The characters are, without fail, well drawn, and we learn a lot about life in Rome in the 1st century AD. Lindsey Davis leaves plenty of red herrings amongst the genuine clues, and I did not know the identity of the killer until Flavia Albia herself had put one and one together.As with the first volume in the series, this will not appeal to everyone; if you like your historical characters to use only time-appropriate language, you might want to steer well clear of Flavia Albia and her predecessor Marcus Didius Falco, as one of Flavia Albia's acquaintances invents the 'Buy one, get one free' slogan. I enjoy Lindsey Davis's creations, and her evocation of life in Ancient Rome with its multitude of sights, sounds and smells that assault the senses is flawless. This is a clever and entertaining read, which doesn't make any aspirations to being anything other; for so-called serious literature, you will have to look elsewhere, yet I'm already looking forward to the next volume in the series. Four and a half stars.
Also in the Flavia Albia series | View all