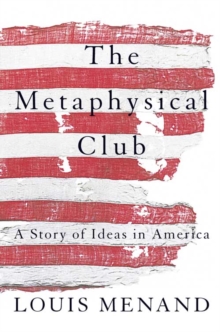 The Metaphysical Club : A Story of Ideas in America
Paperback
Description
A riveting, original book about the creation of the modern American mind.The Metaphysical Club was an informal group that met in Cambridge, Massachusetts, in 1872, to talk about ideas.
Its members included Oliver Wendell Holmes, Jr., founder of modern jurisprudence; William James, the father of modern American psychology; and Charles Sanders Peirce, logician, scientist, and the founder of semiotics.
The Club was probably in existence for about nine months.
No records were kept. The one thing we know that came out of it was an idea - an idea about ideas.
This book is the story of that idea. Holmes, James, and Peirce all believed that ideas are not things "out there" waiting to be discovered but are tools people invent - like knives and forks and microchips - to make their way in the world.
They thought that ideas are produced not by individuals, but by groups of individuals - that ideas are social.
They do not develop according to some inner logic of their own but are entirely dependent - like germs - on their human carriers and environment. And they thought that the survival of any idea depends not on its immutability but on its adaptability. `The Metaphysical Club' is written in the spirit of this idea about ideas.
It is not a history of philosophy but an absorbing narrative about personalities and social history, a story about America.
It begins with the American Civil War and ends with World War I.
This is a book about the evolution of the American mind during the crucial period that formed the world we now inhabit.
Information
Format: Paperback
Pages: 560 pages, Index
Publisher: HarperCollins Publishers
Publication Date: 20/05/2002
Category: History of Western philosophy
ISBN: 9780007126903
Free Home Delivery
on all orders
Pick up orders
from local bookshops
Reviews
Showing 1 - 3 of 3 reviews.
Review by glacialerratic
16/06/2015
Who are we as "Americans"? What people and events have defined the America we now inhabit? Author, Louis Menand, offers a compelling argument that the America we now live in was significantly defined by figures and thinkers in the time directly after the Civil War. While school book history might define figures like Washington, Jefferson and Lincoln as wellsprings of our identity, their contribution feels rather remote and intangible. Menand makes the case that Supreme Court justice Oliver Wendell Holmes, philosophers William James and John Dewey, and statisticican Charles S. Peirce had more to do with defining our current beliefs and identity. Not only interesting subject matter, but really, really well-written and accessible. An intellectual joy.
Review by J.v.d.A.
16/06/2015
One of those books you just happen to pick up whilst browsing in a store and get lucky with. Very well written, though a couple of chapters do get a little complicated and would obviously merit a second read - which I look forward to getting around to. Full of interesting stuff.
Review by BrianFrank
16/06/2015
Maybe my favourite book ever.